Read the interview with Zbyszek Malicki, an Arma Hobby 2D graphic designer, a modeler focused on Japanese topics, the head of the Hayate project, and the president of IPMS Warsaw:
Grzegorz Mazurowski – Your models can be seen on your photo blog
http://sklejanie.blogspot.com/
Zbyszek Malicki – Some time ago I decided to try to make a simple website where I upload photos of my models. The site is over 10 years old, but you can find even older models there. All of them – there are several dozen – are related to the Pacific theatre of operations because that is what interests me the most. I put photos there as a gallery, there are no work-in-progress photos there, only completed models. I am also active on forums, I also show work-in-progress photos there. I must admit that I like the more relaxed style of foreign forums, where you can see that people make models for themselves, for fun, and not for gold medals. Of course, I don't want everyone to rave about "what a lovely model" when you show a crap, but that type of hobby is healthier. That doesn't mean that I have something against contests and medals, no.
Do you participate in them?
Yes, I take part in contests, sometimes I even get some prizes, although not very often, especially recently, due to the pandemic, there were not many competitions. But recently I was in Łask, I like to go there, it is a big event, you can visit the Polish Air Forces F-16 airbase, watch the jet fighters, take a lot of photos, these are additional attractions that are organized as part of modelling competitions. Other contests are also interesting, for example, I was in Brno, Czech Republic. I have not been to Moson in Hungary yet, although it is a popular competition among Polish modelers, my colleagues go there regularly. Perhaps I will go there someday.
And the successes?
I'm not a champion, I do not win great prizes, these are not cups, but rather commendations. I do not make models with contest-winning intentions, although maybe I could, superdetailing a kit. But in Łask, I got a nice award once. For someone who only wins commendations, in the form of a medal or a diploma, if you get an award in the middle or top category, it's always a delight. And in Łask, not recently, a bit earlier, I managed to get such an award – to make it more interesting – in the diorama category, which I was very surprised about – for the naval Hurricane on the CAM-ship catapult. It was the most valuable award I have ever received.
You are also active in IPMS Warszawa…
We are called IPMS Warsaw, but in fact it is an informal group of Warsaw modelers who meet regularly for some chats. We present our models at these meetings, such works-in-progress and those already completed. And I am considered the president of this organization there. I laugh a bit about it because it's rather an honorary title. There are some guys much more involved in the work of the group, I have repeatedly told them not to joke about it, but they say: "no, no, you are the president for life and that's it." It came from the fact that this group was created as a result of my actions, I was the one who cared about it.
How it happened?
After the contest in Brno, where I was with a small group of 4 people, I think, we talked about such a group to create it, or rather to revive it, because a similar group had already existed in Warsaw, but it ceased to exist. But there were only conversations, and finally I was left alone with this topic, but I said: I will not give up, I will try. And I think about 3 or 4 people came to the first officially organized meeting. And in such a group, not more than 5-6 people, we met for the first year. But then from month to month more and more pople came. And at the moment we officially have 32 people in the group.
Photo report from the IPMS Warsaw meeting: https://ipms-warszawa.pl/spotkanie-grupowe-9-11-2021/
We are not formally organized, and the name IPMS Warsaw is also just customary. About half of us officially belong to IPMS Polska, while we have never registered, because we have never had time to engage in such a commitment to do these general meetings, elect treasurers, etc. We are a group of friends, we meet to talk about models over a beer in a pub, but there is no climate for more official activities in Warsaw. From time to time some new people come, someone brings someone. But apart from meetings, we also do the Babaryba.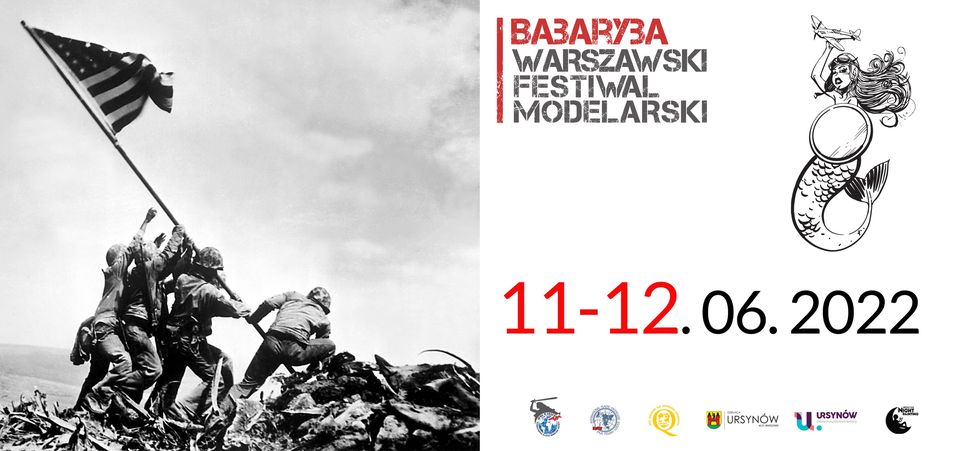 What is "Babaryba"?
The name means "woman-fish" – a mermaid in colloquial language. And the mermaid is a Warsaw coat of arms. This is a very nice modeling contest, actually, it was, because we had a two-year break due to the pandemic, but this year we plan to do it again – only now there is a problem with the space because now refugees from Ukraine live in the hall where Babaryba was taking place.
This is a sports hall in the Ursynów-district of Warsaw?
Yes – huge and air-conditioned. And the air-conditioning is important in June. Everyone who comes is delighted, other contests are often hard to survive when there is no air-conditioning in the sports halls, and here we have the luxury. At the last competition, we had 1,500 models, plastic and cardboard, of which approx. 800-900 were plastic.
How many of these competitions have you organized already?
The first contests were not called Babaryba yet, there were probably two of them, then we started doing as Babaryba, and we managed to organize two so far, in 2018 and 2019, and then this pandemic came… The contest is organized in cooperation with the Warsaw Ursynów District, this is part of the Ursynów Days. (without it, we wouldn't have had this beautiful hall). We take care of the rest …
Photo report from Babaryba 2019 on the IPMS Warsaw website: https://ipms-warszawa.pl/babaryba-2019/
There are also additional attractions at these contests, for example, we once had a real Leopard tank, you could enter it, talk to soldiers, thanks to the cooperation with the General Staff of the Polish Army, which took patronage over the festival, the Chief of the General Staff is present and personally handing over "Award of the Chief of the General Staff". One of our club mates – Andrzej, thanks to his wide contacts, takes care of all things related to the military. In addition to the Leopard, we also once had a Polish pre-war tankette, from the Polish Army Museum, also thanks to Andrzej. We also organize modelling workshops for young people, sponsors give model kits, tools, and under the supervision of club friends, the kids put together models that they can then take home. And of course, there is a modelling flea market, which we also organize. The contest may not have a very long tradition, but it is huge, I think comparable to Moson. I do not dare to say that it is the largest in Poland, but very large. The contest in Bytom was certainly of a similar size. I remember when the Swedes came and interviewed me, as the organizer, they were shocked that this was such a big contest. Because they are really big.
How many model kits do you have in your wardrobe?
I don't have them in the wardrobe, because I don't keep the model kits in the wardrobe. But I have some 250 kits in boxes, like a typical modeler I buy more kits than I complete. I try to limit myself to World War II in the Pacific area, and also to flying boats and helicopters.
As for the medium, is it just plastic?
I am not afraid of resin kits. I do not have too many of them finished, but there are a lot of them in my stash. I've built, among others, Mitsubishi A5M "Claude" from Choroszy Modelbud, and the reconnaissance Spitfire from Arma Hobby (under Attack Squadron label). Well, this Spitfire fitted like a good plastic model, it was almost 'built by itself' and I was shocked how the resin kit was so good.
This is probably thanks to digital design?
It is thanks to Marcin Ciepierski who designed this model. Really, it got to stick together easier than many plastic models. But I'm not afraid of resin in general.
Have some of your models needed special effort?
For example, Academy Thunderbolt cost me a lot of work, as I put all possible resin details into it. It was a project that required a lot of hard work, which is what I like about modeling. Now there is Tamiya Thunderbolt available, you can take it and build it really fast, and everything is in the box, but once I bought the Academy kit and a lot of resin details for it – I won't throw it away. I sat down and said: I'll stick it together. It had to be chopped, cut out, all the wheel wells, engine, and cockpit replaced with resin. And finally, I gave him Tamiya's bazooka launchers. Sometimes I like to have fun like that.
Academy Thunderbolt work in progress thread on Britmodeller: link
And the most pleasant kit?
The best model kits are made by Tamiya. They have excellent design and fit. For example, "Zero" by Tamiya, is the most pleasant model I have put together, actually, it fits like a Lego, I just painted it. Our models, Arma Hobby, are also very nice to build, although some are easier and some a bit more difficult, for example, I have already built the Wildcat twice, it is good, but it has a complicated undercarriage.
The Arma Mustang is also very nice, although I chose the variant with a dorsal fin in which you have to cut off a piece of plastic, it is a bit more difficult.
And the Arma Hurricane Mk.IIc was easy and pleasant, like Tamiya.
What are you doing at Arma Hobby?
I'm a desktop publisher, I've been working in magazines and newspapers for many years. And somehow it turned out that I met Marcin Ciepierski, co-owner of Arma Hobby, he comes for meetings of our IPMS Warsaw group, I knew Arma, I knew what was going on there because Marcin was telling us about it. At one point I offered to draw something for them and they wanted to try. So I started drawing the colour profiles for the kit instructions, not the whole instructions, but the colour camouflage and marking schemes, I think it was Hurricane I. But that was just an assignment. And then I have ended some regular work, I was available and Marcin and Wojtek decided to invite me. Now I do for Arma Hobby everything that can be printed on paper. In 2D. Instructions, colour profiles for instructions and the website, advertisements, boxes – while the box is not my design, I put it all together, basing on the graphic design which is the same for each kit box, I assemble it with boxart painted by another artist, I also design decals. And if necessary, I make a camouflage and markings research. Especially with Hayate, because I'm interested in Japanese aviation, I got that to do. Sometimes I suggest some more unusual painting schemes, for example a limited edition kit with training and test Wildcats, one of them was even yellow, was my original project (link).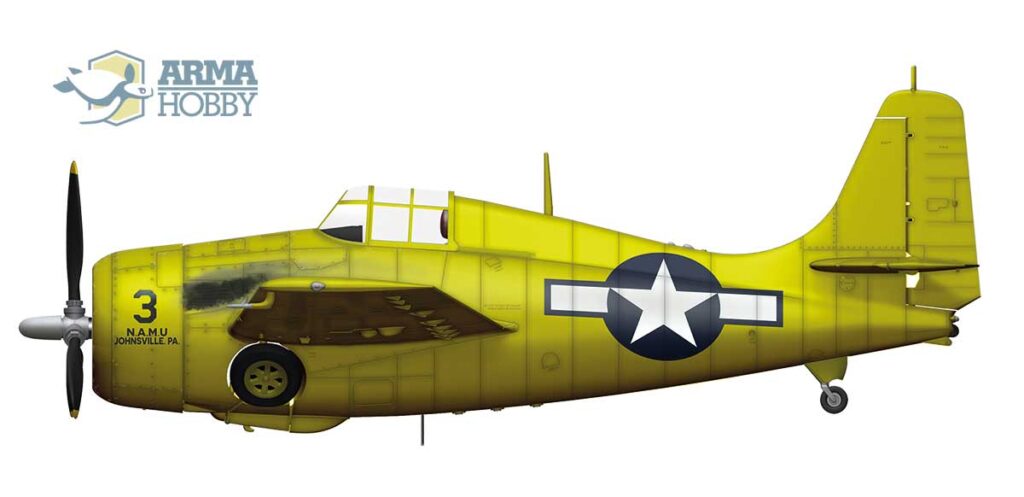 And Hayate – did you work with Jarek Jaworski?
Once I found a group about Japanese airplanes on Facebook, I joined it, and Jarek posts there. You can quickly find out: one, that he has passion, and two, that he has knowledge. Or access to knowledge. Because his knowledge is wider than one can be found in books. At least the books available in Poland. And Jarek – you can see in his posts that he knows more. As far as I know, he is just friends with the people in Japan. And hence his in-depth knowledge comes from. When we started working on Hayate, I figured he could work with us. And he readily agreed. And Jarek writes the #armastories – the stories of the planes or pilots for our blog.
Did you choose the painting schemes with Jarek?
No, I chose them, I tried to choose as cool as possible. It was not that easy, because camouflage of Japanese airplanes is quite a difficult subject, we have to assume a lot from the black and white photos. And it happened that one of the schemes should have a different colour than I proposed. Already after the publication of these images, it turned out. I thought it should be dark green, but it turned out that it needed to be changed.
Did someone point this out?
Yes, after the publication of the first materials on our blog, we had feedback from several people. One Japanese modeller wrote an email to us. Nick Millman, who wrote about the announcement of our model kit on his great blog about Japanese airplanes, also noted it in the commentary link.
And Jumpei Temma wrote to us that this colour should be more brownish. So we changed the profiles and instructions. There was still time for that. Another Japanese modeler, in turn, wrote us about the lines marking the fuel tank location on the wing – that there should also be a yellow variant in the decals, in addition to the red one. I didn't notice it at first, but after noticing it in some photos, I started to notice it. And we decided to print an additional tiny sheet of decals with yellow markings.

But it is also the other way around. I once posted on the forums photos of my Tachikawa Ki-9 training biplane model in a suicide version, with a barrel of explosives in the rear cockpit. And this plane, as a training plane, was usually painted orange, and in the suicide version all modeling companies show it with an orange bottom, and the top painted in a camouflage olive green colour. But I often like to go against what is popular. And I painted this plane all green, but in such a way that orange comes out from under the slightly scratched green (link).
It looks very cool!
Yes, I received several awards at some contests for this model. When I showed photos of this model on the forums, I got such feedback that I probably made a mistake with this camouflage, that the plane should be orange, because it was a trainer, that at most they painted the upper surfaces green, but I based my idea on some photos – colour, post-war planes taken over by Koreans. And these planes are all green with scratches. And I read that suicide planes were sometimes painted all green, like night planes. And so I decided. And after a year – what turned out? Pictures of these planes came out, knocked over, on their noses – all green, also on the undersurfaces. It turned out I was right! But this is the case with Japanese camouflages, nothing is for sure. That's why it's so interesting!
Zobacz jeszcze:
"This work is interesting" – interview with Maciej "Wrona" Wroński, Arma Hobby 3D designer
This post is also available in:

polski