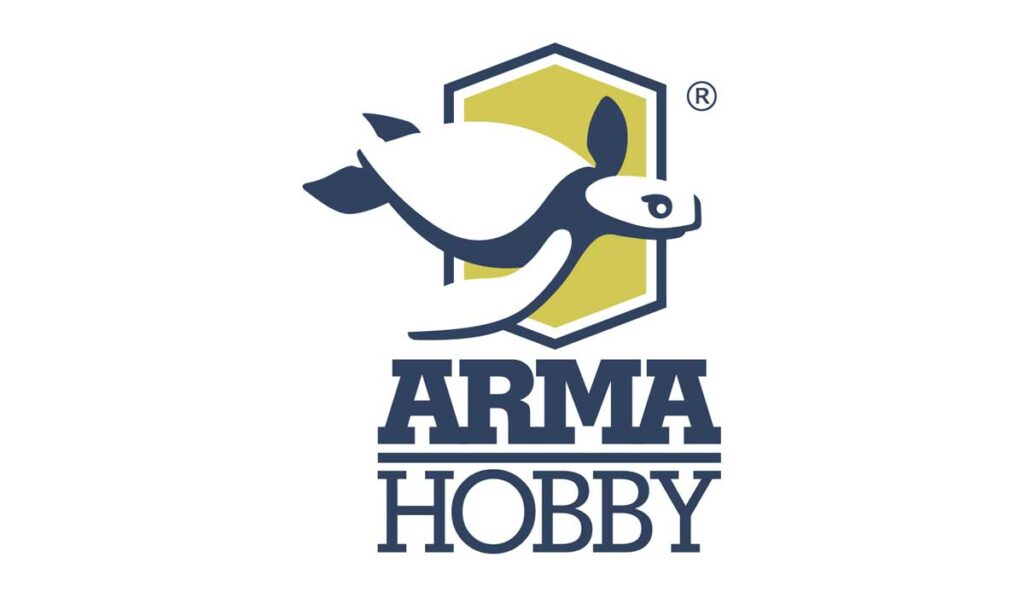 Why did we choose this specific name? And why is there a turtle floating in our logo? Read on and find out how are brand was created, step by step.
Arma Hobby, established in 2013, was initially conceived as a continuation of our experiment under the name "Attack Squadron", through which we had gained valuable experience of the manufacture of aircraft model accessories. Once we finally became convinced that we indeed wanted to become involved full-time in the professional production of models, we had to take the next step. Wojtek and I decided to officially join forces and set up our own company. And so a new brand was born.
Looking for a name
First of all, we had to think up a name. We wanted it to be grounded in the realities of our line of business, while at the same time carrying a strong "military" reference. We went back to the roots – to Latin, a language which is universal and conveys meanings that can easily be understood by the vast majority of our customers. This is how we arrived at the first element of our name: Arma, that is "arms" or "weapon". The second – Hobby – communicates the essence of what we do, namely providing our customers with high quality models through which they can realise their passion.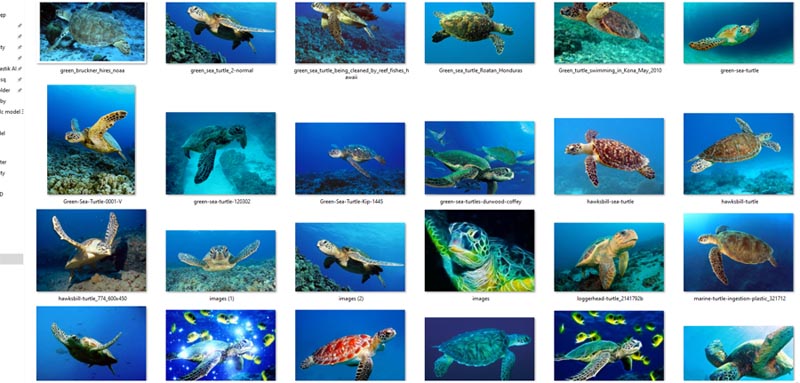 The graphic sign. A chance inspiration
While we had no real difficulty with selecting a name, we mulled over the logo for some length of time. And the more we thought, the more our objective eluded us. Luckily, we were helped by chance. Around the time, I became the owner of a steppe turtle (although, as I complained to Wojtek, this was not an animal that I desperately wanted to have…). It turned out, however, that my uninvited guest (all right, we became friends in the end) inspired us. Basically, talking about him led us to a motif for the graphic sign. Armour, shell, strength – a procession of words with very appropriate connotations – finally brought us to the "shellback" emblem painted on US Navy aircraft in the 1930s. Finally, we knew that we had found what we were looking for. But in the meantime the steppe turtle turned out to be a sea turtle.
Sketches, sketches, and still more sketches
The most difficult part was behind us. It was now time for "pleasure", that is drawing and designing. The longer we looked at photos of sea turtles, the more we found in these animals similarities and references to the world of aviation and ships. To us, the way in which they moved seemed to resemble flight, even if performed in a different, aquatic, environment. We produced whole piles of sketches, and finally selected two finalists. The more dynamic concept, with the turtle appearing to be in flight, won us over.

But a logo must also have letters
The finished sketch of the turtle was not the end of our work, for we needed a complete logotype with a name. This task was taken up by my wife, Paulina, who is a professional graphic artist. The objective was for the whole design to be legible and at once classical. Step by step, we arrived at a version that we could consider complete and not requiring any further changes.  We decided to use colours that modellers would call "Zinc Chromate Yellow" and "Gloss Sea Blue". And I will say this, without a hint of false modesty: we really liked the end result!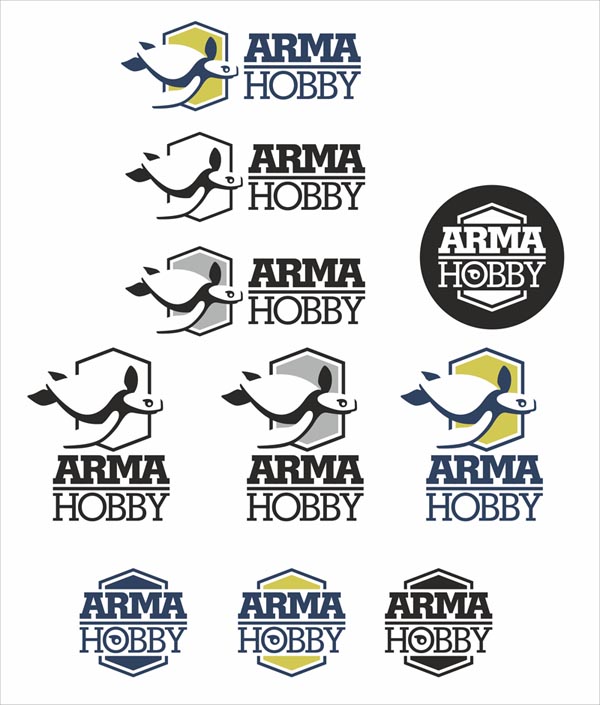 A logo for all occasions
We developed a number of variants of our logo: vertical and horizontal, coloured and black-and-white, thus achieving the flexibility required for different usage scenarios. Each pattern is harmonious and impossible to mistake with anything else. And there is also a special version with just the logotype, set in a frame, with an eye in the letter "O". Finally, when preparing for the première of the first plastic models, we developed a graphical design for the boxes, which we continue to use – unchanged – to date.
So now you know where the turtle in our logo comes from, and why Arma Hobby is Arma Hobby. But time presses – we have to get back to work, the bread and butter of our business. Right now, Wojtek and I have our sights firmly set on designing more new models!
English translation by Maciej Zakrzewski
This post is also available in:

polski