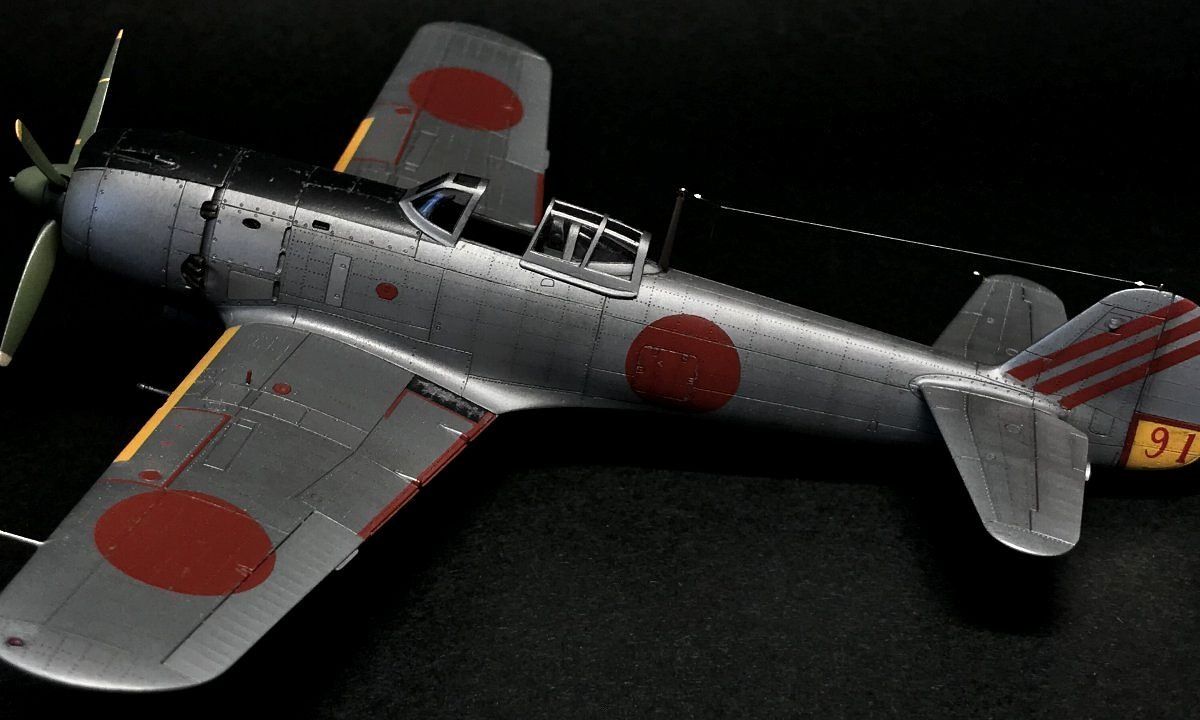 Excellent Japanese modeler Jumpei Temma built our Ki-84 Hayate model, modifying the kit to a second increase prototype with a slightly larger rudder and a single fuel tank under the fuselage. Jumpei Temma is known in the modelling world for his blog "Wings of Pegasus", where he presents the construction of his models and very accurate scale plans of various aircraft he draws. It was his scale plans that allowed us to ultimately verify the shapes of our Hayate model. We are very grateful for that!
Jumpei Temma wrote:
This is my Ki-84 Hayate second increase prototype of the 73rd. Sentai flown by Second Lieutenant Hiroshi Shimizu, Tokorozawa base, November 1944.

Arma Hobby's Hayate is a fantastic kit. In particular, I can confidently guarantee that the outline shape is more accurate than any existing kit to date. That's because I made the drawing on which this kit is based on.

A feature of this Hayate version is that the upper portion of the rudder is expanded to the rear. So I glued plastic sheet with CA glue. Due to this work, the depiction of rudder rib tapes was lost, so they were reproduced with custom-made dry decals. Along with this, dry decals were also applied to other control surfaces.

Another feature of this aircraft is that there is no drop tank pylon on each side of the wing, and there is one pylon in the center. So, holes for each wing pylon were filled with putty and the centre pylon was made of plastic sheet. Additionally, there is no blister behind the gear bay but a small door. Then, the kit blisters were scraped off.

I engraved rivets into the surface of my model with a needle and guide tape. The rivet lines were shown on my drawing. I used Mr. Color lacquer paints. After the basic silver was airbrushed, different shades of silver was dry brushed, and finally flat clear was sprayed. Almost all markings were painted. The number 91 on the rudder, cautions on the wing and yellow lines on the propeller are custom-made dry decals.

The spinner, propeller blades, machine guns, wheels and seat were made with a 3D printer. Of course, the quality of kit parts are no problem.

Then, my model was finished. The fitting of the kit's parts was very fine, so I didn't feel any stress, and I enjoyed making it. I hope that Arma Hobby will continue to release new kits using my drawings.

My drawings are accessible at the URL below:

http://soyuyo.main.jp/ki84/ki84.html

The colour profile was made by me based on these drawings.
Check also:
Order Ki-84 Hayate Special Attack Units kit in promotional pre-sale in the Armahobby.com online!
Ki-84 Hayate – galeria premierowa – Wojtek Bułhak i Marcin Ciepierski
This post is also available in:

polski