The P.11c model has only been on sale for two months, but accessories for this model have already appeared in several manufacturers' offer. Czech Eduard has prepared the most comprehensive set for May 2021 release. Also, other manufacturers have already introduced valuable accessories.
In addition to Eduard's photoetched parts and masks, there are also Master Model and Yahu accessories, more about them later in the article.
Eduard sets for P.11c 1/48
Eduard's photoetched set is the most extensive accessory set for the P.11c. It partially coincides with the P.11c Expert Set model's photoetched parts, but the Czech manufacturer added some exciting details.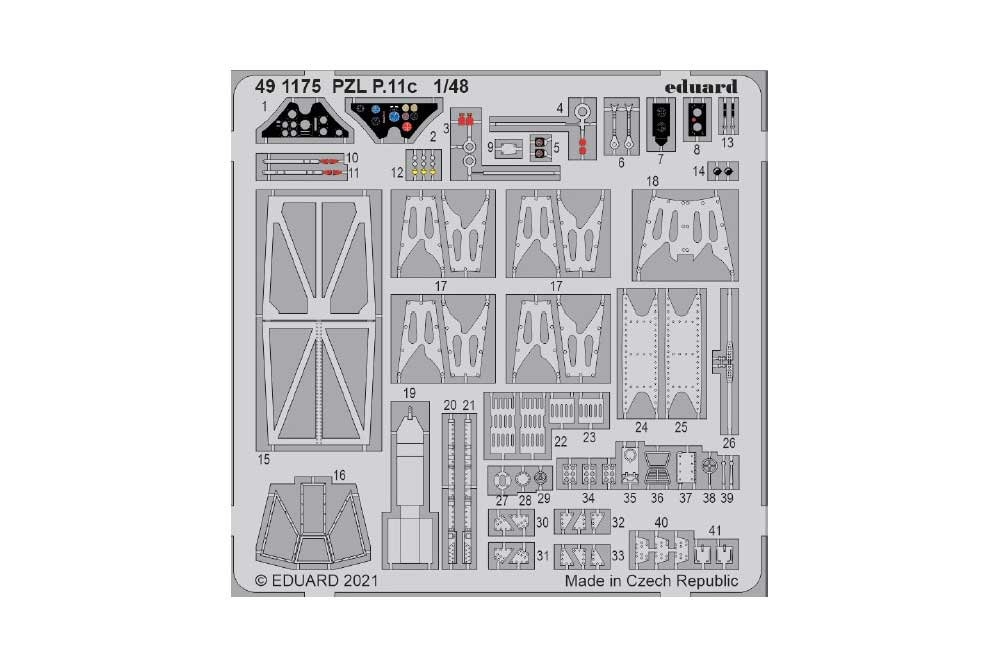 The set includes painted: instrument panel and engine control levers, selected unpainted parts of the cabin truss, cockpit floor MG hatch covers (only one pair), flare mounts, etc.
The external details are a front of the fuselage cone with open vents, separate gutters for the barrels in the fuselage's sides, and a windbreak grate. These details will be beneficial for modellers looking to exceed the limits of plastic injection technology.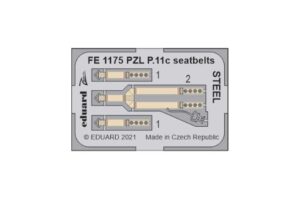 Eduard's additional sets are painted steel seatbelts (they lack the central stripe, placed between the pilot's legs) and the painting masks.
Master Model set for P.11c 1/48
The Polish Master's set is a bit more than we would expect when considering model kit barrels. Besides the high-quality four barrels of machine guns, the set also includes a lovely gun sight (version from the airframe manual, not as in the model – from a museum aeroplane) and even more excellent Venturi nozzles.
Instrument panel for P.11c Yahu 1/48
The Polish manufacturer has prepared the best-detailed instrument panel for the P-eleven. Traditionally, it is a part ready to be glued into the model. The set lacks the yellow knobs on the board (can be taken from the model) and the side plate with two controls.
See also:
This post is also available in:

polski