We have a great pleasure to inform that Arma Hobby FM-2 Wildcat won both best new aircraft and best kit in Golden Sprue Awards 2020 contest. Many thanks to our fans who voted online.
Golden Sprue Awards 2020 online contest received 40,000 votes cast in several categories. In New Aircraft category first place comes to Arma Hobby FM-2 Wildcat 1/72. Tamiya P-38 Lightning 1/48 is second, and third was Meng 1/32 Fokker Dr.I.
Also our friendly company RADO got 1st place in figurines and YAHU got 2nd place in aftermarket.  Our partner, Ammo Mig got first place In weathering with Oilbrusher line.
Thank you very much for your support. It is very satisfactory, especially on the 7th anniversary of Arma Hobby.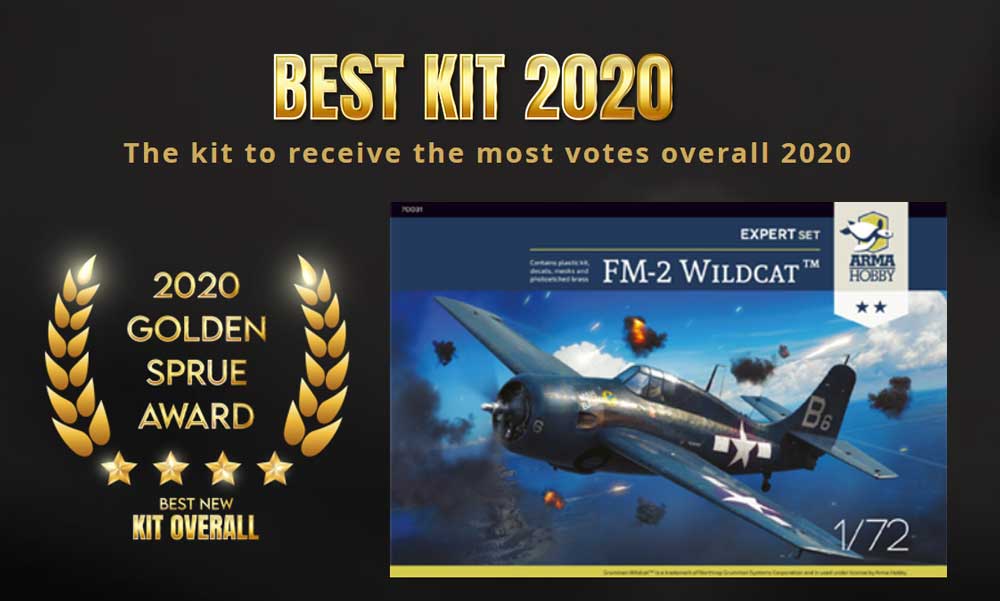 https://www.facebook.com/ArmaHobby/posts/3727069130656750?__xts__%5B0%5D=68.ARAO_-8qVrpWOr_VDbAayPlVWLqpbpadpKiOOw_V41-WQPyK3uJ0rcUHxkLtl1oZn5D7WEzWlew28AeiReQQxS_v4cKxP-qmRmTnRa6D0tTgvG3DkmdXnuUW9tl_9gk6Jred1zIHGTwuA6TeLjMYjxLIPVIhYjcLQYvfoFyNZMY4cvQVXF16NqlTni4-Uj9vqdQaEHvNCImEM17w3yZzUFUJE9nVpyOlqMN1KfKM0-AS-2QX_mBNLBSbTyGuHt-kWlapusQ1Gjp9Bb1CZLEkxu92opfDjF735ypc39evhK32jk7lKQytGcd_pgXaENN8uYcrCu9eFZnap_CYWiz1Wjarwg&__tn__=-R
---
This post is also available in:

polski