Toy Fair, Spielwarenmesse, is a yearly trade event for manufacturers and distributors of any toys. Modelling companies hold a separate place among them, including the largest producers of models and modelling paints. At the fair, the German magazine Modell Fan awards manufacturers with the prestigious medal Model of the Year "Modell des Jahres". This year's participation of Arma Hobby was a great success.
Success on the Toy Fair 2020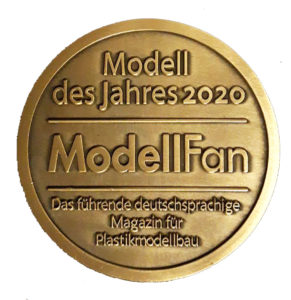 Our company does not belong to tycoons, employing several dozen or one hundred or several dozen people. Two out of three employees came to the fair: Wojtek Bułhak and Marcin Ciepierski. The Italian distributor, Astromodel, has granted Arma Hobby space in the display case. On the first day, we received a representative of Modell Fan with a medal and a diploma for the model Jak-1b in 1/72 scale. That is a considerable distinction in the most challenging category, plastic models. Even the big world producers do not regularly get them. Arma Hobby possess three medals from previous years but in resin categories.
Medal from the Modell Fan for the Yak-1b kit
Photos: Marcin Ciepierski with medal, Arma Hobby models in showcase.
.
You may be interested
See Yak-1b models in Arma Hobby webstore.
This post is also available in:

polski