At the end of the Battle of Britain Royal Air Force Fighter Command started replacing one of its main fighters  -Hawker Hurricane Mk.I with a new version Mk.II (at first Mk.IIa and then IIb, c and d). This allowed RAF to keep Hawker's aircraft in the frontline service when Supermarine Spitfire became the main fighter of Fighter Command.
Hurricane Mk.IIa was first.
Even before the end of the Battle of Britain, first Royal Air Force squadrons started receiving first Hurricanes with Rolls Royce Merlin XX engine. It had two stage supercharger and water and glycol mixture injection. The supercharger allowed to fly higher and faster. New engine installation and bigger oil tank required (from the second series of Mk.IIa) lenghtening the fuslage by 4.5 inch. At the beginning new plane had the same armament as Hurricane Mk.I but soon a new wing with 6  .303 inch (7.7mm)machine guns was introduced A new version became known as Mk.IIb.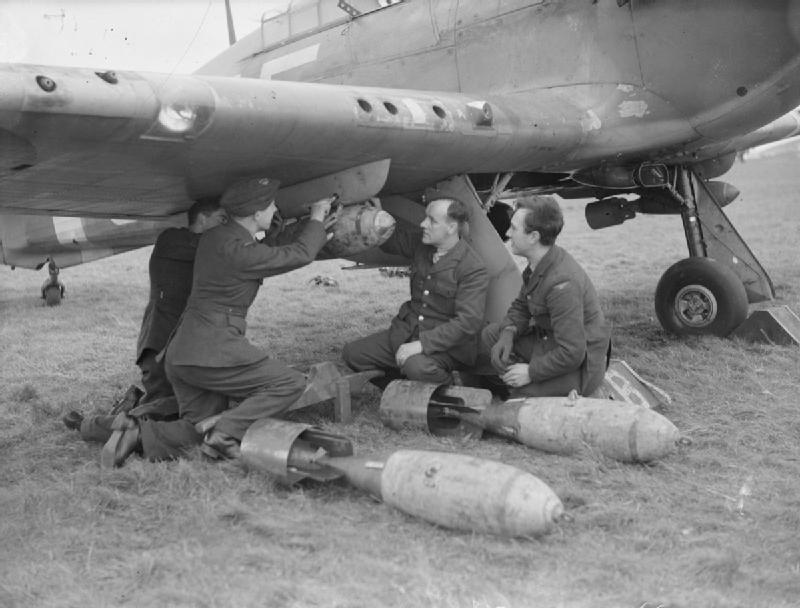 Arming of the Hurricane MK IIb with 250lb bombs. Of the six machine guns in wing you can see five of them. Sixth one is removed and barel is taped. It is beacuse of  it's spend chutes slot placed at the bomb rack location. Photo: wikimedia commons.
When new aircraft reached fighter squadrons, the work on higher firepower had already begun. First designing team made bomb racks for 250lb bombs. Such equipped planes started attacked missions over France. In such case, one machine gun in each wing was removed as the bomb rack covered one case schute and the machine gun could not be used.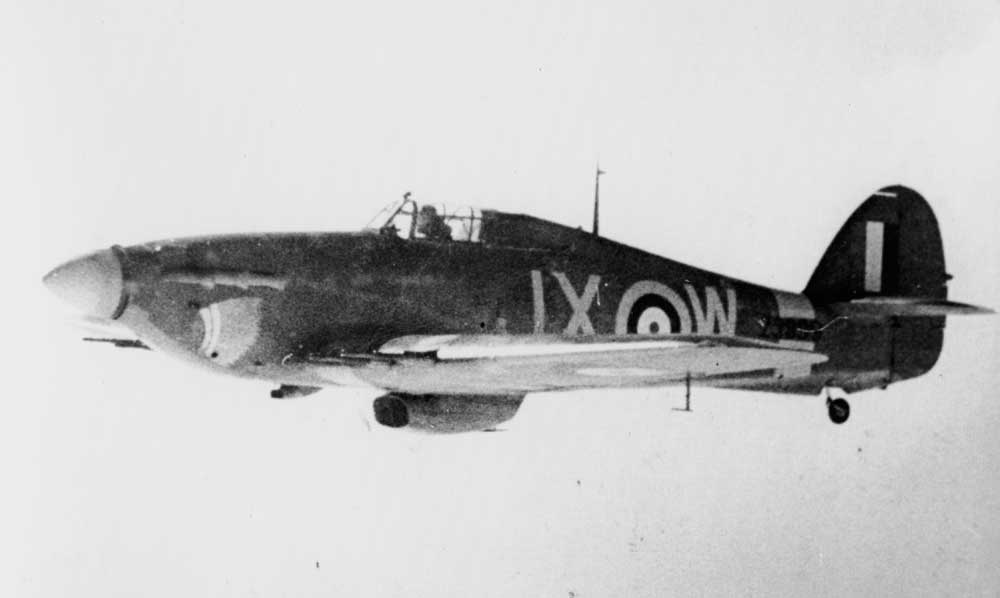 Hurricane IIc, Z3899/JX-W from 1 squadron RAF,  Autumn 1941. Aeroplane lost in accident on 22 November  this year. Unusual carton insignia visible – Indian head. Photo from Tony O'Toole collection.

The Birth of Hurricane Mk.IIc
At the same time Hakwer was working on greater firepower. RAF had already had some experience with weapon stronger than .303 inch machine guns. The chosen option was 20mm Hispano Suiza cannon, but it required major redesigning of a wing. Instead of one gun baywith four machine guns there were two separate gun bays for one cannon each witch a shute case at the lower wing. Each gun bay hatch had a bulge covering drum feed for Hispano cannons. Another characteristic feature were anti-glare panels installed just over and aft the exhausts. These were rectangular metal panels protecting pilots eyes from exhaust glare during night missions.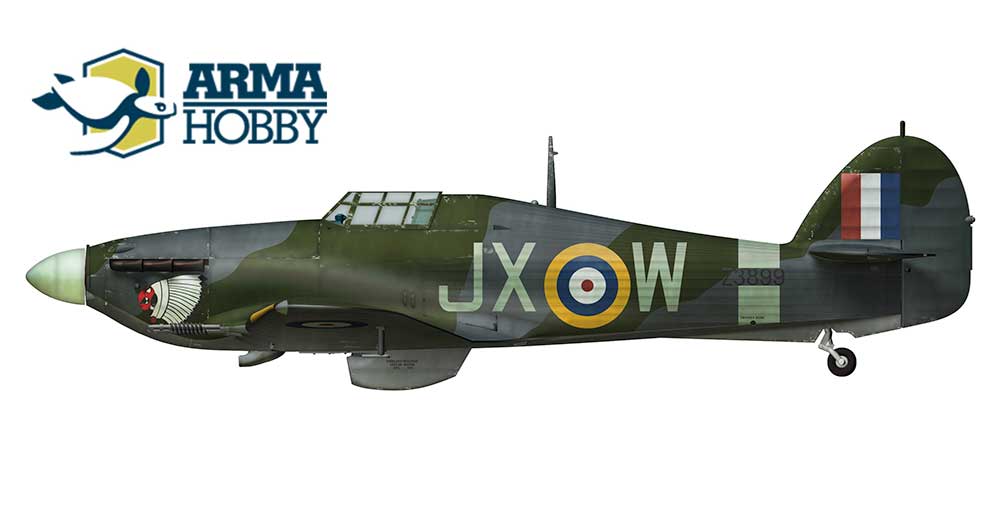 Hurricane Mk IIc, Z3899/JX-W, 1 Sqaudron RAF, November 1941. Aeroplane painted with Day Fighter Scheme, upper surfaces in Dark Green and Ocean Grey, under surfaces in Sea Grey Medium. Early insignia type A1 and early fin flash. Unusual Sky band on fuselage, with slot for serial. Artwork by Zbyszek Malicki.
Hurricane in a Day and at Night
First Hurricanes Mk.IIc reached units in the middle of 1941 and started their missions at once.  Together  with Hurricanes Mk.IIb they started flying combat missions over the continent in operations known as Circus and Rhubarb. The former  were air raids with a small number of bombers covered by fighters. Their task was to lure out  enemy fighter into the air. In such missions bomb carrying Hurricanes Mk.IIb played the role of a bait and Hurricanes Mk.IIc were hunters. Rhubarb missions were carried out by small groups of fighters attacked carrying out surprising attacks on  different targets on the continent. However, the leaning into France in 1941 proved ineffective and the RAF loses were very high. Night operations were more important.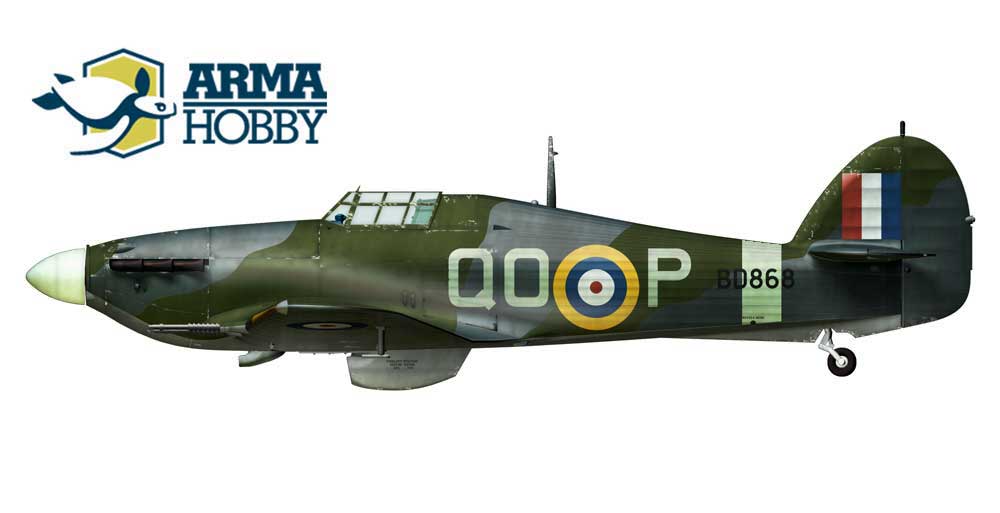 Hurricane Mk IIc,  BD868/QO-P from 3 squadron RAF, August 1941 – June 1942. Aeroplane was not attached to one pilot, but until March 1942 it was usually flown by P/O Hunt. During service Hurricane BD868 flew around 60 combat flights. It started with day missions (eg. attack on German Fleet during "Channel Dash" – "Operation  Cerberus" on 12 February 1942, flown by P/O Hunt) and since May 1942 night intruder missions of the 3 Squadron "Night Flight Detachment" in Manston. Following aerial victories were achieved on BD868:
20 May 1942 P/O Desmond James Scott* (RNZAF) shot down unidentified aeroplane over Dutch island Texel
1 czerwca 1942 F/Sgt Colin Homer Smith (RCAF) shot down one Do 217 and damaged second in Dutch city Gilze vincinity. The same pilot did not return from mission on  7/8 June 1942.
*Later, this New Zealand aviator became known for his achievements as commander of the Tangmere Typhoon Wing and the youngest Group Captain in the Allied Air Forces. Awarded DSO, OBE, DFC and Bar. Author of two memory books: "Typhoon Pilot" and "One More Hour".

Camouflage and markings similar to JX-W mentioned above, then in Spring 1942 it was repainted night intruder scheme. Decals for that aeroplane you find in 70036 Hurricane Mk IIc Model Kit. Historical research was prepared according to,  Operations Record Book of the 3 Squadron RAF.  Artwork by Zbyszek Malicki.
---
At the beginning of the war Royal Air Force did not have well developed night fighter force. Blenheim Mk.If were not effective. As Luftwaffe started night attacks on Britain in autumn 1940 RAF needed more effective night fighter. Although not the best, Hawker Hurricane was a good choice – it had wider undercarriage than Spitfire and was quite friendly for pilots. However, it did not have radar. There were some trials but finally they were given up. As a stop gap RAF introduce a system of cooperation between Boston Turbinlite bomber with a huge searchlight in the nose, which was used to illuminate German  bombers and Hawker Hurricane. Ground control directed Boston Turbinlite aircraft on enemy plane, then it illuminated the bomber for Hurricanes. Unfortunately this system proved quite ineffective. The ultimate solution was introducing twin engine night fighters Bristol Beaufighter and DeHavilland Mosquito.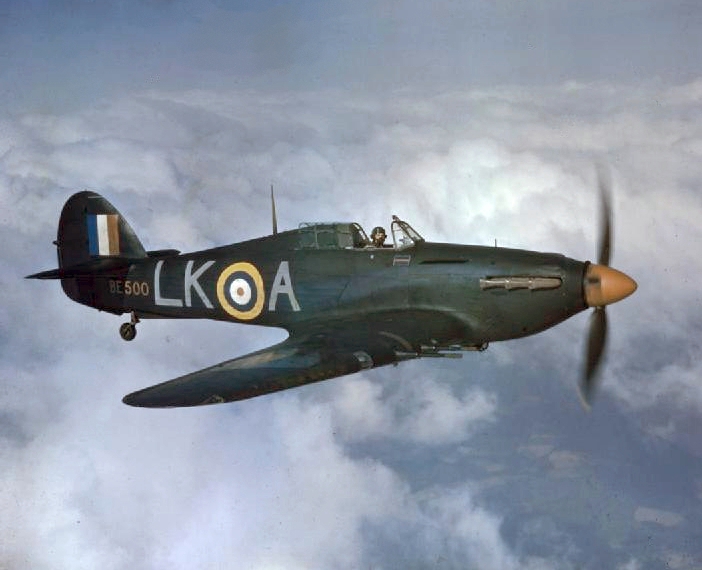 Hurricane Mk IIc, BE500/LK-A, flown by W/Cdr Denis Smallwood. Aeroplane roughly repainted with Night Intruder Scheme, with the Day Fighter Scheme translucent eg. on the leading edge . Photo: wikimedia commons.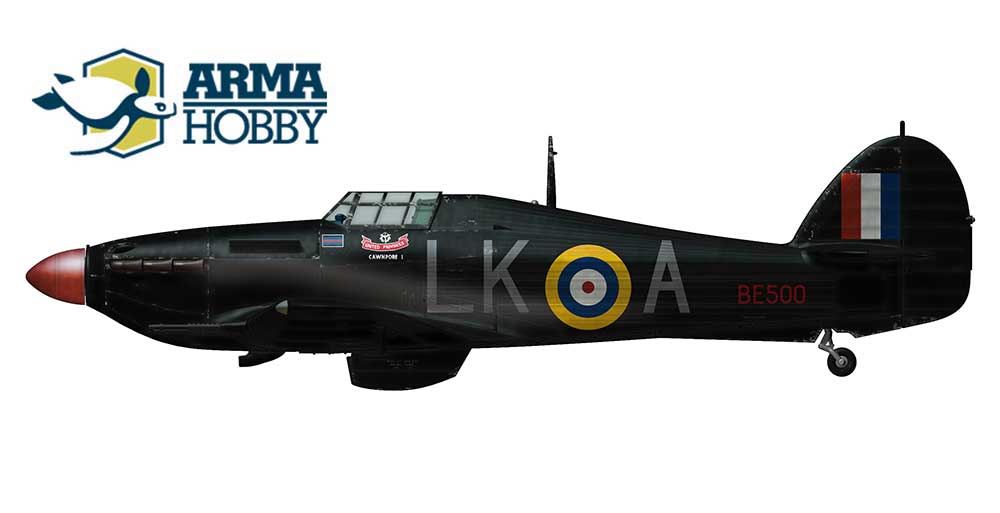 Hurricane Mk IIc, BE500/LK-A,  "United Provinces – Cawpore I". Aeroplane repainted with Night Intruder Scheme. W/Cdr pennant of the pilot Denis Smallwood visible under cockpit. Artwork Zbyszek Malicki.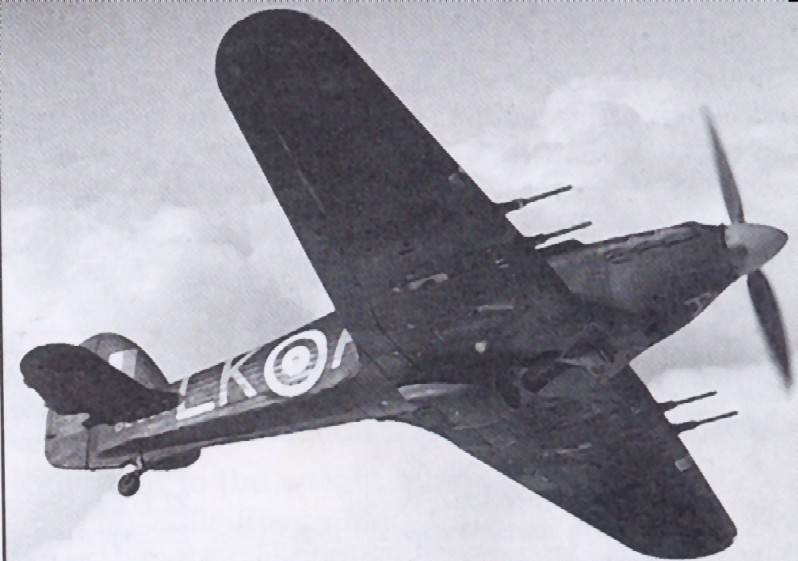 Another photo of the Hurricane BE500/LK-A in black camouflage. Underwing roundels are verpainted. Under nose red "A" is painted. Photo from Tony O'Toole collection.
Hurricanes which previously had been used as night fighters were given new tasks – Intruder missions. Fighter Command sent them to hunt German bombers on their way home or intercept them while Luftwaffe bombers were landing on airbases. These required long range tanks which were attached under wings, similarly to bombs on Hurricanes Mk.IIb. One of the best pilots was Czech ace Kuttelwascher who was flying with No 1 fighter Squadron.
Karel Kuttelwascher – the most effective Hurricane night fighter pilot
Night fighter camouflage
During the war Hurricanes flew both day and night missions. Since summer 1941 RAF fighters were painted in Day Fighter Scheme consisting the following colours – Dark Green and Ocean Grey on top surfaces and Medium Sea Grey on lower. Hurricanes designated to night missions wore Night Intruder Scheme – they were painted Night Black. Neverheless, RAF was looking for effective  camoulflage as black paint used to paint aircraft reduce speed.. First upper surfaces were painted Dark Green and Mixed Grey (a mixture of Medium Sea Grey and Night Black). Finally a compltety new camouflage was developed by the Royal Aircraft Establishment and the Air Interception Unit and on 11th January 1942 it was introduced. It consisted only two colours – Medium Sea Grey covering lower surfaces and upper together with Dark Green.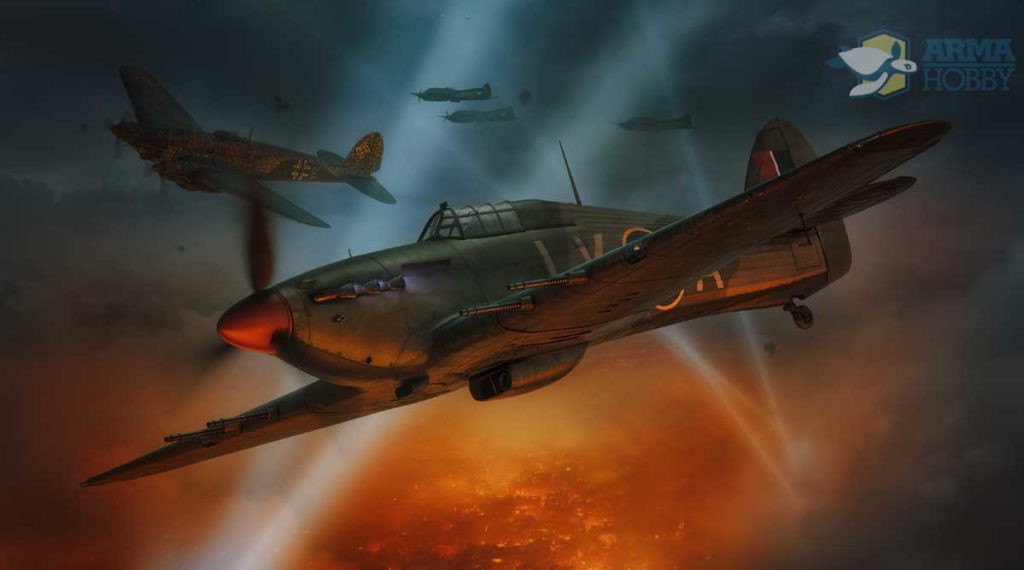 Hurricane Mk IIc, BE500/LK-A fights "Beadeker Blitz" type Luftwaffe air raid – Autumn 1942. Artwork by Piotr Forkasiewicz.
Beadeker Blitz
At night on the 28th and 29th March 1942 RAF Bomber Command conducted a huge bom bing raid on German harbour – Lubeck. British attack caused a lot of damages and high casualty rate among civilians. Germans learnt that further bombardment  might cause morale dawnfall and decided to organise retaliatory attacks on British towns and cities. Gustav Braun von Stumm, the spokesman of German Foreign Office, said that "We shall go out and bomb every building in Britain marked with three stars in the Baedeker Guide". The air raids begun in April 1942 and lasted until 1944. German bombers attacked places of cultural importance but proved ineffective, although caused deaths of 1673 civilians and destruction and damage of 50,000 houses. Yet, it did not make British to stop their bomber offensive and Luftwaffe Kampflieger (Bomber Force) lost 40 bombers. At that same time Luftwaffe carried out hit-and-run attacks on coastal towns using Focke Wulf  190 fighter bombers.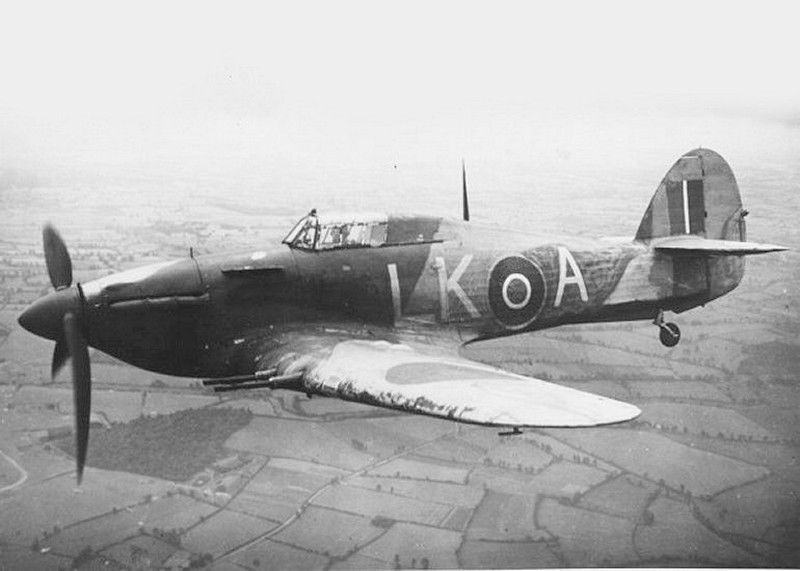 Hurricane IIc BE500/LK-A repaint with new camouflage, Dark Green and Mixed Grey (Ocean Grey) uppersurfaces and left in previous Night Black undersurfaces. Roughly repainted aeroplane has paint peeling at teading edges and traslucent in some places . Aeroplane flown by W/Cdr Smallwood and Polish fighter F/Sgt Henryk Trybulec among others. Photo – Tony O'Toole collection.
A Pole in 87 Squadron RAF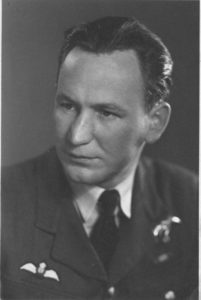 Henryk Józef Trybulec – 1912-1993 – was one of the most experienced Polish Air Force pilots. Born in Radomyśl Wielki near the Mielec town, where a big aviation factory was built. Graduated high school in Mielec and in served obligatory militry service in  32 Liasion Squadron in 3rd Aviation Regiment in Poznań. In 1934 he has graduated advanced pilot course in Grudziądz . From 1936 to 1939 Trybulec served as pilot's training instructior in Ławica airfield in Poznań. He has fought in September Campaign 1939 with 32 Recconaissance Squadron in Army Łodź. He conducted dangerous recce sorties over German Panzer colums advancig towards Warsaw. Trybulec flew PZL 23 Karaś as well as obsolete RWD-8 aeroplanes. According to his personal notes he has completed 1950 flying hours in Poland.  When arrived to Britain he has served several training units: 15 OTU, 10 B&GS, 55 OTU. At last in October 1941 he became operational pilot in Polish 317 Fighter Squadron. Then he was serving with following units:
87 Squadron RAF – March 1942 – September 1942
533 Squadron RAF – September 1942 – December 1942
308 Polish Squadron – December 1942 – March 1944
302 Polish Squadron – October 1944 – July 1946
During serivice in Polish Air Force in Britain Henryk Trybulec flew:
55 combat sorties/ 95.5 hours
38 operationa sorties / 46.5 hours
14 hours and 55 minutes night flights
Decorated with Cross of Valour 2 times. After the war he could not return to communist Poland and married Isabelle Bridges.
With 87 Squadron RAF served also other Polish fighters:  F/Sgt Antoni Beda F/O Antoni Waltoś (KIA in first air raid on Operation Jubilee, 19 ugust 1942)

Hurricane Mk IIc, BE500/LK-A, piloted by W/Cdr Smallwood in Operation Jubilee 19 August 1942 and by   F/Sgt Henryk Trybulec in May 1942. Visible roughly applied new camouflage as well as overpainted fundation and rank pennant insignias. Artwork by Zbyszek Malicki.
Operation Jubilee
One of the most important operations in which Hurricanes IIb and c took part was "Jubilee". On the 19th August 1942 Canadian units together with British Commandos, US Rangers and with the support of tanks, landed in French town Dieppe and in its area. Main task of that operation was to gather information about German defense on French coast and gain experience before invasion. RAF's task was to cover the invasion fleet, landing forces and to provoke Luftwaffe into a major battle.
Hurricanes were used as a close support aircraft – Mk.IIbs bombed targets and Mk.IIcs used their cannons to attack "softer" targets. For RAF it was very busy day – squadrons flew 2-3 missions during that day. However, the whole operation was a failure and Canadian units suffered heavy losses. Yet, gained experience was priceless and lesson learnt from it helped to prepare the Normandy landing.
Three air raids a day – 87 Squadron
In the Operation Jubilee 87 Squadron flew three air raids. Squadron task was to attack targets with cannon fire just after they were bombed by bombers, mostly Hurri-Bombers Mk IIb.
First Air Raid, after 7:35 AM. When Bostons from 88 Squadron bombed coastal battery"Rommel", W/Cdr Smallwood (BE500/LK-A) leas a column of tree sections of four aeroplanes throught deadly Flak fire. Polish pilot F/O Antoni Waltoś was killed, and P/O Baker was shoot down and landed safely with parachute.
Second Air Raid after 10:15 AM, lead also by  W/Cdr Smallwood (BE500/LK-A). Squadron entered combat just after Hurricane Mk IIb from 175 and 253 squadrons dropped their load. They fired at German positions on cliffs at "Rommel" battery and all pilots returned safely.
Third Air Raid after 1:25 PM, was planned with cooperation of the Hurricanes Mk IIb from 174 squadron. This time 87 squadron was lead by F/Ltn Stuart Hordern (HL864/LK-?). Smoke screen over Dieppe prevented combined attack and squadrons operated separately. Targets of opportunity were attacked with cannons including MG nest on the cliff and lorries at the background of defensive positions. F/Sgt R. Gibson was killed in action.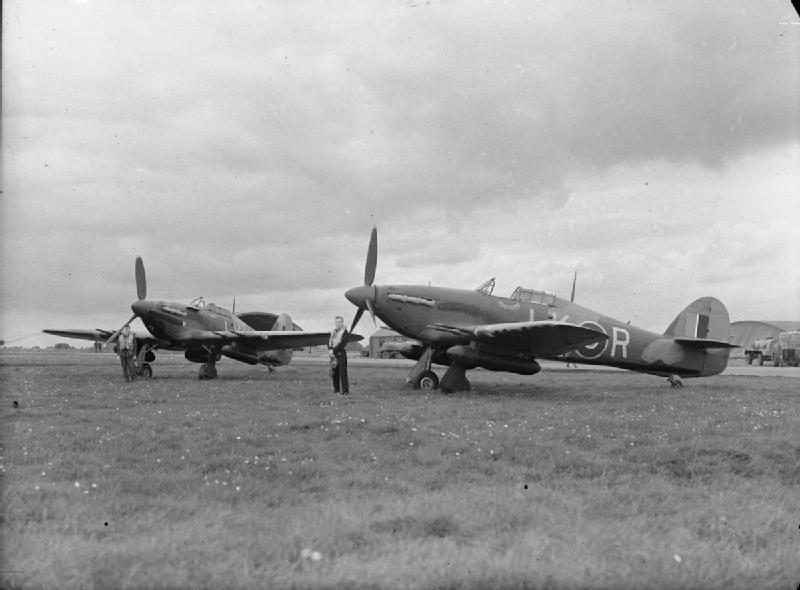 Two Hurricanes Mk IIc from 87 Squadron RAF. HL864/'LK-?' ""Nightingale"", P/O F. W. Mitchell, AND HL865/LK-R' ""Night Duty"", F/Sgt B. Bawden. Charmy Down, Summer 1942. Aeroplanes configured for "NightIntruder" missions with z 44 galon fuel tanks under wings. Photo: wikimiedia commons.
Hurricnanes Mk.IIb and IIc fought almost until the end of the war, not only over Britain and north-western Europe, but also over Africa, the Balkans, Middle East and Burma and India, although they were being slowly replaced by more modern aircraft – Hawker Typhoon and P-47 Thunderbolt.
But this is a completely different story.
---
English translation by Dominik Sedziak
Suggested reading:
Hawker Hurricane and Sea Hurricane by Tony O'Toole, Pen and Sword Aviation, Bransley 2014
Dieppe 1942, Norman Franks, AJ-Press, Gdańsk 1999
Polish Fighter Colours 1939-1947 vol. 1, Stratus, Sandomierz 2016, buy in Arma Hobby link.
You may be interested also in:
Hawker Hurricane Mk IIc model kits in Arma Hobby webstore
This post is also available in:

polski