Hawker Hurricane Mk.I became a symbol of Polish victories in the air during the Second World War. This type of fighter was used by Nos 302 and 303 squadrons during the Battle of Britain. It was also the first plane of almost every day fighter squadron of Polish Air Force in the United Kingdom. However, only two Polish squadrons used the most popular, cannon armed, version of Hawker Hurricane – Mk.IIc. When No 309 squadron received late marks in 1944 pilots' reactions were not too enthusiastic.
After the Battle of Britain, newly formed Polish fighter squadrons were receiving Hawker Hurricanes Mk. I and Mk.IIa which were soon replaced by Spitfires Mk.I/II/V. Only pilots serving in the British squadrons flew Hawker Hurricane Mk.IIc link. Later in the war this version was used by Polish fighter-reconnaissance squadrons –No 318 in 1943 and No 309 in 1944. Each of this units was formed to co-operate with different ground units of the Polish Army – the former with Polish 2nd Corps in the Middle East and Italy, the latter with Polish 1st Corps in the United Kingdom (1st Polish Armoured Division and 1st Independent Polish Parachute Brigade).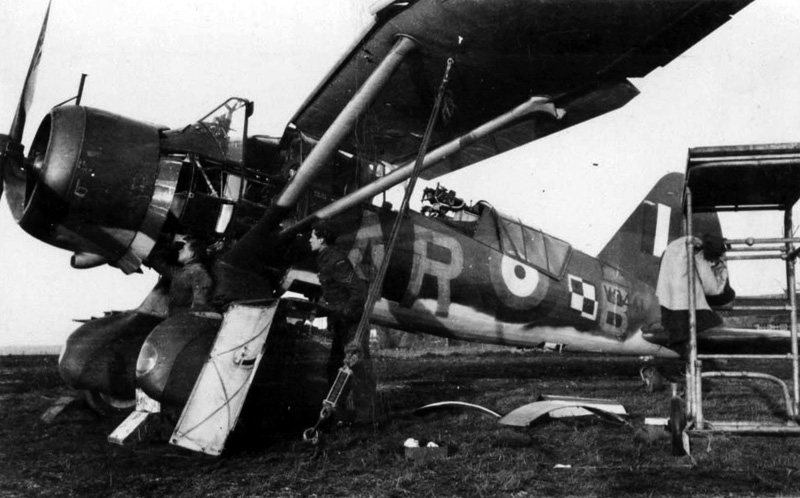 Lysander IIIA AR-B (V9441) from 309 Squadron, 1941. Photo from Wojciech Zmyślony collection.
No 309 Squadron "Army Co-Operation"
Polish No 309 squadron was formed in the autumn 1940 and its task was to co-operate with and support Polish 1st Corps which was forming in Scotland. Unit's first equipment was Westland Lysander which was used as reconnaissance and liaison aircraft, which also was able to make bomb attacks using small bombs. However, this kind of co-operation proved obsolete and Lysanders were moved to special operations – especially to transport Special Operation Executive agents to German occupied Europe. Their presence in the skies over the battlefield became unnecessary. That is why 309 Squadron received modern Mustangs Mk.I. One of the first pilots who flew this plane was Janusz Lewkowicz. He learnt a lot about the plane, its construction and abilities, and created fuel consumption diagrams, which allowed to gain 20-30% more range. RAF ignored his reports so Lewkowicz flew to Norway and back. After that, his diagrams were sent to other units and RAF reconnaissance Mustangs started flying as far as the Ruhr.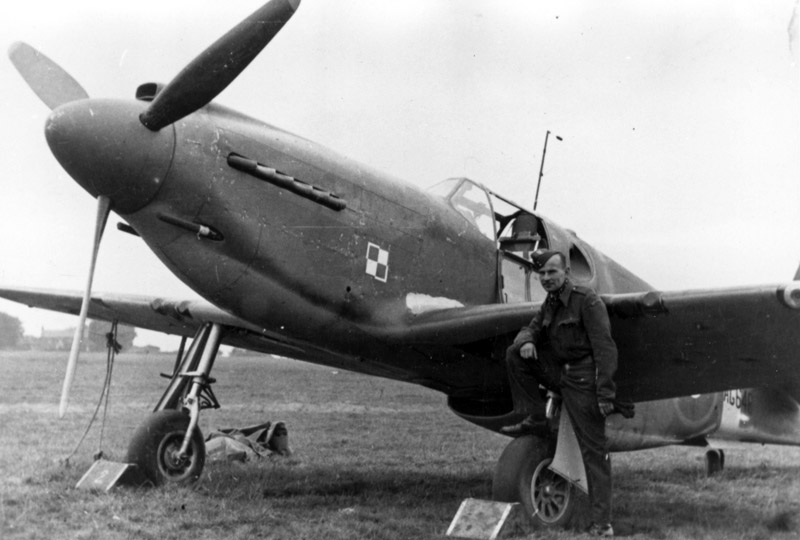 F/Lt. Janusz Lewkowicz at the Mustangu I AG648/E, aeroplane flown on 27 September 1942 on raid to Norway.. Photo from Wojciech Zmyślony collection.

Unwanted Hurricanes
In January 1944 No 309 squadron became fighter-bomber unit. In March it received Hurricanes Mk.IV. It was a universal attack version and it could carry either two 40-mm cannons in gun pods, one under each wing or bombs or rockets. However, at that time this plane was obsolete and was successfully replaced by Hawker Typhoon Mk.I b armed with four 20mm canons, bombs and rockets. Even before receiving Hurricanes Mk.IV, No 309 squadron OC, Maj Maciej Piotrowski had asked for Mustang Mk.II, Spitfire Mk.V/Mk.IX or DH Mosquito. But the Air Minstry denied – official reason was "the lack of sources".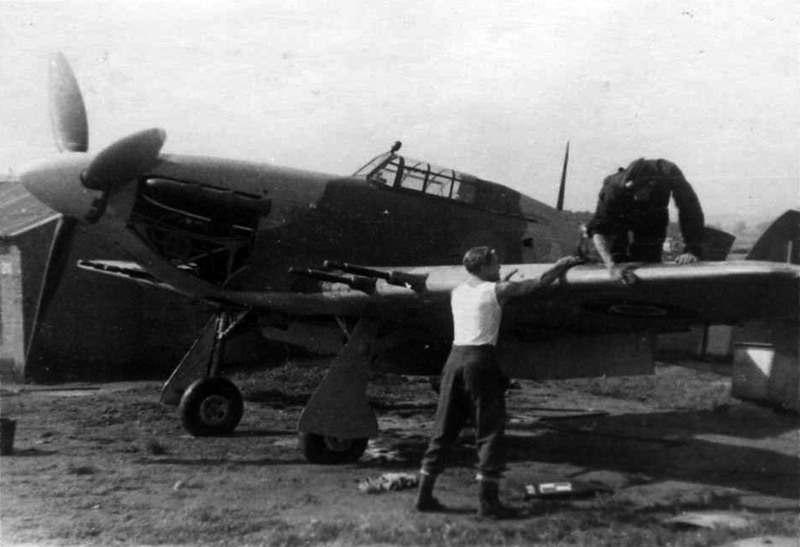 Hurricane Mk IIc from 309 Squadron. Photo from Wojciech Zmyślony collection.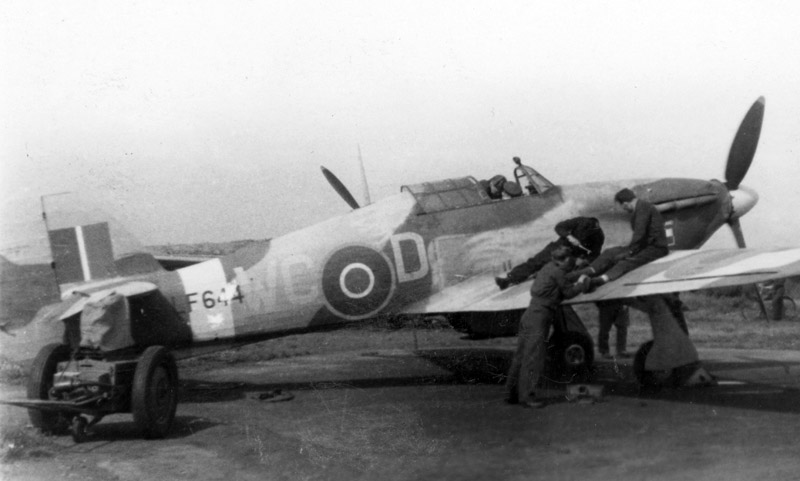 Hurricane LF644/WC-D. Visible are smudges of repaint with lighter shade of camouflage (Sea Grey Medium?). Photo from Wojciech Zmyślony collection.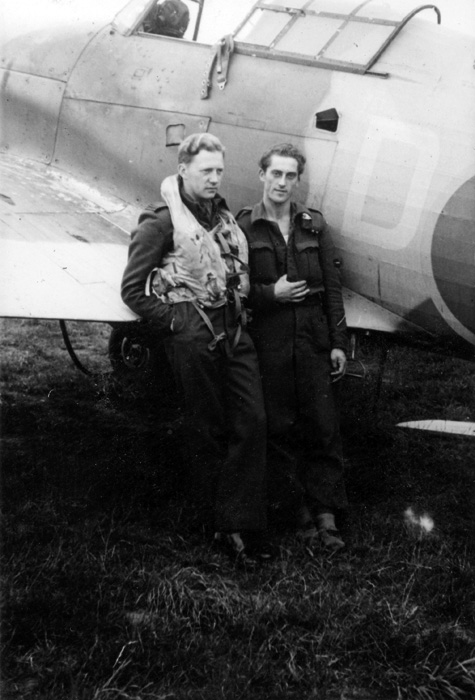 In March the squadron received factory new fighters Hawker Hurricane Mk.IIc which were used to practice fighter combats. During reconnaissance missions those planes were to be equipped with pods with cameras. But this did never happen. Squadron's OC pointed out three issues which disqualified them as a photo-reconnaissance planes:
Lack of speed which is necessary to conduct such missions
Lack of range
Lack of camera necessary during such missions
In April 1944 current commander was replaced by Cpt. Jerzy Gołko. The squadron's "A" Flight was sent to No 13 Fighter Group (RAF Drem) and "B" Flight to No 12 Fighter Group (RAF Hutton Cranswick). That decision made training even more difficult. The squadron flew training and patrol missions (probably last made by Hurricanes in North-Western Europe) with no enemy sighted. Pilots shot down three barrage balloons. The future of the squadron was uncertain.
Photo: F/O Jerzy Mencel and Cpl Zygmunt Janke with Hurricane LF644/WC-D, Acklington, Spring-Summer 1944 r. Photo from Wojciech Zmyślony collection.

.
Hurricane LF331/WC-G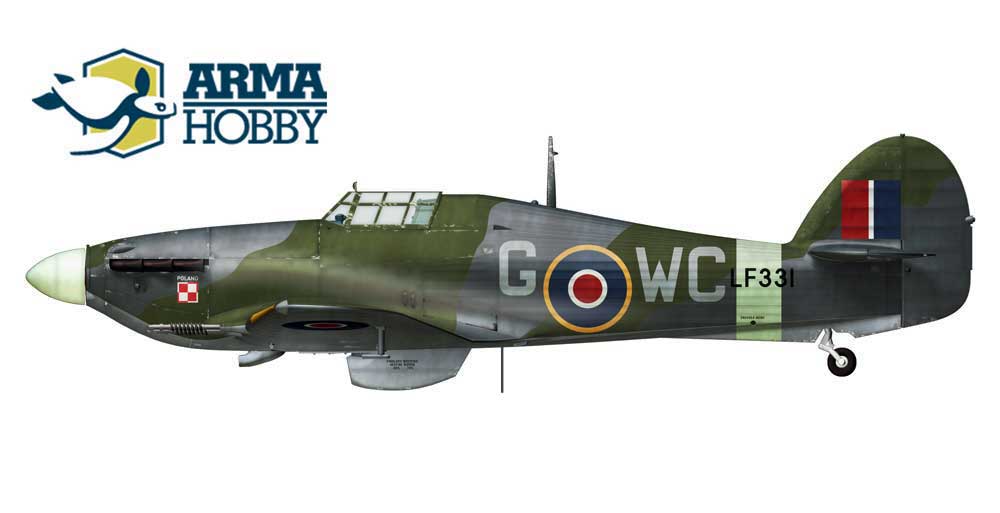 One of factory new Hurricane Mk IIc aeroplanes delivered to 309 Squadron in March 1944. Aeroplane insignia, a girl wearing swimming suit and slogan "target for tonight" are painted on fuselage right (see photo below). Artwork by Zbyszek Malicki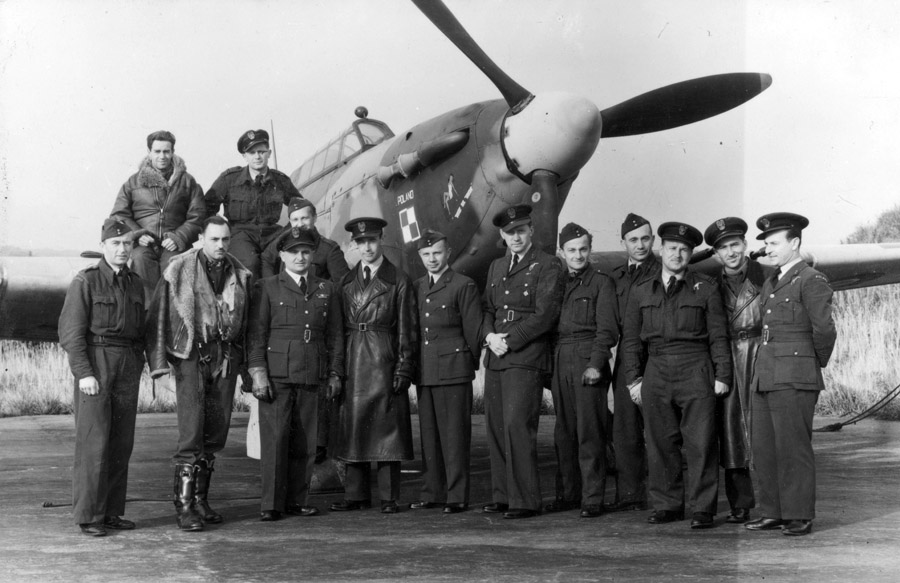 Pilots from 309 squadron during in September 1944. First row, third from left ins new commander, S/Ldr Antoni Głowacki, and frmer commander (in leather coat) F/Lt Jerzy Gołko. In background: Hurricane LF331/WC-G "Target for Tonight". Photo from Wojciech Zmyślony collection.
The New Hope
On the 1st September 1944 it was decided that the squadron would be pure fighter unit and receive North American Mustang Mk.III (P-51 B/C) fighters. One week later S/L Antoni Głowacki arrived to overtake the command. He was the legend – during the Battle of Britain, while flying with No 501 squadron he shot down several German planes, including 5 on the 24th August 1940. Soon after his arrival hard training commenced.
At the beginning there were some accidents, like shooting down a Hurricane during the mock fight. Głowacki successfully faced the problems, despite the fact that Polish pilots from other squadrons made fun of their mishaps. He chose the pilots he found suitable for fighter combat and sent the others to other units. He manned the unit with two experienced pilots from No 316 squadron and four newly trained fighter pilots. In October 1944 the unit received its Mustang fighters – first Mustangs Mk.I and soon Mustang Mk.III fighters. Glowacki effort paid of. On the 9th April 1945 pilots of No 309 squadron shot down three German Me 262 jet fighters. But this is completely different story.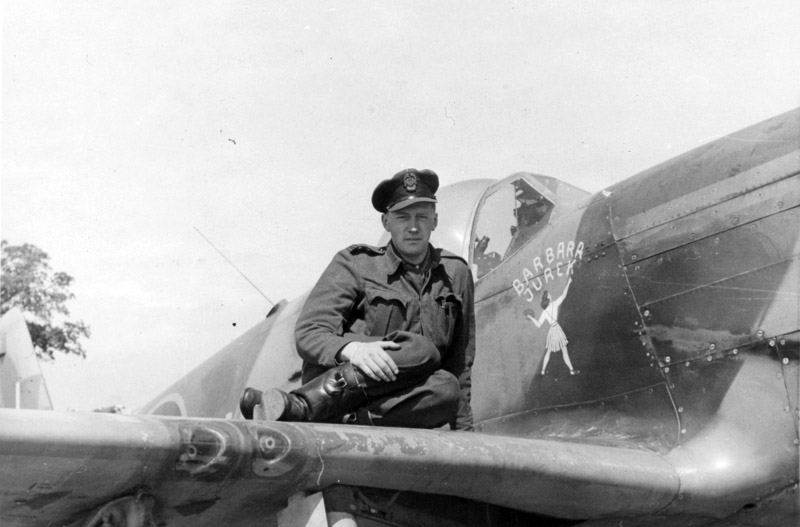 One of 309 squadron pilots that shot down Me-262, F/Lt Jerzy Mencel and his Mustang III KH516/WC-F . Photo from Wojciech Zmyślony collection.

Aknowlegements
Geat thanks to Wojciech Zmyślony for photos from www.polishairforce.pl and to Dominik Sędziak for English translation.
Suggested reading
Robert Gretzyngier "309 Dywizjon "czasowo" (!) na Hurricane. Gapa 13/2015, str 110-133, historia, zdjęcia, dokumenty, lista samolotów (seriale i litery kodowe)
Polish Fighter Colours 1937-1947 vol.1, MMP Books, Sandomierz 2016, znajdziesz tu zdjęcia i rekonstukcje malowań m.in. Hurricane Mk IIa/b/c i Mk IV w barwach polskich.
Advertisment: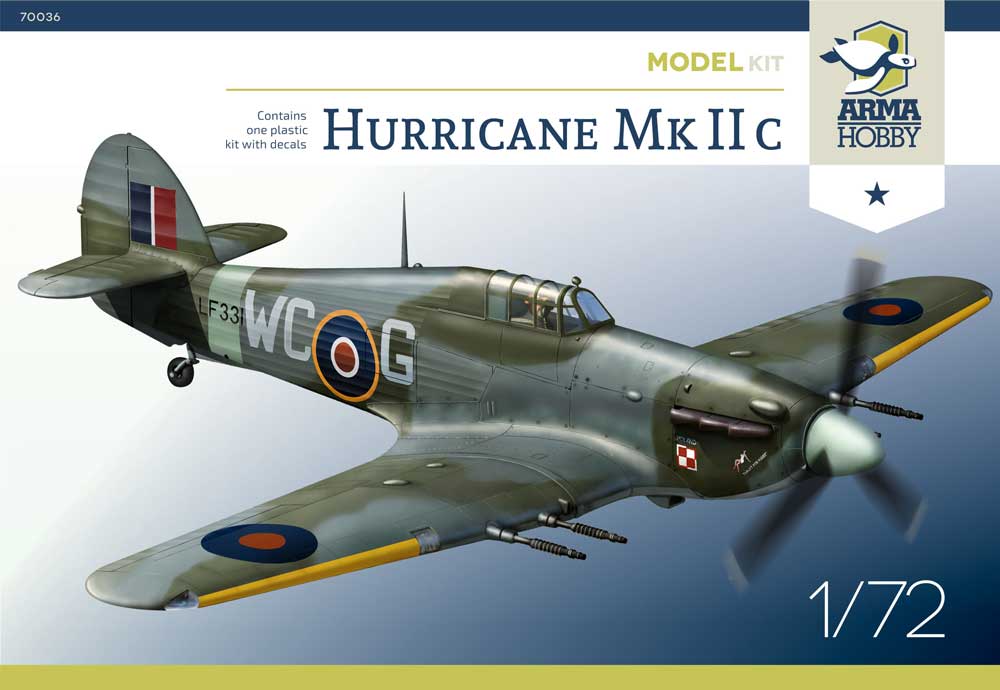 Buy Hurricane Mk IIc kit with markings of the 309 Squadron in Arma Hobby webstore link.
LF331/WC-G Target for Tonight (309 Squadron) 1944
BD868/QO-P, 3 Squadron RAF, 1941/42
This post is also available in:

polski