With great pleasure I present today the newest Arma Hobby project in 1/72 scale. The model kit of the Ki-84 Hayate (Gale, in the Allied code: Frank) is the first representative of the Axis Powers in our offer. It is also the first model kit designed in the extended team of our company.
Ki-84 kit
Hayate is a very interesting plane among Japanese fighters. Its high performance is not a result of the lightweight construction. It is a fast, maneuverable, strong and durable aeroplane with high firepower, capable of matching new enemy aircraft. Hayate fought on various Far East fronts in the Second World War, from Manchuria to the Philippines. It has performed both interceptions of Boeing B-29 Superfortress bombers as well as bombing and kamikaze suicide missions.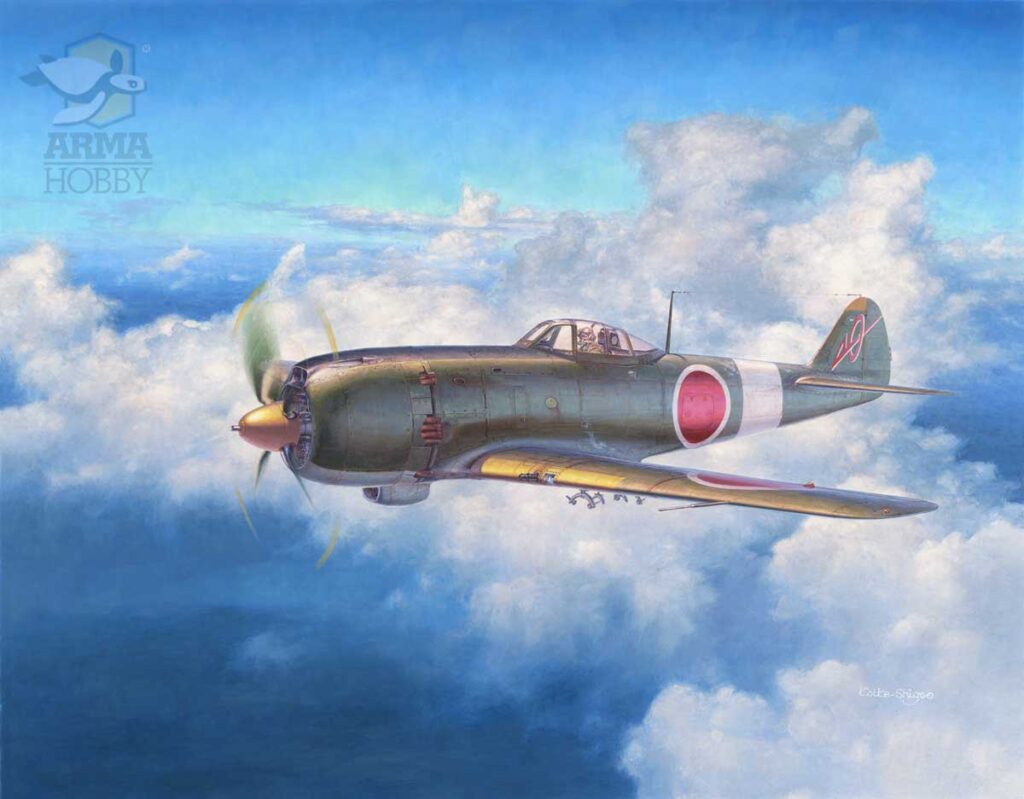 Ki-84 Otsu, 104. Sentai,  Ota airfield, Japan, August 1945 r. Artwork by Koike Shigeo
Hayate pre-order
The Arma Hobby model kit is available to pre-order today. We accept orders in our store, we plan to start shipments in the first half of April. The first will be the 70051 Nakajima Ki-84 Hayate Expert Set with photo-etched parts, masks, and decals for six different painting and marking options.
More about the project
In the coming weeks, on the armahobbynews.pl website, we will publish articles about the model kit, the history of the planes with markings we chose for this box, and we will present the backstage of the model kit design process. This is the first kit designed by our second design team: Maciek Wroński (3D) and Zbyszek Malicki (project manager).
Marcin Ciepierski (the designer of all our models to date) supervised the work, and Jarek Jaworski provided historical advice. You will see that the new people have successfully implemented the project in the already familiar Arma Hobby style.
English translation by Grzegorz Mazurowski
Model renders
See more:
This post is also available in:

polski