Exactly a year ago, I started building 4 Hurricane models in 1/72. Building is a big word, because the construction took the least time. The painting draws me the most. The first of the mentioned Hurricanes has already been presented on our blog. Time for another completed model from this series.
Painting of the Hurricane II b model
Construction, as I mentioned, is straight forwar. I designed the model personally and have already assembled it several times. Therefore, the description will mainly cover everything that happens after assembling the model.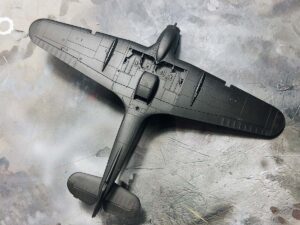 As always, I start with a black Gunze surfacer.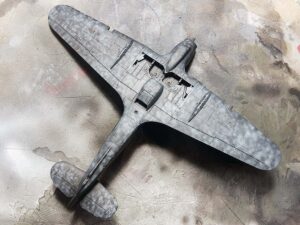 I treated the underside with white because of the stain patterns on the aeroplane, so popular recently in modeling.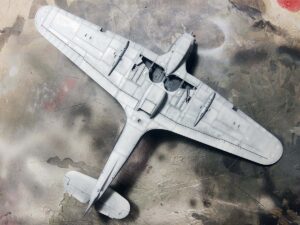 In addition, I painted all panels with a little white color.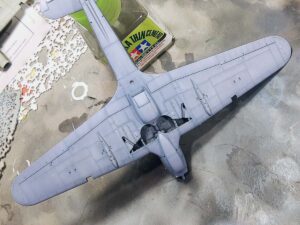 I painted the bottom prepared in this way with the camouflage color – Azure Blue.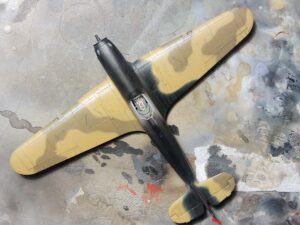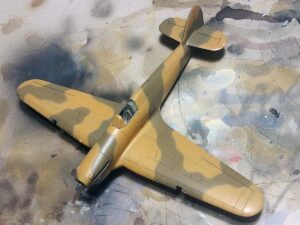 I painted the top directly with the camouflage colors of Dark Earth and Middle Stone. I painted all the borders between the colors free hand without a mask, treating them simply with the thinnest line that I was able to apply with an airbrush.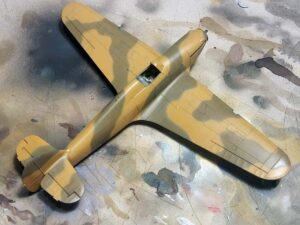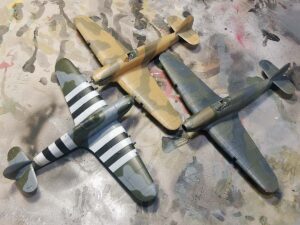 All colors in the model come from the Hataka orange series. These paints allow for a slow, very precise application of color. Usually, when painting on a black base, I try to get closer to the dividing lines, but not to flood them with the camouflage color. Thanks to this, I achieved a subtle preshading effect.
Weathering
The airframe painted in this way was quite clean. It was a perfect moment to apply decals and seal them with clear varnish. First came a glossy varnish, which makes the surface of the decal uniform with the model, and then a semi-matte varnish.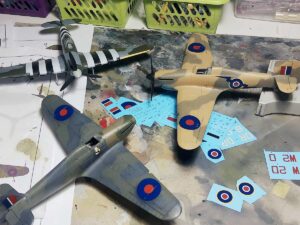 I started weathering with scratches. My favorite method is a thin brush and diluted Gunze C08 paint. I try to accumulate scratches where the pilot and aircraft staff go, and where the air rush behind the propeller would destroy the paint layer with sand bursts.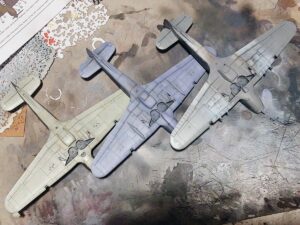 I used the airbrush to paint the stains behind the exhaust manifold in black, brown and white colours. I used the same tool for gun stains and dirt on the underside near the undercarriage. The same area and the top of the wing near the fuselage were stained with oil specifics from Ammo Mig from the Nature Effects series (Earth, Streaking Grime).
Adding a few small details such as the antenna mast, propeller, bombs was the last step. This is how the finished model looks like.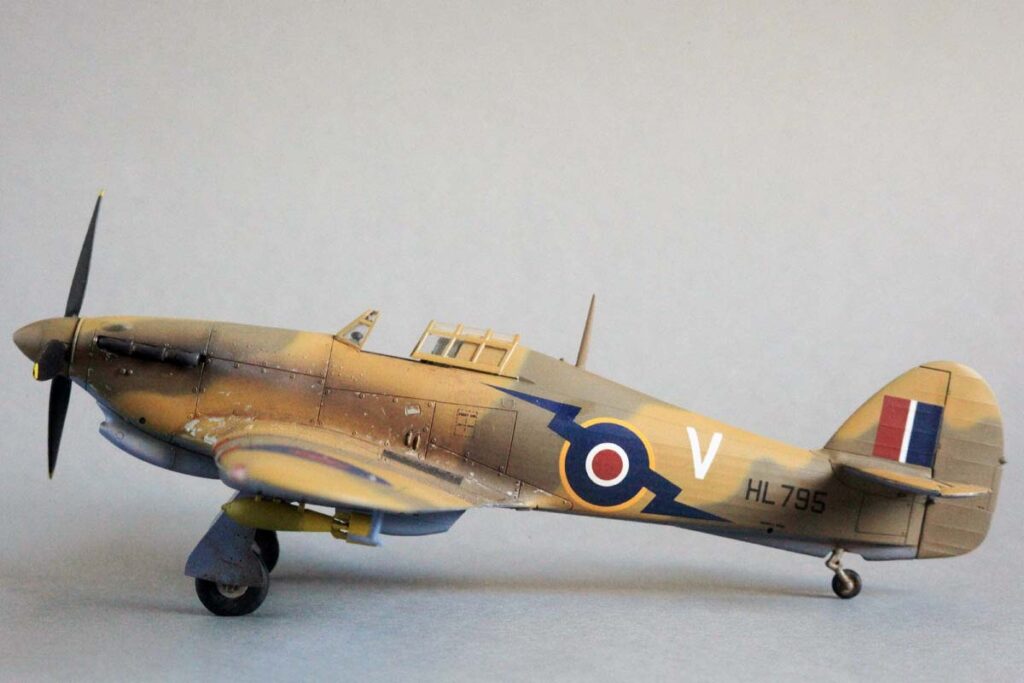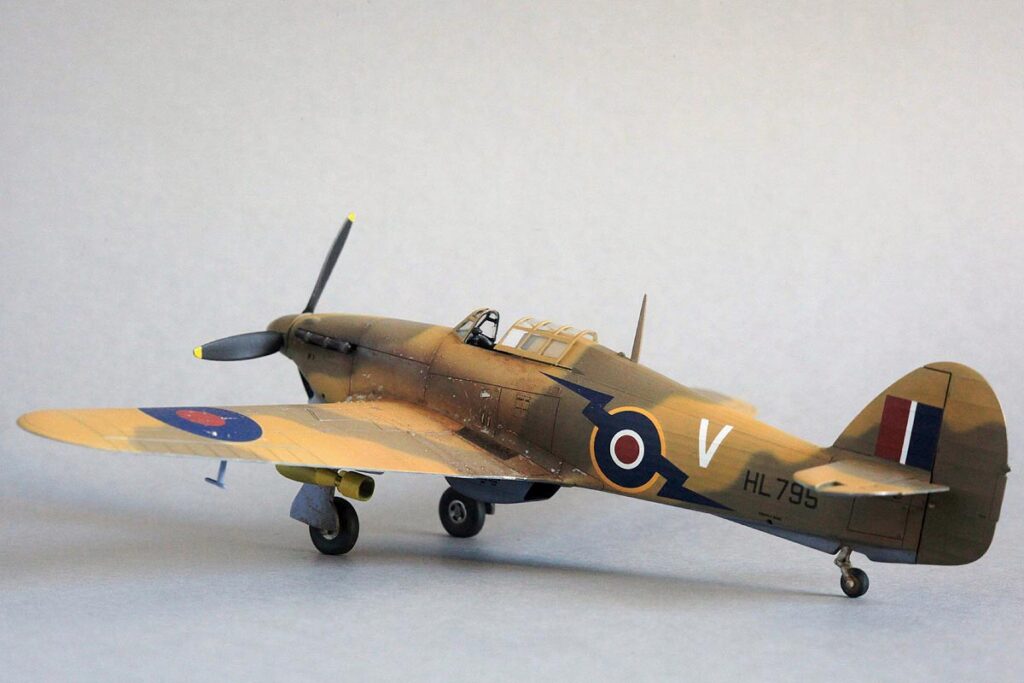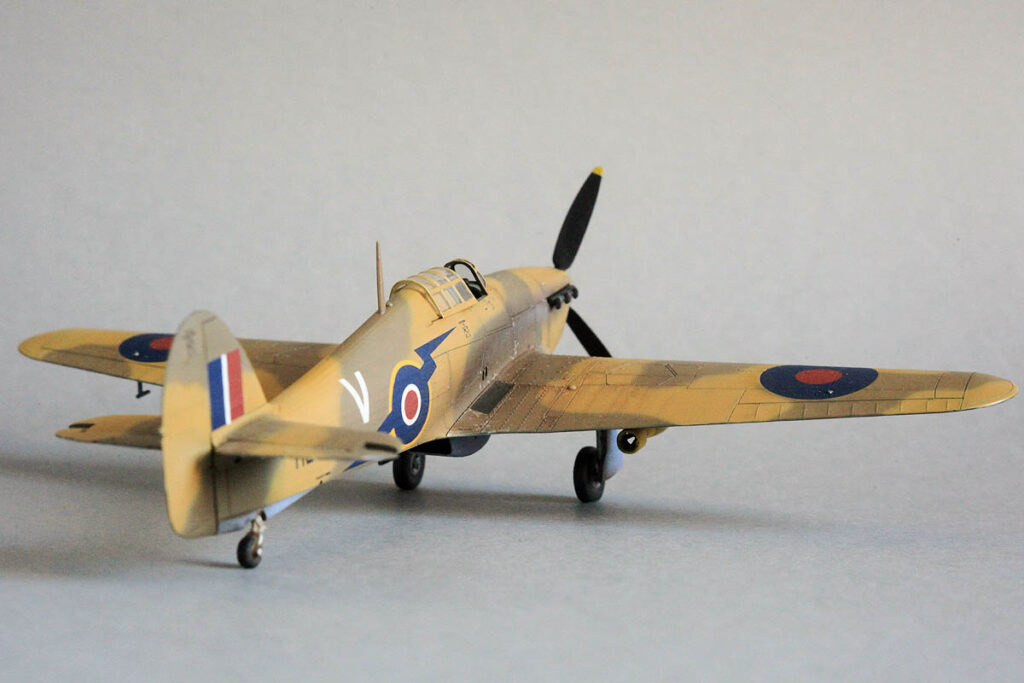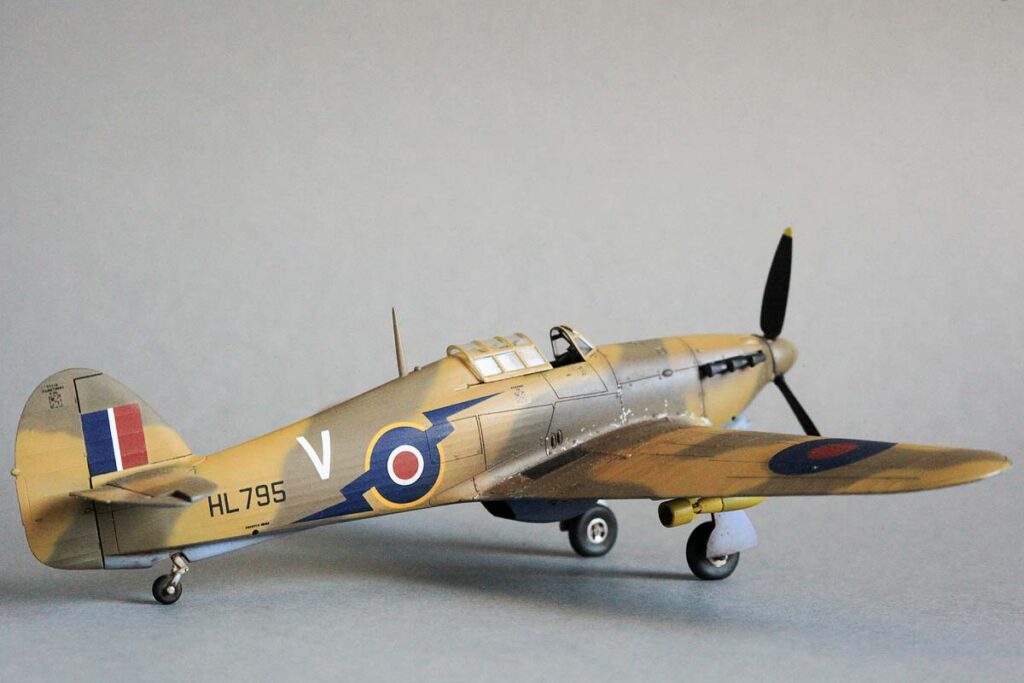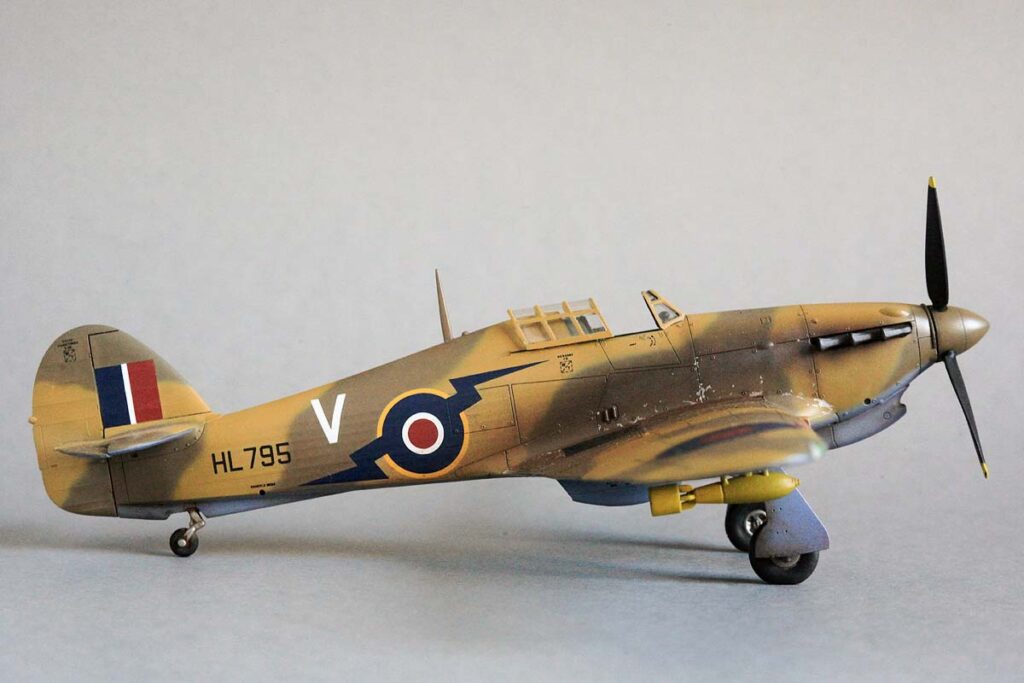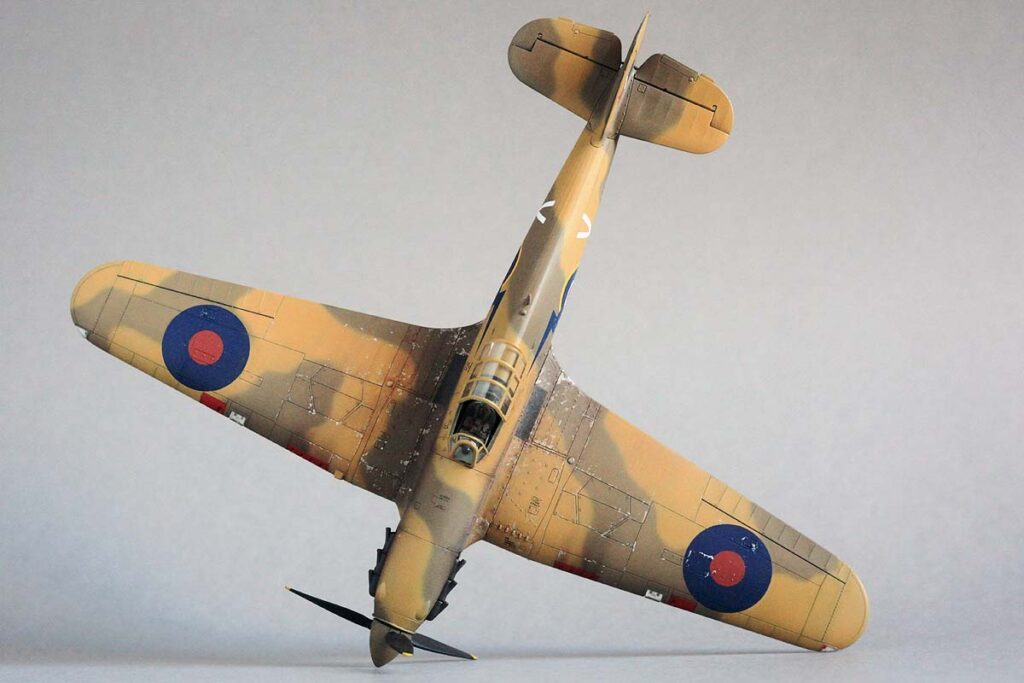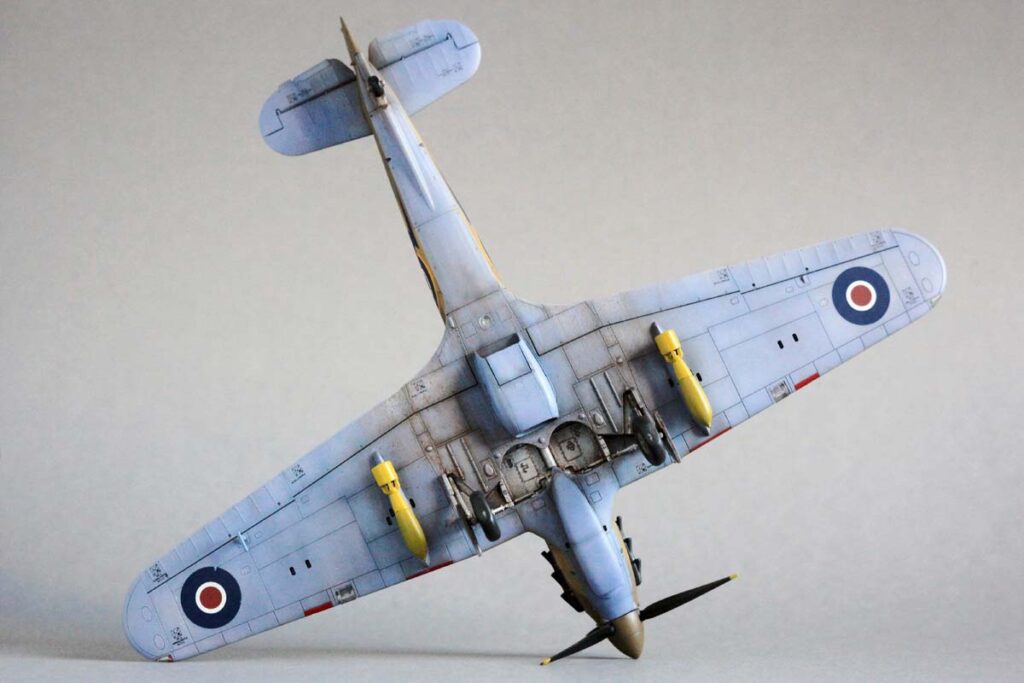 See also:
Buy Hurricane Mk IIb/c Expert Set kit in the Arma Hobby webstore click
This post is also available in:

polski