Jerzy Mencel nearly lost his life in an accident at the beginning of his flying career. Eventually, however, he achieved his goal. He became a Spitfire pilot, he also flew Hurricanes. He ended his combat career in a Mustang, shooting down a Messerschmitt jet in the last air combat of the exiled Polish Air Force. This is his story.
Jerzy Mencel
Jerzy Mencel was born on 6 April 1918 at Poddębice. In 1936 he graduated from a secondary school at the National Technical-Industrial School in Łódź, where he specialised in cloth dyeing.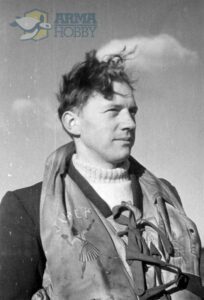 After his maturity exams he volunteered for his national military service. He graduated from the Polish Air Force Reserve Cadet Officers' School, obtaining a mobilisation posting to the 3rd Air Regiment in Poznań, where he subsequently trained to fly the PZL P.11 fighters. In 1939 he was employed as a civilian flying instructor at No. 1 Air Force Training Centre at Dęblin. In August 1939 he was mobilised with a posting to No. 3 Air Base (re-formed from the 3rd Air Rgt), but in the chaotic withdrawal of Polish forces it took him until 10 September to eventually join his unit near Lublin. Evacuating south-east with the road party of No. 3 AB, Jerzy Mencel found himself in the area invaded by the Soviet Russia, and on 17 September he crossed the border to Romania. He managed to evade imprisonment in an interment camp and in early October he arrived in Yugoslavia, travelling to Greece in a few days. There he boarded a Polish ship, S/S 'Puławski', which took him to France.
Photo: Jerzy Mencel as a flight commander in No. 309 Squadron in front of a Hawker Hurricane II. His Mae-West was adorned with artwork that depicted his English fiancée painting his name.
During the next few months, like other Polish flyers, he awaited a posting. He was commissioned as podporucznik (2nd Lieutenant) on 1 November 1939. His posting for conversion flying training did not come until the spring of 1940, but before he was able to obtain an operational posting, France surrendered. He evacuated to Britain, once more aboard a Polish ship, S/S 'Kmicic'. Unknown to him, it was at the same time, in late June 1940, that his father Franciszek Mencel, a distinguished Polish activist, was murdered by the Germans in a Nazi concentration camp at Mauthausen-Gusen.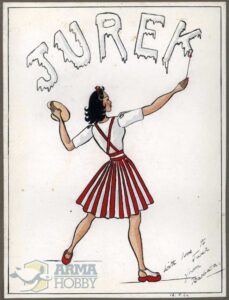 Once again, P/O Jerzy Mencel had to wait until the next spring, that of 1941, before he was posted for conversion training on British aircraft. In late April he started flying as a ferry pilot. On 8 May he had an accident in a twin-engined Airspeed Oxford. He suffered seriously: his spine was injured and his pelvis fractured. After a few months of treatment he was able to resume flying, and in late October 1941 he was posted for training at the Polish Fighter School attached to No. 58 Operational Training Unit RAF. Upon completion of the course, at the very end of 1941, he was posted briefly to No. 308 Squadron 'City of Cracow'. On 29 January 1942 he flew his first operational sortie. Two days later he was reposted to No. 317 Squadron 'City of Wilno'.
Picture: The original drawing by F/Lt Mencel's fiancée which served as pattern for the emblem. 'Jurek' is a diminutive form of Jerzy.
He then continued to fly with this unit until April 1944. On 15 March 1942 F/O Mencel participated in a dramatic operation: South-West England was rapidly covered in fog, preventing the pilots from landing at their home base or on backup airfields. S/Ldr Józef Brzeziński, commanding the unit, was killed in the crash of his Spitfire, while four other pilots, including Mencel, were injured. Ten Polish Spitfires were destroyed or badly damaged. Jerzy Mencel was subsequently credited with a Focke-Wulf 190 damaged on 28 April, and with another aircraft of the type shared destroyed on 15 July (with F/O Teofil Szymankiewicz, his pre-war colleague from the reserve of the Poznań-based 3rd Air Rgt). On 24 July Mencel participated in an attack on a German airfield at Fecamp, where he damaged several Messerschmitt 109s. On 19 August 1942 he took part in several patrols over Dieppe during the controversial allied landing there. On 21 September 1943 No. 317 Squadron converted onto the latest British fighters, the Spitfire LF.IXs.
No. 309 Squadron
The first unit of the exiled Polish Air Force to re-equip with the Mustang was not a fighter squadron at all. When first, Allison-engined variants of the aircraft were delivered to the RAF, the British found them unsuitable for day fighter operations, due to lack of high-altitude performance. Therefore, Mustang I aircraft were fitted with cameras and used for tactical reconnaissance. Polish No. 309 Squadron 'Czerwieńska Province' started to covert onto these aircraft in August 1942 (until then it used Westland Lysander high-wing fixed undercarriage two-seaters). It took until May 1943 before the entire squadron had re-equipped with Mustang Is.
In February 1944 No. 309 Sqn converted onto Hawker Hurricanes. Initially the Mk IVs were used, and from April the Mk IIC. Mustang Is returned to the unit briefly in September 1944, after it had been re-organised for purely fighter duties. The Allison-powered aircraft were used for conversion onto the type before the unit received its full set of Merlin-engined Mustangs.
During October 1944 No. 309 Sqn converted to Mustang IIIs at Drem. In mid-December it joined Nos. 306 and 316 Squadrons at Andrews Field, replacing No. 129 Sqn RAF, thus making No. 133 Wing an all-Polish formation.
In mid-January 1945 No. 315 moved to Andrews Field, which brought all Polish Mustang squadrons together in one base for the first time. From then on Nos. 306, 309 and 315 Sqns constituted No. 133 Wing.
F/Lt Jerzy Mencel on his personal Mustang III KH516 WC-F, proudly showing the personal emblem designed by his girlfriend, Barbara Stuart Bailey, soon Mrs Mencel. Note the regular patches of original Olive Drab finish between the exhausts and the cockpit where anti-glare panels had been removed.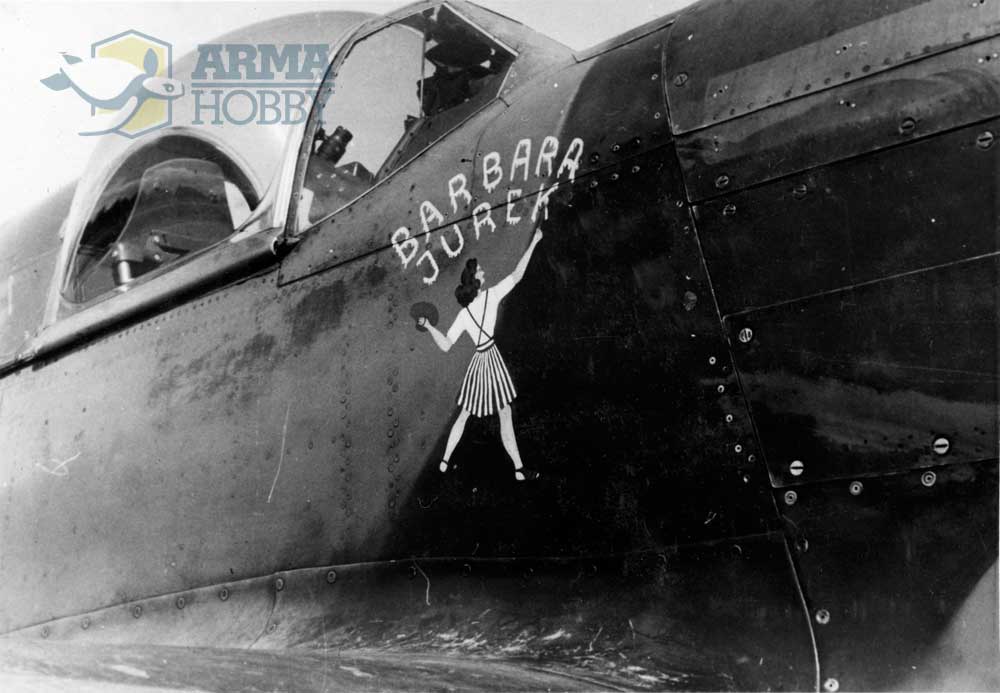 The only item in the artwork that was introduced by the pilot in the version applied on the aircraft was the name BARBARA at the top.
Me-262 shot down
In mid-May F/O Mencel was posted to No. 309 Squadron. This had been a tactical army co-operation unit, but it was now decided to re-form it as a purely fighter one. In September 1944 F/O Mencel was appointed No. 309 Sqn's 'A' Flight Commander. In November the squadron was declared operational as a fighter unit on North American Mustang IIIs. F/Lt Mencel flew his first operational sortie on the type on 28 December 1944. On 9 April 1945 he took part in the last victorious air combat of the exiled Polish Air Force, when Mustangs of the 2nd Polish Wing (known as No. 133 Wing in the allied organisation structure) engaged one of the German 'wonder weapons': the Messerschmitt 262 jet fighters. F/Lt Jerzy Mencel was one of the victorious pilots, thus joining the elite club of allied flyers credited with the destruction of Luftwaffe jets.
He wrote in his personal combat report from the sortie:

'I was leading Yellow Section escorting Lancs, when I saw on the right side of the bombers 2,000 feet above, one ME 262 attacking form behind and below port side of the bombers. I went down across bomber formation and attacked E/A. He did a deep turn to the left and started to dive. I was already on his tail about 600 yards behind. I opened fire and followed him from 16,000 feet to 6,000 ft continuing firing. I saw black smoke from the ME 262, which turned over on its back and went straight down. W/O Murkowski who was behind me saw the E/A hitting the ground and exploding. I claim one ME 262 destroyed.'
On 25 April Mencel took part in the last operation of his unit, escorting bombers in their attack on Adolf Hitler's resort at Berchtesgaden in the Alps.
F/Lt Mencel in the cockpit of his Mustang.
After the end of hostilities he continued to fly with No. 309 Squadron until the end of July 1945. He then held non-flying posts at the HQ of the 2nd Polish Wing at Coltishall.
His wartime decorations included the Polish Cross of Valour and three bars and the British Distinguished Flying Cross. He was one of very few Polish flyers decorated with the DFC by the British (among less than 200 Polish recipients), but not awarded the Silver Cross of the Virtuti Militari Order by the Polish authorities (1,200 of which were received by members of the exiled Polish AF).
F/Lt Mencel takes his parachute and walks away from his mount after a successful sortie. These shots were taken in April 1945 after he had used this Mustang to score a Messerschmitt 262 jet destroyed on the 9th of the month.
On 13 September 1945 he married his English fiancée, Barbara Stuart Bailey. They lived at Wilmslow near Manchester. After the war Jerzy Mencel graduated from a university and was employed by ICI, specialising in cloth dyeing technologies. In this job he would occasionally come to Poland, and used such opportunities to visit his home town of Poddębice. He retired at the senior age of 75.
On 25 August he was given the title of an Honorary Citizen of Poddębice.
He died in England on 28 August 2012 (the annual Polish Aviation Day).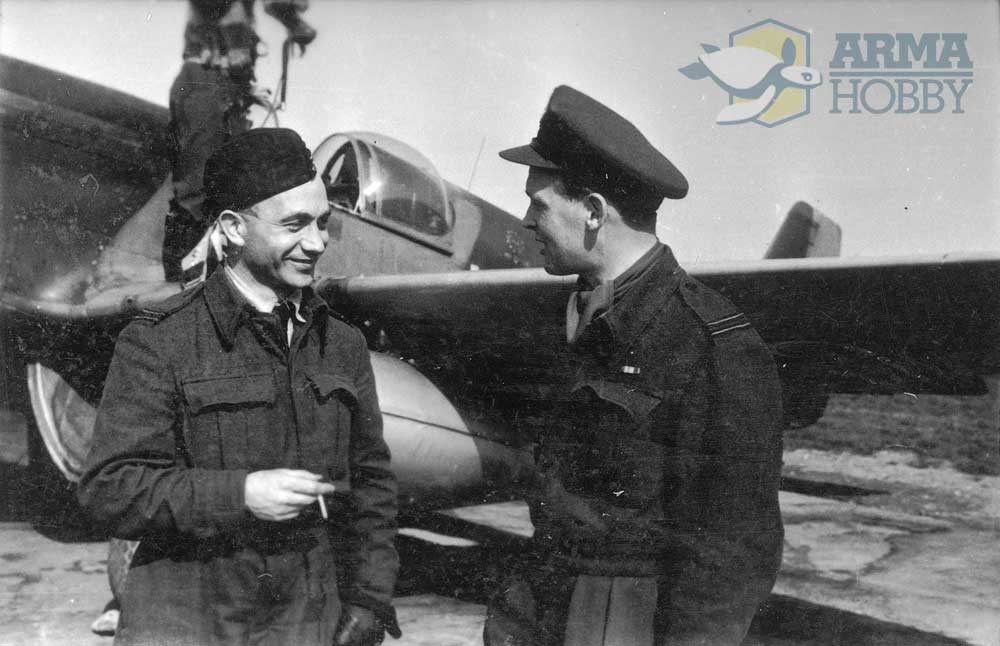 Two other pilots of the squadron talk in front of KH516 WC-F. F/Lt Mieczysław Gorzula (right) was a friend of Jerzy Mencel and his best man. F/Lt Mieczysław Befinger (left) was killed in an accident of Mustang III KH540 WC-D a few weeks after this photo was taken.
Mustang III KH516 WC-F
The aircraft was built at the North American plant at Dallas, Texas, as a P-51C, USAAF serial no. 44-10918. It was factory fitted with the K-14 gyro gunsight.
It was factory finished in the Day Fighter scheme using US paints. Following delivery to the RAF it was repainted with British paints. The Mustang was allocated brand new to No. 309 Squadron in early March 1945, and assigned for use of the 'A' Flight commander. It was adorned with the pilot's 'lucky' letter F and with a personal emblem with the names of 'Barbara' and 'Jurek'.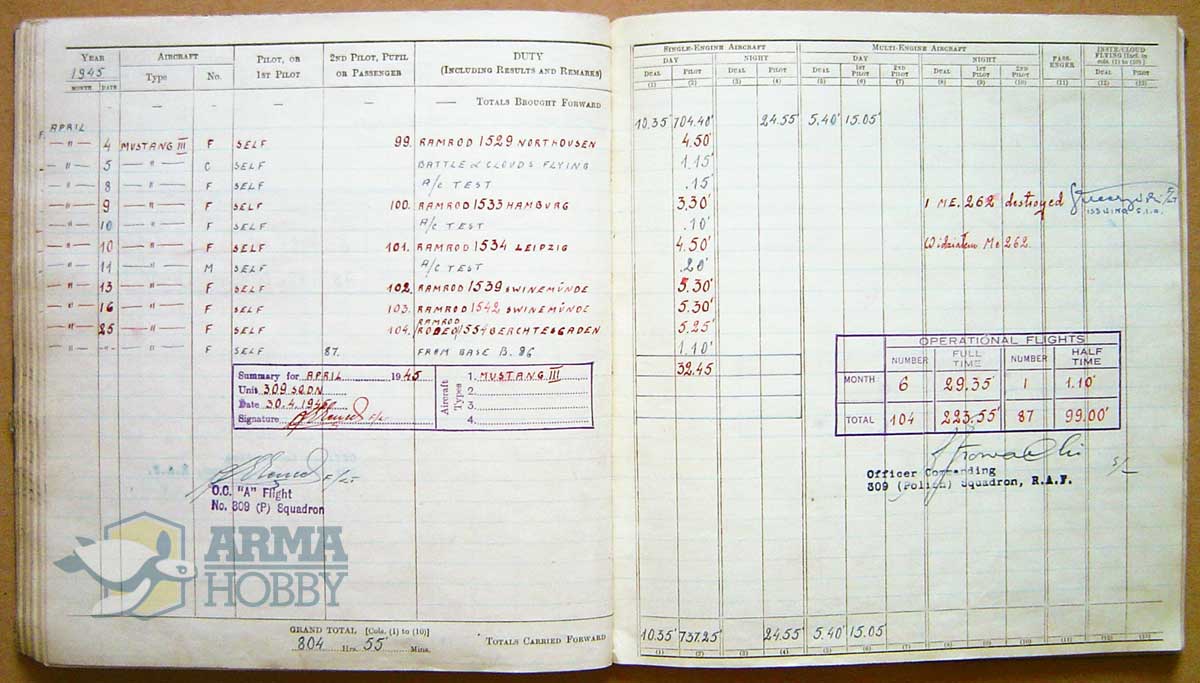 April 1945 pages form the flying log book of Jerzy Mencel with a note about the Messerschmitt 262 credited as destroyed.

The previous WC-F-coded Mustang, FX885, flown regularly by F/Lt Mencel until February 1945. Note the style of the codes, applied with the stencil used at the time in No. 309 Squadron.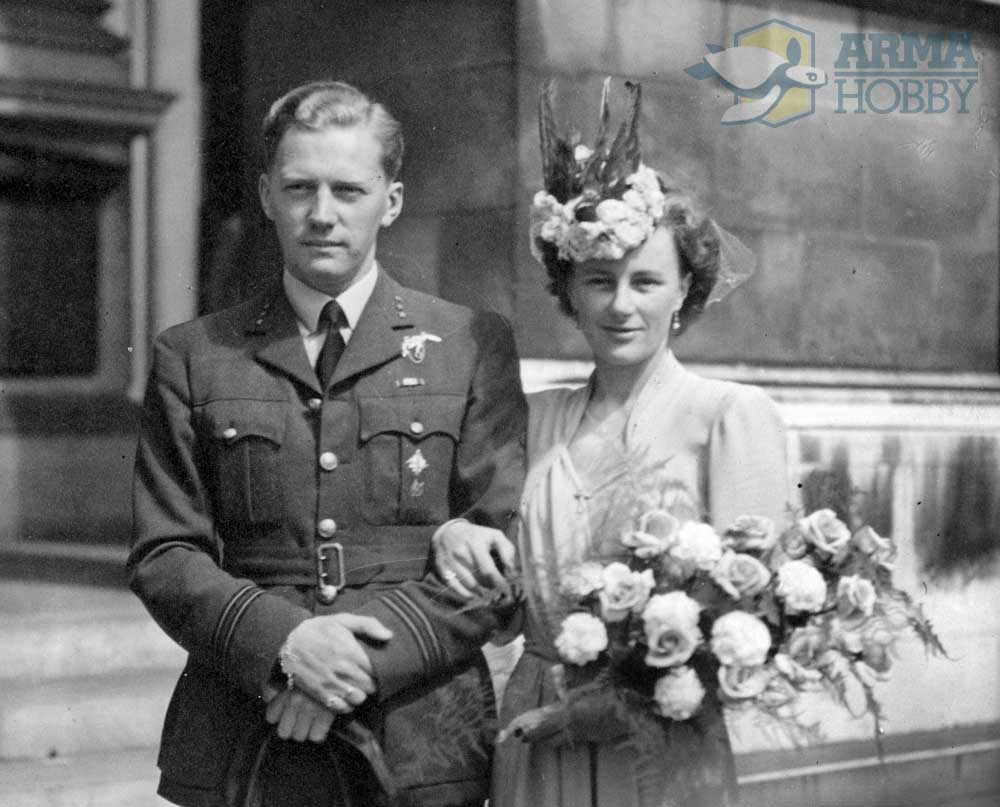 Wedding photograph of F/Lt Jerzy Mencel and Barbara Stuart Bailey, 13 September 1945.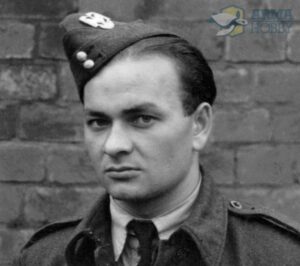 After F/Lt Mencel left No. 309 Sqn in August 1945 KH516 was used by various pilots. On 15 October 1945 Sgt Stanisław Święcicki (shown in the photo) crashed in it at Dengie Flats Range during dive bombing practice and was killed.
F/Lt Mieczysław Gorzula, No. 309 Squadron 'B' Flight Commander, was another victorious pilot in the engagement with Messerschmitt jets on 9 April 1945 r. The Mustang III he flew, FZ111 WC-V, was adorned with the name and image of his English girlfriend: 'Jean'.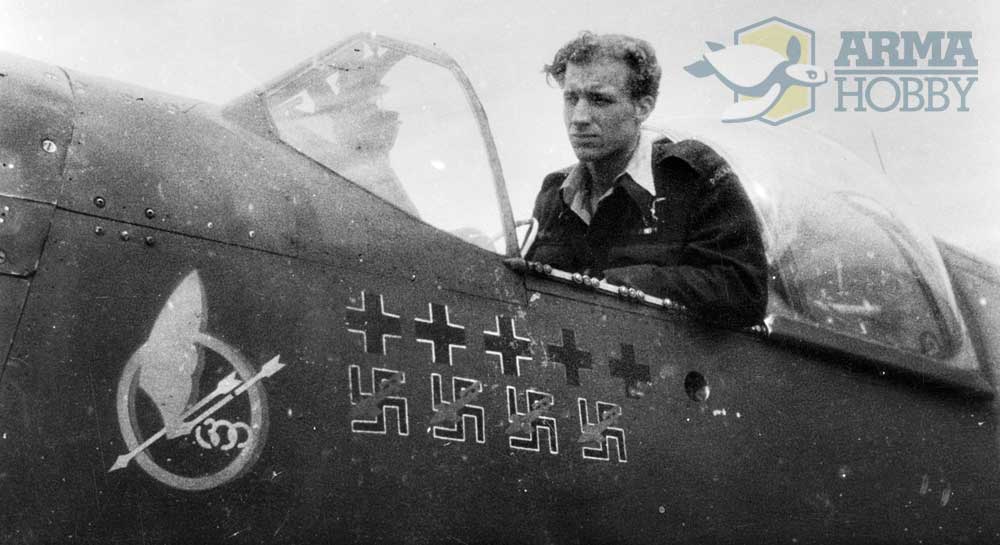 The third confirmed victory in that combat was credited to W/O Antoni Murkowski. This photo was taken in June 1945, showing him in the cockpit of Mustang FB385 WC-W, which he had flown on 9 April. By that time the aeroplane had the badge of No. 309 Squadron applied, as well as the victory markings for the pilot's score against Luftwaffe aircraft and V1 'flying bombs'.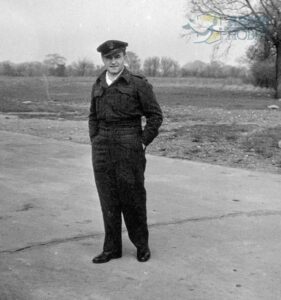 The fourth Polish pilot credited with an Me 262 destroyed on 9 April 1945: S/Ldr Józef Żulikowski, commanding No. 306 Squadron.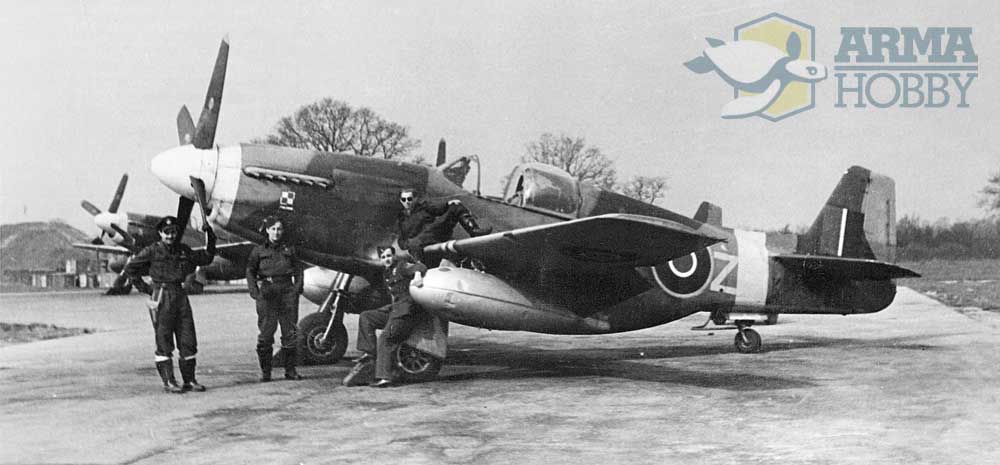 During that victorious combat Żulikowski flew Mustang III KH507 UZ-Ż. The pilot had already (at least since 1942) had his personal aircraft coded 'Ż for Żulikowski', with a distinctive dot above the Z.
Zobacz jeszcze:
P-51 B/C Mustang™ Expert Set kit in Arma Hobby Internet shop link
Wszystko co chcecie wiedzieć o Mustangu z Arma Hobby i nie boicie się pytać
This post is also available in:

polski