Fokker E.V models are on the way to modelers right now. So it is a good time to show an inbox review of both kits. Let's go to open a box!
Unboxing Fokker model kits:
Plastic sprues:
In the preparation of the model, we used the experience gained with PZL P.7a model kit design. The Fokker E.V is a very simple construction; we managed to capture the model's shape, including the collapse of the canvas on a steel tube structure. A one-piece wing was a problematic part. It did not result from a complicated shape, but from its thickness. As a rule, modelling companies either make a two-part wing or tighten the wing profile to avoid collapsing of the plastic, so-called sinks. A thick profile is a characteristic feature of Fokker E.V, so we decided to mould it in scale. But we made a mistake by putting the one-piece wing back to the direction of flow of the plastic. At lower injection pressure, sinks were created due to too little plastic filling the mould in this place. To remedy this, we widened the inlet channels and gave more pressure to the injected material. Unfortunately, it will be harder to cut out the wings now, and there will be little, almost invisible collapse on the model. You can just sand it after priming or leave them intact as traces of "working" the plywood sheathing.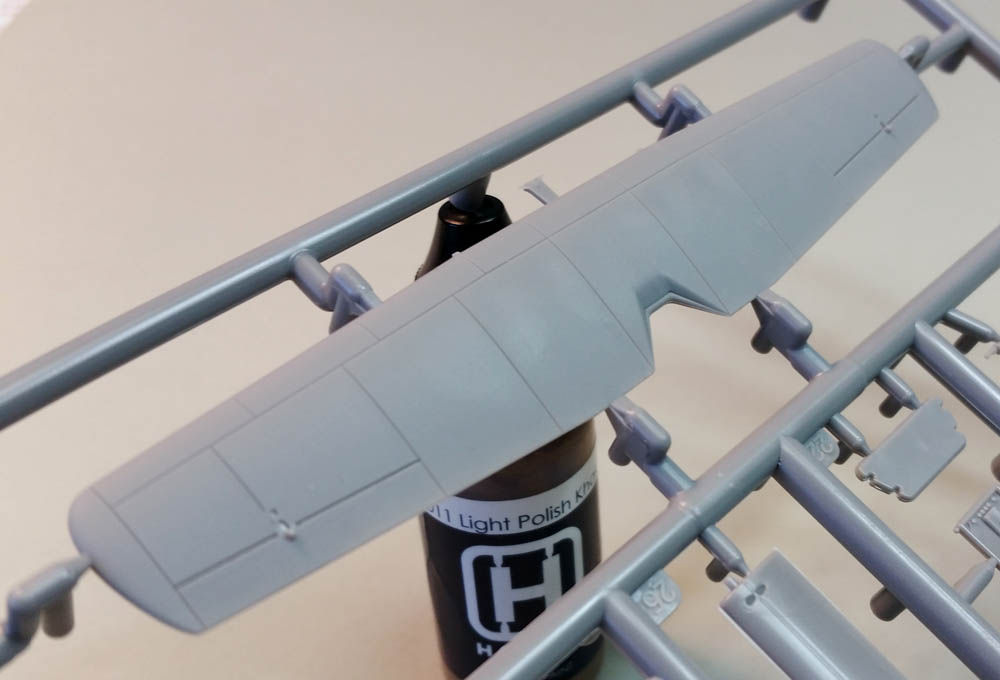 Fokker details on plastic sprues:
Photoetched parts and transparences: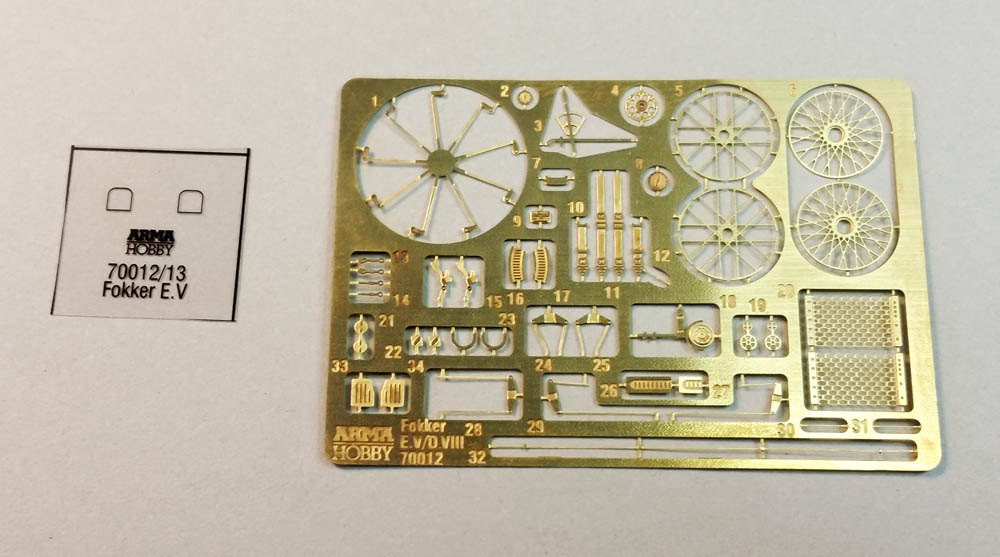 The photoetched parts cover practically all the necessary details of the model, maybe even a little too much. Noteworthy are the spokes of the model wheels, two types for the inner and outer surface of the wheel! Control surfaces actuating horns and cables are etched in pairs. You can cut them and glue to control surfaces separately, or cut a slot in the control surfaces and glue them in pairs. The valve pushers are one piece and is placed between the engine and the pipes of the installation – you do not need to bother with fitting them individually. The windshield is made of a transparent film, on the photoetched sheet, you will find the fitting of the windshield sub-frame.
Decals:
Expert-set model decals contain the so-called Lozenge printed canvas renders. Due to the number of colours, it was printed in offset printing in Italian Cartograf. An additional feature is the pattern of plywood panels inside the fuselage and a laminated propeller. Junior-set model has simpler insignia, thanks to which we managed to keep its price low. See the description of Fokker E.V colour options of these models link.
Buy Fokker E.V model kits in Arma Hobby shop
This post is also available in:

polski