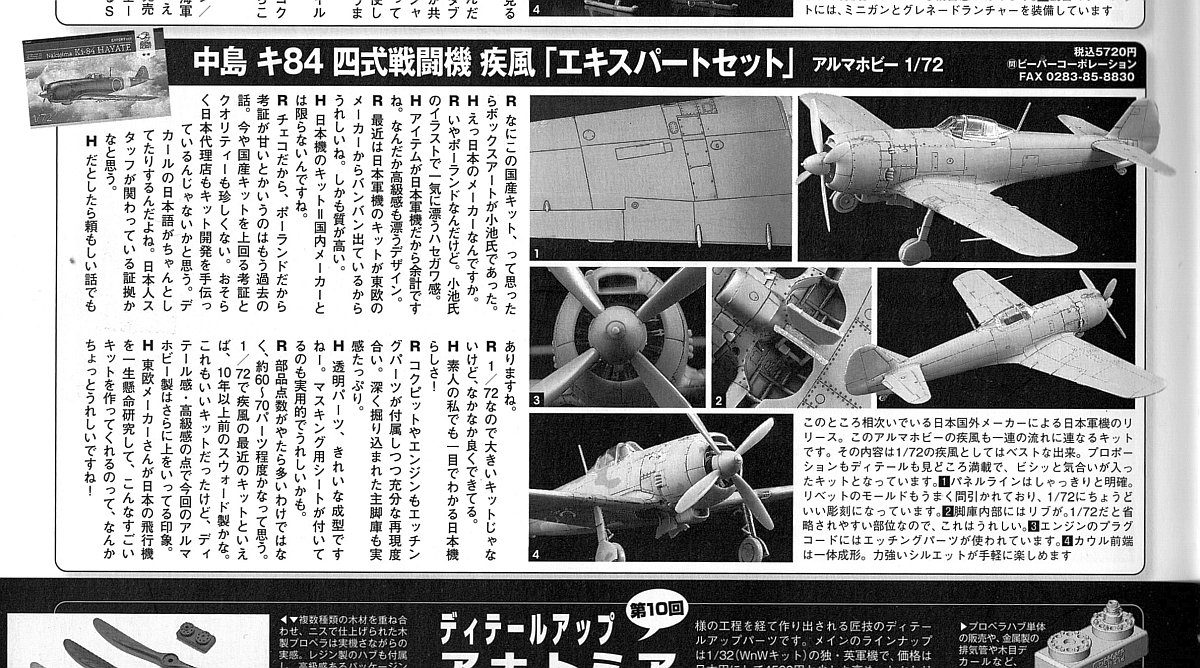 A very positive review of our Ki-84 Hayate model has been published in the Japanese bimonthly "Scale Aviation" (July 7/2022). Appreciation from the demanding society of the Land of the Rising Sun modellers makes us doubly happy, because it concerns a model kit of a Japanese plane.
It's worth seeing how model kits are written about where plastic modelling is the best developed in the world – the review has a form of a conversation between a young girl Hana and an experienced modeler "Rocketeer" Hashimoto.
We invite you to read!
Rocketeer: I thought it was a Japanese kit, because the boxart illustration is by Mr. Koike.

Hana: But the manufacturer is Japanese?

R: No, Polish, although the Koike illustration immediately brings to mind Hasegawa products.

H: The model itself is a Japanese fighter, so [this illustration] is overjoy. The design makes a very elegant impression.

R: Recently, manufacturers from Eastern Europe release model kits of Japanese fighters quite often. I'm very happy about this. Plus they are of high quality.

H: So there's no rule that if the model is a Japanese plane, the manufacturer has to be domestic?

R: Gone are the times when the Czech or Polish model kits were less accurate historically. Now they often outperform our products in terms of research and quality. It is also possible that Japanese distributors help in creating these kits. The Japanese markings on the decals are well done. In my opinion, this is proof that they have Japanese employees watching over it.

H: If so, that bodes well for the future.

R: 1/72 scale, so it's not a big model, but very well designed.

H: Even a layman like me recognizes the characteristics of a Japanese aircraft at first glance.

R: The cockpit and engine are well reproduced, in addition they have photo-etched details. The deep wheel-bay is also very realistic.

H: The transparent parts are nicely cast. And it's good that a practical sheet of painting masks is added.

R: There are not too many parts, I think 60 or 70. From the latest Hayate models in 1/72 scale, the most recent one was the Sword kit over 10 years ago. It was a nice kit, but the one from Armahobby seems to surpass it in both detail and elegance.

H: I'm really glad that an Eastern European manufacturer researched the Japanese plane in such detail and made this great model kit.
Ki-84 Hayate ze Specjalnych Jednostek Uderzeniowych (Shimbu-tai – "Kamikadze").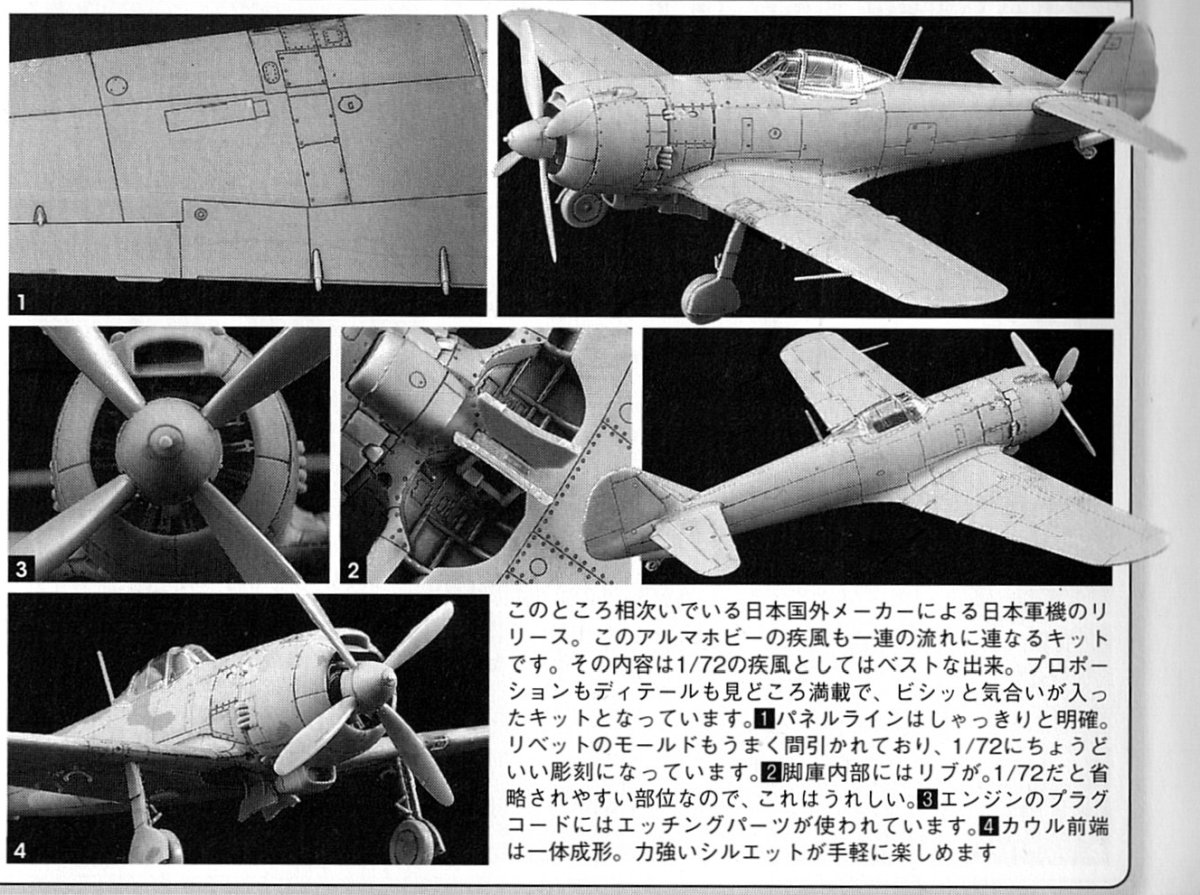 Captions:

Models of Japanese fighters made by Japanese and non-Japanese manufacturers are still being released to the market. Hayate by Armahobby follows this trend. The kit represents a 1/72 scale model of the Hayate fighter in the best quality. Remarkable proportions and details will make you start building immediately.

1. The panel lines are even and crisp. Rivet pattern nicely spaced, etching perfect for 1/72 scale.

2. In the wheel bay you can see the structural construction of the wings. This detail is often overlooked in 1/72 scale, so it's even more joy.

3. The engine air intake includes photo-etched details.

4. The front ring of the engine cover is made of one piece. Nothing will prevent you from enjoying the strong silhouette of this aircraft.
Check also:
Order Ki-84 Hayate Special Attack Units kit in promotional pre-sale in the Armahobby.com online!
Instrukcja modelu Ki-84 Hayate ze Specjalnych Jednostek Uderzeniowych "Shimbu-Tai"
This post is also available in:

polski