The boxart of the most recent Arma Hobby F-6C reconnaissance Mustang model kit shows a beautiful aeroplane in natural metal finish and markings of the French GR II/33 "Savoie" ("Savoy"), flying in the clouds.  What is GR II/33 "Savoie"? Pierre Vizentini wrote for us a short text about this extraordinary unit!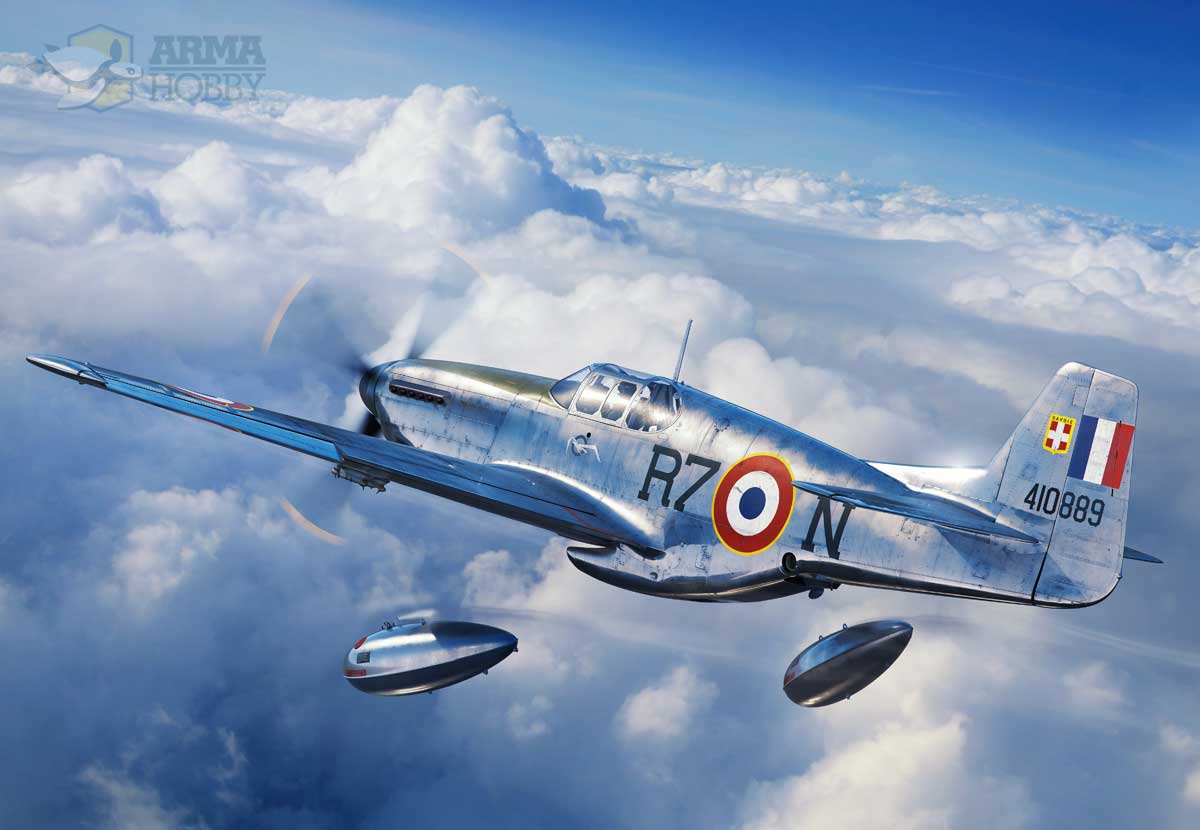 Pierre wrote:
In July 1932, the Observation Group (GO) II/33 was created within the 33rd Observation Wing (French: "Escadre"). This group then had two squadrons (French: "escadron"): squadron No. 3 (the "Axe", ex-SAL 33, future BELFORT) and squadron No. 4 (the "Mouette du Rhin" – "Seagull of Rhine", future SAVOIE). Stationed in Nancy from 1932 to 1939, the GO II/33 became Reconnaissance Group GR II/33 in 1933.

Badge of the contemporary Escadron de reconnaissance 2/33 Savoie/Escadron de drones 2/33. "Seagull of Rhine" of II/33 visible on the bottom.

In 1939, the 33rd Reconnaissance Wing was disbanded, but the GR II/33 took part in the battles of the French Campaign and withdrew to French North Africa on June 20, 1940.

SAVOIE is therefore, not a FREE FRENCH unit, but a unit made up of French aviation personnel from the VICHY air force stationed in North Africa who resumed combat alongside the Allies after the TORCH operation.

Following the tradition established by the Free French Air Forces (FAFL) and applied to "French units" fighting with the Allies, the GR II/33 took the name of a province of France on November 3, 1943: Savoie (Savoy), and was equipped at the end of 1943 with Hawker Hurricanes. In March 1944, becoming operational, the group was provided with Spitfire Mk V for visual reconnaissance (no cameras). The squadron landed in Italy in May 1944 and returned to France on August 20, 1944, in Ramatuelle. On September 23, 1944, the unit was transformed in Dijon on Spitfire Mk IX (still without cameras).

The first F-6 Mustang arrived on January 14, 1945.
It looks like planes weren't assigned to a particular pilot!

44-10889, an F-6C-10NT, coded R7°N is one of the new aircraft delivered from a US depot in England that the Savoie pilots picked up themselves! Having been stored in the open air in the English climate, the planes required heavy maintenance before being operational.

From February until the end of the conflict, SAVOIE carried out a large number of operational missions over Germany.

The F-6 will remain with the squadron until 1953.
See also:
Buy F-6C Mustang™ Expert Set in the Arma Hobby webstore:

link
This post is also available in:

polski