Ki-84 Hayate kit boxes are already going to customers who bought them in pre-orders. The kits are selling like hotcakes – customers have bought more Hayates than the whole Mustang's first run! To assure smooth and fast shipments, we strengthened the team by hiring new people who work hard to make Hayate reach the modelers as soon as possible. It really will happen in a moment!
Meanwhile, at Armahobbynews.pl, we are pleased to invite you to the premiere gallery of our latest model! Wojtek Bułhak and Marcin Ciepierski built their Hayate using test, pre-production sprues.
Zawartość pudełka modelu Ki-84 Hayate 1/72 Expert Set – In-Box
Wojtek Bułhak said:
First, I painted the assembled model with black glossy lacquer Mr. Paint as a primer. Natural metal finish effect in various shades I obtained with Gunmetal AK, silver C08 Gunze and Airframe Aluminium by Ammo MIG. The idea was to make the surfaces look like slightly worn aluminium. Thanks to the narrow, but quite deep panel lines, I hardly used wash – it was only needed on Hinomaru decals so that their appearance does not differ from the rest of the model. I applied the decals using Microscale Set and Sol. Weathering done with Tamiya Smoke and Ammo MIG Starship Filth oilbrusher.
Marcin Ciepierski said:
My first Ki-84 was built with two test sprues. From the very first batch I made the engine, cockpit interior and undercarriage components. From the second pre-production sprue, I built the remaining parts of the plane. The painting was pure pleasure. Slovakian Mr. Paint cellulose lacquers gave an excellent coat. The stripes on the fuselage required careful masking, for which I used a 1mm wide thin paper tape. It stuck well to the rounded fuselage.

For the decals I used only the Sol solution. Application of the thin strips of decal requires some care and precision. The scratches I've painted by hand with Gunze C08. After doing the scratches I added airbrush painted smoke and a bit of dirt in shades of earth with the Ammo MiG oil wash. Despite the quick building, I am satisfied with the result. I only wish I had drilled the gun muzzles and added the antenna wires. I'll try harder for the next Hayate.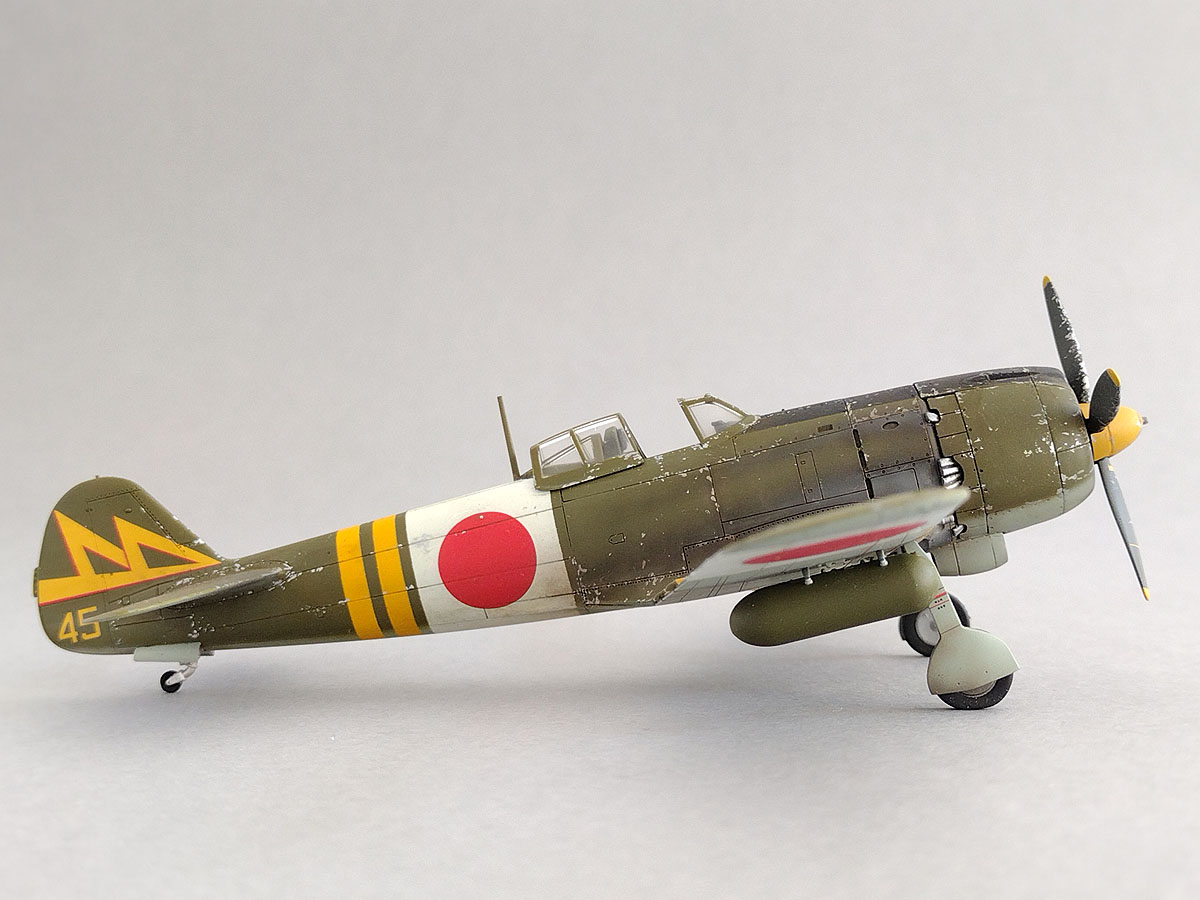 See also:
This post is also available in:

polski