The long-awaited surprise model at the end of 2020 is the PZL P.11c in 1/48 scale. This little plane is a big step in the development of Arma Hobby. While designing it, we tried to meet the expectations that you expressed on forums, in social media and emails sent to us.
What for the first kit in 1/48 scale?
We listen carefully to the opinions of modellers, and from the many aircraft proposals that you would like to find in the Arma Hobby offer, the topic of 1/48 scale and a return to Polish topics was continually appearing. In this model, we combined as much as possible the requests of the modellers from Poland and from abroad. The first step on a large scale is a challenge. The details look different in that scale, the larger area and volume of the model requires rethinking the technical requirements and taking into account other limitations of the technology. The P.11c model was perfect for testing the new scale. It is an introduction to the Hurricane Mk IIc in 1/48, which is already in preparation in the tool shop.
Attention! Announcements of the 1/72 scale kits for 2021 on December 30, 2020. Follow us on Facebook and sign up for the newsletter, and you will receive more news about our plans by email.
We have planned the 1/48 scale P.11c model as a surprise release for October 2020. Unfortunately, the conditions in which we live now did not allow it. We focus on quality and the multiple quarantine breaks of employees in Arma Hobby and in the tool workshop delayed our plans. The model will be available for delivery in January (we still hope to make it before the end of the year) and we are accepting preorder starting today!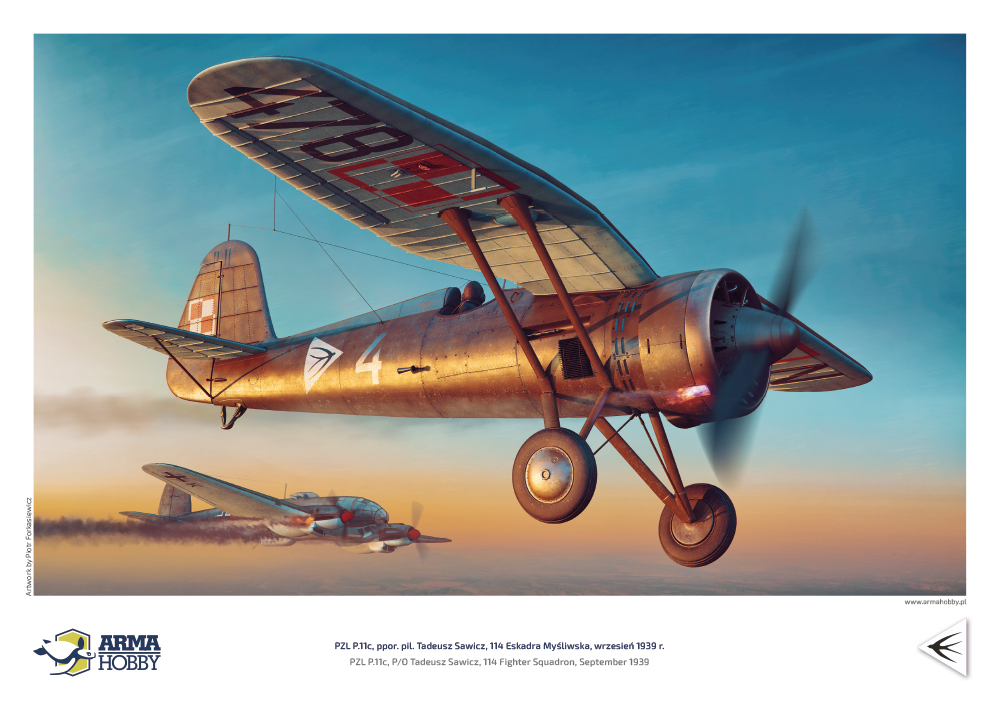 In pre-sale, in addition to the model, you will get a box-art print (painted by Piotr Forkasiewicz) in A4 format and a printable voucher by email, useful if you order the model as a gift. You can give it in an envelope as a Christmas present.
What will be included in the box?
One sizeable grey plastic sprue and a clear windscreen. Big size decal 18×13 cm size with four excellent colours schemes of the aeroplane. Photo-etched parts as well as the masks for the windscreen. See more details
In the following days, we will start publishing historical articles about aeroplanes included in the kit on our blog. The authors are: Marek Rogusz, Wojtek Matusiak and Grzegorz Mazurowski, well know aeroplane history researchers. We will also show you model details and accessories. We will carefully photograph and publish photos of the test shots as soon as they are available.
Model 3D renderings
This post is also available in:

polski