John Alexander Kent went down in the history of the Polish Air Force as a flight commander in the famous No 303 Squadron "City of Warsaw" during the Battle of Britain. Later he was also the commander of the 1st Polish Fighter Wing in Northolt.
Before he arrived in the Polish unit in Northolt, he had already been an experienced pilot. He had been a civilian, a fighter, a test and a reconnaissance pilot.
Before "Kosciuszko Squadron"
John Kent was born on 24th June 1914 in Winnipeg, Manitoba. When he was 15, his father took him to the local airfield and bought him a flight. After that adventure, he was sure that he wanted to work in aviation. Soon he started learning to fly at the Winnipeg Flying Club and in 1931 he got his civil pilot license. One year later he began to work in the Northeast Aero Marine Company, and in 1933 he received, as the youngest pilot at that time a commercial pilot license. In 1935 he decided to become a military pilot and join the Royal Air Force, and he sailed to Great Britain. He started his training at No. 5 Flying Training School in Sealand. After finishing the course he was posted to No. 19 Fighter Squadron. However, he spent there only two years and then joined the group of test pilots in the Royal Aircraft Establishment in Farnborough. While working there, he took part in experiments with barrage balloons. His task was to fly into barrage and check the results. In February 1939 he was awarded the Air Force  Cross for this work.
In May 1940 his career path changed again, and he began work in the Photographic Development Unit in Heston. He flew reconnaissance missions over Germany and occupied territories in a Spitfire equipped with cameras. Initially, he flew from Great Britain but later from the French base in Orlean-Bricy.
On 13th June 1940, while near Louviers, he saw several Messerschmitts 109. Initially, he wanted to avoid the enemy, but when three Hurricanes attacked the German formation, he joined the fray. He sat on the tails of two Messerschmitts, but both escaped into clouds. Interstingly, in his autobiography, he mentioned four Hurricanes and that he only attacked one Messerschmitt and its pilot started evasive manoeuvres to escape a blue painted Spitfire and during that action hit the ground.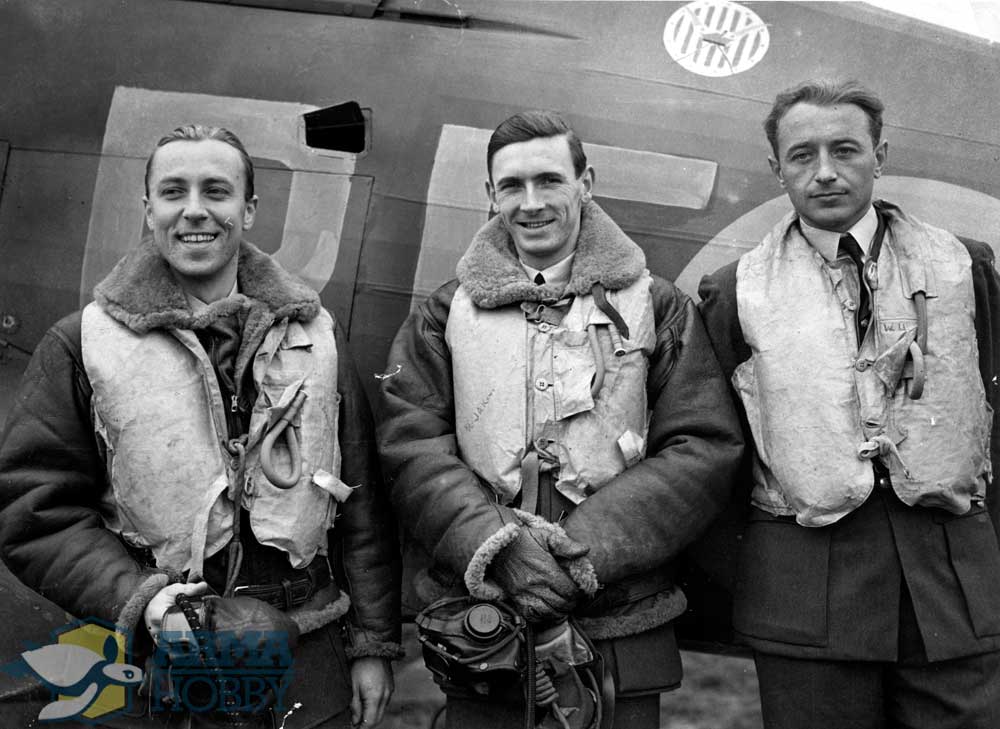 F/Lt John Alexander Kent (in center), with 303 Squadron pilots: F/O Zdzisław Hennenberg (left) and F/O Marian Pisarek (rightj). Photo from Wojtek Matusiak collection.
After his return to Great Britain, he decided to return to a fighter squadron. However, first, he had to go to the Operational Training Unit in Hawarden to undergo the training. After this 'refreshment" he was posted to No 54 Squadron and then the No 257 Squadron. There, he didn't fly much because RAF didn't want to lose test pilots. He didn't stay there long, though, as he was transferred again, this time to Northolt where he was going to take up a position of a flight commander in a newly formed fighter squadron.
In No. 303 Squadron
In his autobiography, Kent wrote that when he arrived at No. 303 Squadron, the only thing he knew about the Polish Air Force was that it survived only 2 days of combat with the Germans. So he had doubts if Polish pilots would prove themselves as fighter pilots.
Soon he learnt that the biggest problem with Polish pilots was the language. They didn't speak English, although most of them spoke French, German and Russian. S/L Ronald Kellet and F/L Athol Forbes were lucky as they both spoke French, which made communication easier. But J. Kent found the solution to learn basic Polish starting with names of aircraft parts. He frequently took Polish pilots to squadron's dispersal, pointed at aircraft parts and told their English names. Poles understood his idea and started giving him Polish names. Kent wrote them phonetically in his notebook. Finally, he polished that system, and he could communicate with the Polish pilots in the air.
Throughout the August Polish pilots trained formation flying and air combat tactics used by the RAF. However, they were more and more frustrated as they were experienced fighter pilots, but they had to train when there was a battle in the British skies. The training continued, although on the 24th August the squadron became operational unit.
"Repeat, please"
Their training would probably be longer, but one event coincided with RAF desperate need for pilots who could replace pilots lost earlier in the battle.
In the morning of 30th August no-one in the No. 303 Squadron thought that it would be an exceptional day for the unit. The squadron was to make another training flight to intercept bombers. Their "target" were Bristol Blenheim bombers. However, damage to the power lines that powered Chain Home radars, caused by German bombings, accelerated the course of history.
In the afternoon, squadron's S/L Ronald Kellet led "B" Flight to intercept their "target". During their mission, the pilots met undetected group of German aircraft. F/O Paszkiewicz left the Flight and attacked the enemy. After returning to Northolt, he claimed one Dornier 17 shot down (but according to latest studies his victim was a Messerschmitt 110 of ZG 76)
After this fight, S/L R. Kellet sent information to the Fighter Command Headquarters that his squadron was ready for combat. The same day, the squadron received a telegram that informed that its status changed to operational, and an order to be in combat readiness the next day. On 31st August 1940 in the afternoon, No. 303 Squadron officially took off for the first time as an operational unit and its pilots immediately reported six kills.
F/L John Kent didn't take part in those events as he was on a two-day pass at the time. Upon his return, he decided that he was not going to leave the base and take part in every mission.
As he resolved, so he did. From the 1st September to 11th October, when the squadron moved to Leconfield, he flew with Polish pilots almost every day. Five times he flew two missions a day. If he didn't fly, it was caused by bad weather, which limited the combat operations of both sides. In total, he flew 38 combat patrols and fought 8 times.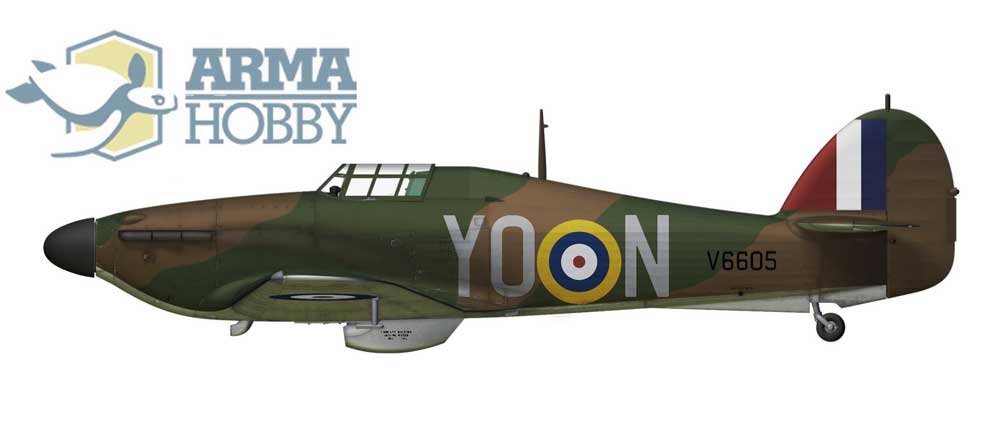 One of 1 RCAF Squadron Hurricanes Mk I borrowed by 303 Squadron occasionally. Markings of that aeroplane you can find in decals of the 70020 Hurricane Mk I Model Kit. Artwork by Marcin Ciepierski.
On  6th September, he survived a forced landing caused by an engine fire. J. Kent was flying the Hurricane Mk.I YO-R/R2685, borrowed from the 1st RCAF Squadron. Fortunately, he wasn't injured.
He opened his victory account on 9th September 1940. That day, the sky over southern England was overcast, and it was calm. At around 5 pm British radar stations detected the concentration of German aircraft over France. The Luftwaffe sent two bomber formations to attack targets in England (a total of around 100 He 111 and Ju 88 with strong fighter cover). Additionally, the Germans made fighter sweeps along the route of both groups.
The squadron scrambled at 17.25 along with the 1st RCAF Squadron. F/L Kent led the Squadron in Hawker Hurricane Mk.I RF-J/V6665. Due to a ground control error, both units found themselves below the enemy planes. Despite, he managed to attack one straggler and shoot at it. His victim was a Junkers Ju 88, which managed to hide in the clouds. Kentowski flew in after the enemy aircraft, but after leaving the clouds, he couldn't find it and reported it as probable.
But he had a bit of luck and soon he saw a twin-engine plane heading, at 1,000 feet, towards France and attacked it immediately. Enemy rear gunner opened fire at Kent's Hurricane, but after the second volley, he stopped. When he was around 150 metres from the enemy, Kent started shooting at it and saw pieces of the fuselage were falling off. One of the engines took fire, and the enemy plane crashed in the  English Channel, near the Beachy Head. Kent's victim was a Messerschmitt 110, presumably from 9./ZG76.
But that day could have been disastrous for Fighter Command. When he landed at Northolt after the combat, he almost killed W/C Stanley Vincent, the  RAF Northolt OC and the commander of Fighter Command, AM Hugh Dowding.
Hurricane Mk I RF-J/V6665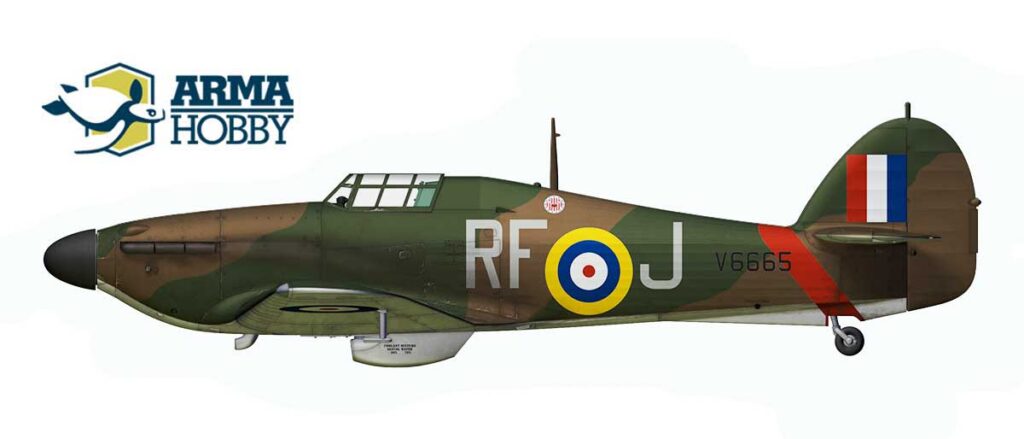 Aeroplane was the socond Hurricane RF-J in Squadron 303. She was delivered after heavy losses in 5th-7th September battles. On the 9th September F/Lt John Kent shot down a Bf-110 and Ju-88 when flying RF-J. On 27th September SGT Tadeusz Andruszków was shot down, aeroplane crashed and pilot died.
Aeroplane is one of two (with RF-A/P3120) Hurricanes with a chevron painnted on the fuselage. Factory apllied roundels and fin flash are in pre-war lighter shades (as usually in Gloster factory) and wing undersurface roundels painted in August are in regular dark shade.
Artwork by Zbyszek Malicki, photos from Wojtek Matusiak collection.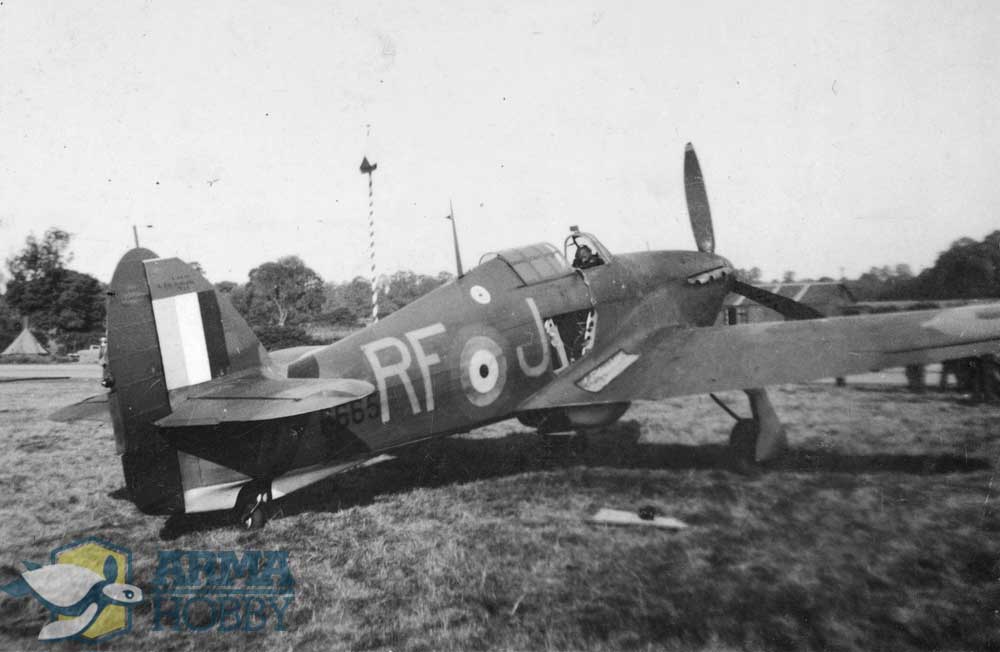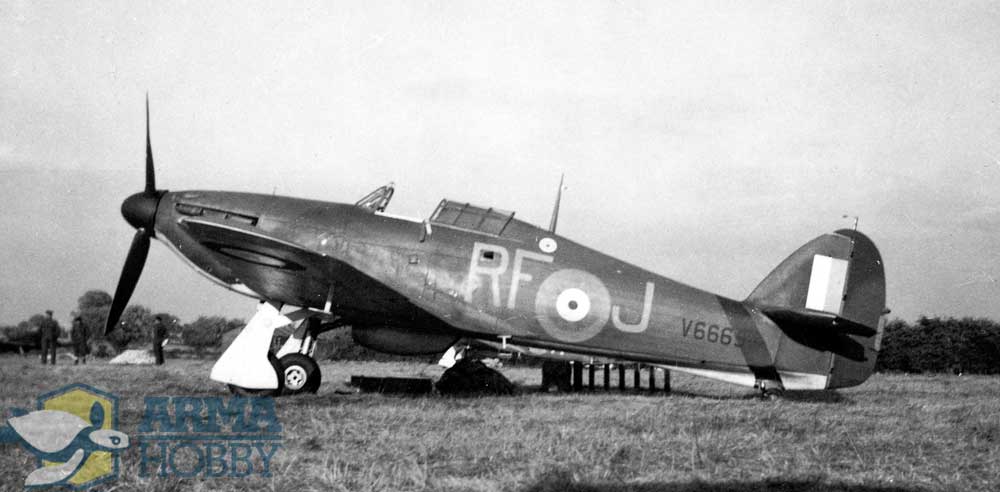 For his next success, John Kent had to wait until 23rd September. In the morning, the Luftwaffe sent fighters over England to lure the RAF fighters into the air and inflict as much damage as possible. The squadron took off at 9.30 am and led a wing that also consisted of No.1  RCAF Squadron and No. 229 RAF Squadron. The wing initially headed towards RAF Biggin Hill and then the Thames Estuary. There, the pilots spotted about twenty German fighters. The Polish squadron turned towards them, but a moment later the pilots noticed 12 Messerschmitt 109s approaching from the rear. The  Red section turned towards the enemy and attacked. Seeing this, the German pilots turned back towards France. However, F/L Kent, flying Hurricane RF-B / V6681, caught up with one of them and shot it down about 20 km from the coast of France. The German pilot jumped out with a parachute. Returning to base, Kent spotted a twin-engined plane heading towards England and attacked it immediately. The Canadian pilot saw his bullets hitting the enemy, but due to engine problems, he had to return to base immediately. Upon his return, he reported some downing of a Bf 109 and damage to the plane, which he identified as Potez (most likely it was the FW 58).
He gained his next success on 27th September. The day was favourable for airborne operations, and the Luftwaffe was sending its planes over Great Britain from the morning. That day, the Polish squadron took off three times, but F/L Kent only took part in the latter. The Polish unit could send six Hurricanes. The Ops directed them at a formation of about 15 Ju 88 bombers, covered by about 30 Messers 109. The attacked bombers turned south and began to retreat in a shallow dive. The pilots managed to catch up with the enemy over Hastings, and F/L Kent, flying Hurricane Mk.I RF-F / V6684, attacked one of them and fired at it from about 75 meters, destroying both engines. A German bomber fell into the waters of the English Channel. Kent's plane was damaged, but the pilot himself wasn't injured.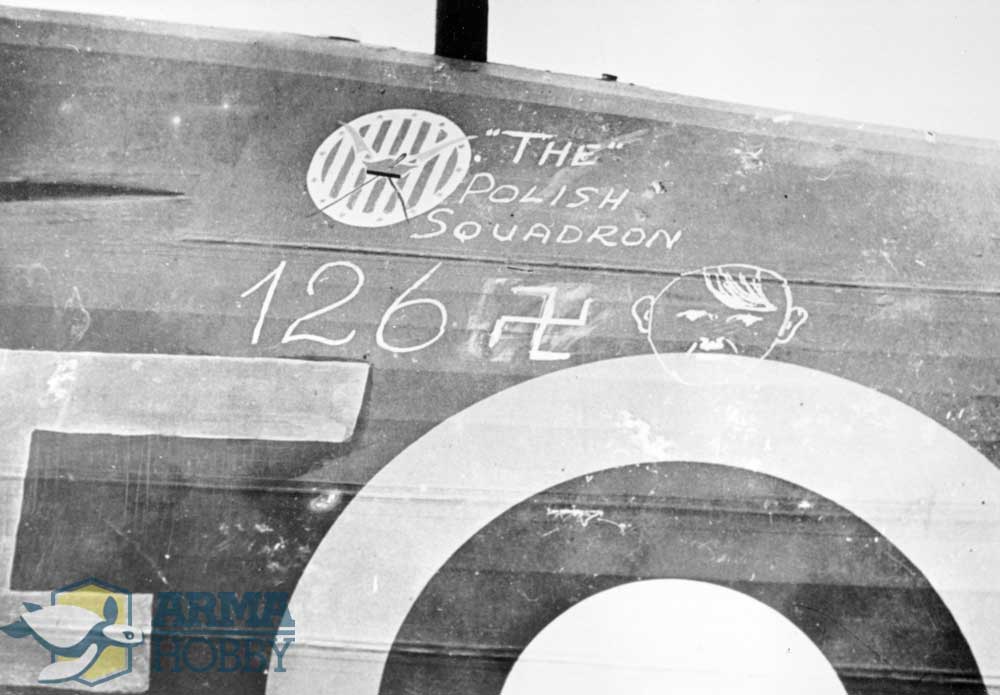 One of "Kentowski" lucky aeroplanes was Hurricane RF-F/V6684. She featured chalked a squadron Battle of Britain score cartoon. Photo from Wojtek Matusiak collection.
Kent's last victory in the ranks of 303 Squadron was on 1st October. Shortly after 1 pm, 9 Hurricanes took off to intercept the German bombers. During the flight, the Canadian, sitting at the controls of the Hurricane Mk.I RF-B / V6681, separated from the rest of the squadron and attacked Messerschmitts 109 he saw. In the report, he wrote that when he went to attack, he was sure that the rest of the squadron was following him. However, tracers flying past his plane put him right. Attacked by several Me 109s, he quickly took evasive action and a moment later saw other Messerschmitts in front of him. Wasting no time, he fired at the nearest of them, which began to descend, dragging a cloud of smoke. Unfortunately, he couldn't observe what happened to the enemy plane, because he was attacked by another Messerschmitt. He managed to make an effective dodge and a moment later noticed another enemy fighter, which fired from a distance of about 300 meters. The German plane began to fall with the engine burning. After this fight, Kent headed for the English Channel, hoping that he would be able to hunt down stragglers returning to France, by the method of Sergeant Frantisek. The expedition proved fruitless and the pilot returned to base. After this fight, Kent reported one sure and one probable kill.
On October 11, the squadron left for a well-deserved rest to RAF Leconfileld, where new pilots from Operational Training Units began arriving. Kent and the rest of the veterans began training the newcomers, but on October 17 he was notified of a transfer to the position of the commander of the 92nd Squadron RAF in Biggin Hill and on October 25 left Polish comrades-in-arms.
During service in the Polish unit, he flew the following Hurricane Mk.Ia aircraft: RF-J / R3974, RF-A / V7284, RF-A / P3120, RF-J / V6665, RF-B / V6681, RF-E / P3901, RF-F / V6664, RF-D / N2460. He made the most flights on RF-J / R3974, RF-J / V6665 and RF-F / V6684. He also used a borrowed Hurricane R2685 from the 1st RCAF Squadron, which he did not fully return after the crash and forced landing.
Further career
He arrived at RAF Biggin Hill on 26th October and took command of the No. 92 Squadron. He had to work hard because the pilots of this unit were quite comfortable with the discipline while on the ground. Every day, after the end of the service, the pilots spent a lot of time in a local pub. Before his arrival, the British unit had lost a lot of pilots in combat. It had also lost several commanders in a short time. Kent recalls that with hard work he managed to re-introduce discipline, but the squadron's pilots claimed that it was "Kentowski" who adapted to the rest of the unit. Fighting in the ranks of 92 Squadron, he shot down another 3 enemy planes, this time flying a Spitfire Mk.I.
In March 1941 he was transferred to No. 53 OTU. But  2nd June, fate reunited him with the Poles, when he took command of the 1st  Polish Fighter Wing in Northolt. He commanded it until 2nd  August when he was transferred to RAF Kenley and became the OC of the Kenley Wing wing. In October, he returned to No. 53 OTU again.
I cannot say how proud I am to have been privileged to help form and lead No. 303 squadron and later to lead such a magnificent fighting force as the Polish Wing. There formed within me in those days an admiration, respect and genuine affection for these really remarkable men which I have never lost. I formed friendship that are as firm as they were those twenty-five years ago and this I find most gratifying. We who were privileged to fly and fight with them will never forget and Britain must never forget how much she owes to the loyalty indomitable spirit and sacrifice of those Polish fliers. They were our staunchest Allies in our darkest days; may they always be remembered as such!
Later he lectured in the USA and Canada, and after returning to Great Britain, he became the commander of the RAF Church Fenton. Then he was assigned to staff work in London. In December 1942, he took command of the RAF No. 17 Sector in Benghazi, North Africa. During his service in North Africa, he also flew combat missions, trying to intercept German high-altitude reconnaissance aircraft Ju 86P, and then took command of training units. He was also involved in an unsuccessful invasion of the Dodecanese Islands.
He stayed in the Mediterranean until mid-1944 when he returned to Great Britain and took command of No. 3 (Pilot) Advanced Flying Unit. In 1945, he completed a course at the RAF Staff College and then served at the British Air Force of Occupation General Headquarters.
After the war, he stayed in the Royal Air Force. In 1947 he was appointed the chief test pilot at RAE Farnborough. After a few years, he returned to line service, taking command of RAF Odiham and then RAF Tangmere.
On 1st  December 1956, he retired from the Royal Air Force at the rank of  Group Captain and began working in the aviation industry.
During the war, he shot down 12 enemy planes, probably shot down 3 and damaged 2.
For his outstanding service during the war he received a lot of awards, including the Distinguished Flying Cross with Bar and the Silver Cross of the Virtuti Militari Order.
John "Kentowski" Kent died on 7th October 1985 in England, at the age of 71.
Aknowlegements
The author wishes to thank Grzegorz Cieliszak for his kind help in preparation of thios article and to Mr Wojtek Matusiak for help with finding photos.
You may be interested:
Hurricane Mk I kits with 303 Squadron markings in Arma Hobby shop link
Kits consist decals for following aeroplanes: RF-J/V6665 – RF-R/R4175 – RF-E/P3901 i YO-N/V6605
This post is also available in:

polski