One of the most significant RAF pilots, and Battle of Britain Aces, was Ian R. Gleed. He almost finished his carrer prematurely when a Spitfire almost killed him when disintegrated during the flight. He was very lucky to return to service with Hurricanes when French Campaign 1940 started. This is his story.
Before the Battle of Britain
Ian Richard Gleed was born on 3rd July 1916 in Finchley, London. He was the second child of Seymour Richard Gleed and Florence Gleed. Ian's father was a doctor, and he served in the Royal Army Medical Corps in Flandres during the First World War.
Before joining the Royal Air Force, Ian Gleed learnt to fly as a civilian. His first solo took place in November 1935 in the London Aeroplane Club in Hatfield. Since 1934 he was also a keen sailor and was a member of the Herne Bay Sailing Club.
After joining the Royal Air Force at the beginning of March 1936, Gleed started his training in No 2 Elementary & Reserve Flying Training Flying School in Filton and later in No 8 Flying Training School in Montrose. When he finished the training, he was posted to No 46 fighter squadron in Digby. He started his service in this unit on 25th December 1936. At the time of his arrival, the Squadron flew Gloster Gauntlet biplane fighters but soon received completely new Hawker Hurricane Mk. I fighter aircraft. In September 1939 he was posted to a newly formed No 266 squadron in Sutton Bridge. That unit was flying Supermarine Spitfire Mk.I fighters and Gleed became the "A" Flight commander. On 18th February 1940, during the test flight of Spitfire Mk. I s/n N3120, the aircraft disintegrated during the shallow dive at 18,000 feet, and Gleed was ejected from the cockpit. While hitting the canopy with head, he lost consciousness. Fortunately, the pilot regained it high enough to open the parachute. His injuries were severe, and he spent three weeks in the hospital. After leaving it, he spent several weeks on convalescence. In April 1940 he was allowed to fly, yet only on duals. On 14th May, the medical board allowed him to return to combat service. The same day he was posted to No 87 Squadron in France as the "A" Flight commander.

Hurricane Mk I P2798/LK-A, note underwing roundels painted in august 1940 and I. R. Gleed personal insignia, the Figaro cat, below cockpit. Phoyo from Tony O'Toole collection.
The first victory
Four days after his arrival he claimed two Messerschmitts Bf 110 shot down near Valenciennes. It was his first combat during the war and the first while flying Hurricane Mk. I LK-A/P2798. In his semi-autobiographical book "Arise to Conquer" he writes that everyone in his Squadron envied him that plane as it was the first aircraft in the Squadron with constant speed propeller which made it faster than other planes in the unit. It was a completely new Hurricane indeed, delivered to No 87 Squadron shortly after Gleed's arrival.
On 19th he shot down two Dorniers Do 17 and one Bf 109. He also damaged another Bf 109. On 20th he added ½ Ju 88 shot down together with P/O K. W. Tait. This gave him the acedom and was his last victory during the Battle of France.
The same day his Squadron was ordered to return to Great Britain, and on 21st May all airworthy Hurricanes flew back to the United Kingdom – first to RAF Debden and then to RAF Church Fenton, Yorkshire. Ground crew and pilots who couldn't fly back joined at the beginning of June. On 21st June No 87 squadron was operational again and started patrols over the North Sea protecting the shipping. On 4th July 1940, the Squadron received orders moving it to Exeter which became its base until the end of the Battle of Britain.
The Battle of Britain
No 87 squadron spent the Battle of Britain in Devonshire which was a quite peaceful part of the country when compared with the eastern part of England and the South Coast. It was the reason the unit didn't take part in heavy combats for some time. However, the pilots often flew convoy patrols over the English Channel, the Celtic Sea and the Irish Sea. In the second half of July, the Squadron started night patrols to intercept German bombers attacking towns and cities in the West Country and Wales. Gleed's first night patrol took place on 23rd July 1940. Although he intercepted enemy bomber, he couldn't say if he hit it.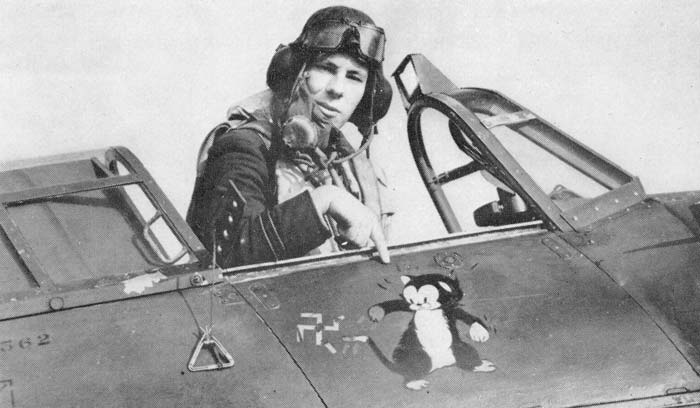 Ian Gleed in the Hurricane Mk I cockpit, pointing at his personal indignia, Figaro cat. Photo: Battle of Britain Memorial.
Two days later, on 25th July, Luftwaffe sent 18 Junkers Ju 87 Stuka bombers, protected by Messerschmitts 109 to attack shipping in Portland area. RAF 10 Group sent 12 Spitfires of No 152 Squadron and the "A" Flight of No 87 Squadron to intercept the enemy. Unfortunately, "Widge" didn't shoot any plane. On 7th August Gleed led his flight to RAF Bibury where the pilots started night patrols. Again, he didn't hit anything. On 11th August Luftwaffe attacked Portland with more than 100 aircraft. No 87 squadron sent 7 Hurricanes of the "B" Flight – Ian Gleed stayed in Exeter with his pilots.
Finally, on 15th August Gleed managed to score a victory. At around 5 p.m. British radar stations detected a sizeable German formation (about 150 aircraft) heading again for Portland. No 10 and 11 Groups sent three squadrons – two flying Hurricanes and one – Spitfires. No 87 Squadron clashed with Messerschmitts 110 which created defending circles. Gleed led his flight against one of them attacking from the sun. In several attacks, he shot down two Messerschmitts. Then, with other Hurricanes, he started a chase after the leading group of German planes. However, soon he learnt that those Hurricanes were, in fact, Messerschmitts 109. German pilots attacked Gleed, but he managed to evade those attacks and damage one of the opponents.
On 25th Gleed shot down another German aircraft. In the afternoon No 87 squadron scrambled 12 Hurricanes to intercept German raid consisting of more than 300 aircraft – the target was thought to be again Portland. However, German planes passed the town and attacked RAF Warmell. Squadron's fighters intercepted enemy near Portland – the "B" Flight attacked the formation while Gleed's "A" Flight's task was to cover attacking group. Suddenly he saw Bf 110s attacking the "B" Flight from the sun and led the counterattack. He shot at one of the enemies and saw it crashing in the sea. Unfortunately, he had to take evasive actions as his flight was attacked by around 20 Messerschmitts 109. One of the attackers overtook his Hurricane and Gleed immediately opened up. After that combat, he claimed 1 Bf 110 destroyed and two other German fighters (1 Bf 109 and 1 Bf 110) damaged. In the following weeks, despite taking part in numerous combat patrols, he didn't gain any successes.
Night Fighter
At the beginning of September, a decision was made to return No 87 squadron to night interception duties. On 3rd the "B" Flight moved to RAF Bibury to start night defence. It was replaced by the "A" Flight on the 10th (for seven days) and again on 25th.
On 13th (according to Gleed's biography) or 14th (according to unit's ORB) September Gleed received information that He was awarded the Distinguished Flying Cross for his service in the Squadron.
He gained his last success during the Battle of Britain, and in 1940, on 30th September 1940. On that day Luftwaffe sent 150 aircraft to attack Westland's factory in Yeovil. Gleed made head attack German formation of Ju 88 bombers. The aircraft he shot at left the formation and hid in the clouds. Gleed could only claim one bomber damaged. However, his Hurricane was hit by air gunners, and he had to leave the combat which was one of the last in the Battle for the Squadron. October was relatively peaceful for the unit whose pilots made day and night patrols. The sole combat with Luftwaffe took place on the 11th near Portland when P/O Beaumont attacked 4 Messerschmitts 110.
After the Battle
On 28th November the whole Squadron moved to RAF Colerne, Wiltshire, yet soon the "B" Flight flew to RAF Charmy Down. Meanwhile, the "A" Flight was in RAF Bibury, where it stayed until 18th December.
24th December was a significant date in Gleed's life. He became No 87 Squadron Commanding Officer. He led this unit until the 18th November 1941 when he was promoted Wing Commander and become the OC of the Middle Wallop Wing, whose squadrons flew Hurricanes (No 245 Squadron) and Bristol Beaufighter (No 604 RAuxAF). But soon he was moved to RAF Ibsley where he became OC of RAF Ibsley Wing whose squadrons (Nos 118, 234, 501) flew Spitfires. In May 1942 he received the Distinguished Service Order and soon was posted to RAF Fighter Command Headquarters.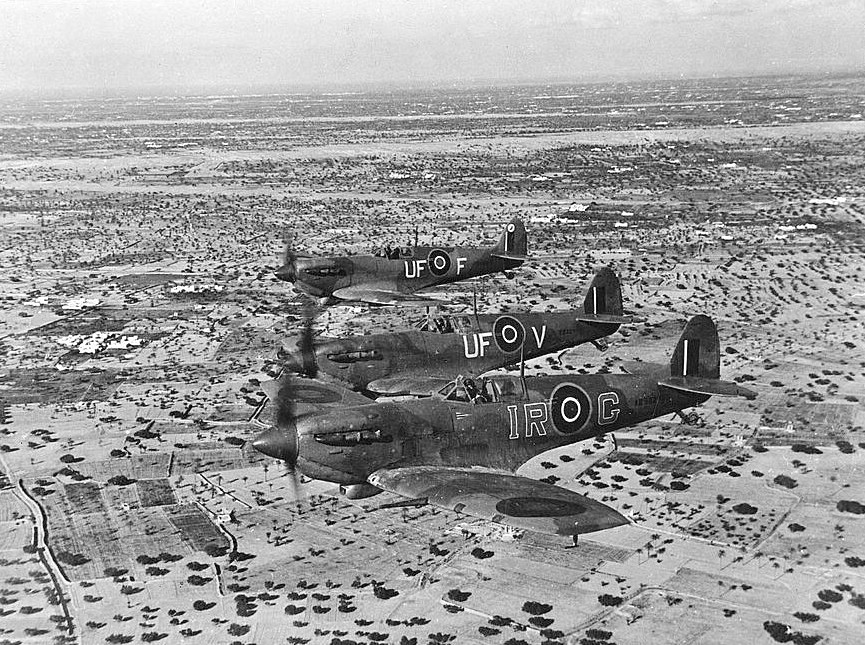 Spitfire Vb AB502/IR-G, personal aeroplane of the 244 Fighter Wing commander, I. R. Gleeda over Djerba in spring 1943, photo: Wikipedia.
Tunisia
He returned to line service on 1st January 1943 and was posted to the Middle East. On 31st he became OC of No 244 Wing in North Africa (the sole unit which consisted of Spitfire flying squadrons – Nos 92, 145, 601, 417 RCAF and 1 SAAF) which he led until 16th April when he was shot down during the patrol near Cap Bone. His victor was, probably, Leutnant Ernst-Wilhelm Reinet of JG77, who claimed shooting down a P-51 Mustang (and we have to remember that Gleed flew Spitfire Mk.Vb Trop with clipped wings and during the combat, it might have been taken for Mustang). Gleed reached the land but lost his life, but it's hard to say if he died of wounds or during the crash landing.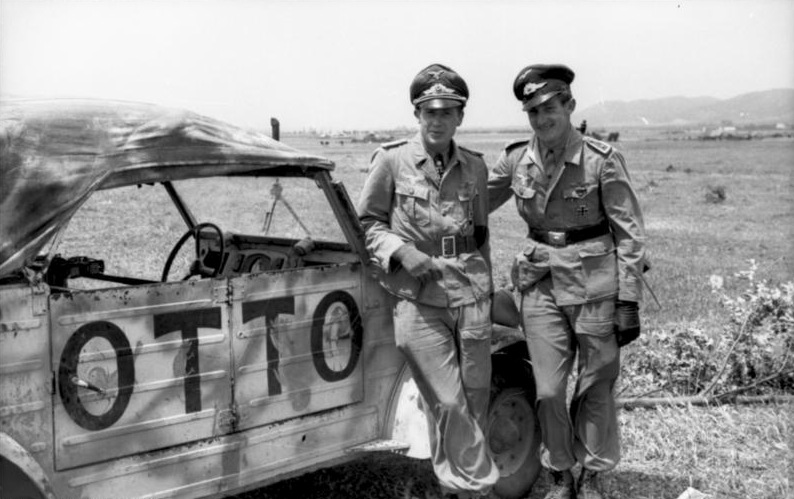 Photo: Leutnant Ernst-Wilhelm Reinert (left), probable Gleed's victor, Tunisia, April 1943. Photo: Bundesarchiv.
During the war, Ian Gleed shot down 17 aircraft, claimed seven probably shot down and eight damaged.
Gleed's Hurricane and the "Figaro"
Hawker Hurricane Mk.I s/n P2798 was one of the longest-used fighter aircraft during the Second World War. It was used since May 1940 until autumn 1941. Gleed flew that plane until August 1941. During that period it changed camouflage two times – in the winter 1940/1941 it was painted black, as No 87 squadron was night fighter unit. It also received Squadron Leader pennant on the rudder and received new exhaust stacks (six per side, similar to Spitfires Mk.IX). Later it was painted back to Temperate Scheme.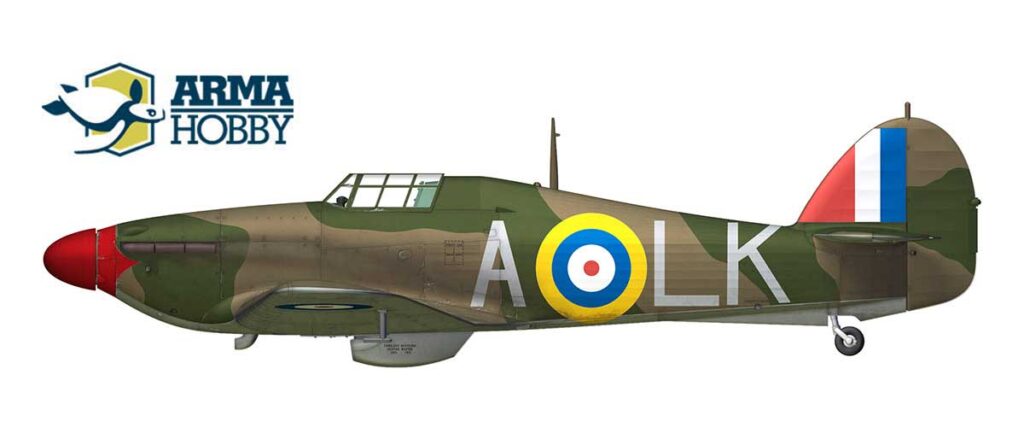 Hurricane Mk I P2798/LK-A, aeroplane flown by I.R. Gleed, end of August 1940. Artwork by Zbyszek Malicki.
Every aircraft Gleed flew had a black cat "Figaro" painted on the starboard, Just below the canopy. According to information from Gleed's biography written by Norman Franks, it appeared on Gleed's Hurricane Mk. I soon after it had been delivered to No 87 Squadron in France. In my opinion, it was present on Gleed's Hurricane Mk. I when it was repainted black and on Hurricane Mk.IIc, although at the time of writing this article, no photos are known. When he started flying Spitfires Figaro was also present on his mounts.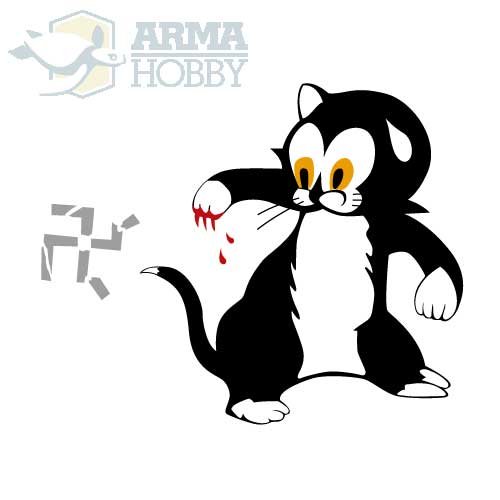 Currently, we can see a Hurricane panel with Figaro in the RAF Museum Cosford, yet it is difficult to say whether it is from Hurricane Mk. I or Hurricane Mk.IIc. The green colour would suggest Mark I, but it's only a guess.
Another characteristic feature of his Hurricane was painted propeller spinner and the fuselage just behind the propeller. For years model companies presented Gleed's Hurricane Mk.I with a blue spinner (it was described as such in Gleed's biography) or a red one. But the second option is most probable as Gleed was the Commanding Officer of the "A" Flight which was "red". It was the "B" Flight which was "blue". It would be quite extraordinary for "Red" flight leader to have his plane painted with "Blue" flight colours. However, it's hard to say when the spinner was repainted – it could have been done in France or after squadron's return to Great Britain.
Left: I. R. Gleed, personal insignia, the Figaro cat. Artwork by Zbyszek Malicki
An unusual feature of his Hurricane was a band painted on the nose of his plane. It's again hard to say when it was painted as there aren't any photos from the Battle of France and Squadron's stay in Church Fenton in July 1940. However, pictures taken in August show this band, although sometimes it's hardly visible due to low quality of photos.
And there is one more thing to remember. If you want to build Gleed's Hurricane pre-August 11th 1940, it shouldn't have RAF roundels on lower surfaces as these were removed on the 6th June with the implementation of Sky on lower surfaces and reintroduced on 11th August.
You may be interested
Hurricane Mk I kit with I.R. Gleeda and other Battle of Britain Aces markings in Arma Hobby webstore link
I.R.Gleeda page on Battle of Britain Memorial
This post is also available in:

polski