Victoria Cross is the British highest military medal awarded for valour and courage in the presence of enemy. It was introduced by Queen Victoria on 29th January 1856.
It's surprising that despite numerous heroics during the Second World War,  only one pilot of Royal Air Force Fighter Command was awarded with Victoria Cross – Flight Lieutnant James Brindley Nicolson, a pilot of No 249 squadron. One reason was that there were eye witnesses on the ground, which is  the reason other brave pilots didn't receive this medal.
Flight Lieutnant James Brindley Nicolson
F/L James Brindley Nicolson was born on 29th April 1917 in London. In 1936 he joined Royal Air Force and on the 12th October he started his training in No 13 E&RFTS in White Waltham. On the 16th January 1937 he was transferred to No 10 FTS in Tern Hill and in August the same year he joined No 72 fighter squadron where he served until May 1940, when he was transferred to newly re-formed No 249 fighter squadron as a flight commander. With this squadron he fought in the Battle of Britain, although for a quite short time as on 16th August 1940  he was shot down in a combat that brought him the Victoria Cross. In February 1941, after a long recuperation, he was posted to No 54 OTU. Finally, in September 1941, he returned to frontline service, becoming a commanding officer of No 1459 flight (later No 538 squadron) flying Bristol Beaufighters. In March 1942 he left British soil and went to India, where he worked as a staff officer. Behind the desk he spent more than a year and in August 1943 he became the CO of No 27 squadron flying Beaufighters. He led this unit one year. In August 1944 he was promoted Wing Commander (Training) and became responsible for pilots' training in the 3rd Tactical Air Force in India and Burma. Unfortunately he didn't survive the war. On the 2nd May 1945 he took part in a bombing mission as an observer in B-24 Liberator. During the flight one of its engines caught fire and the aircraft ditched in the Bay of Bengal. Nicolson's body was never found.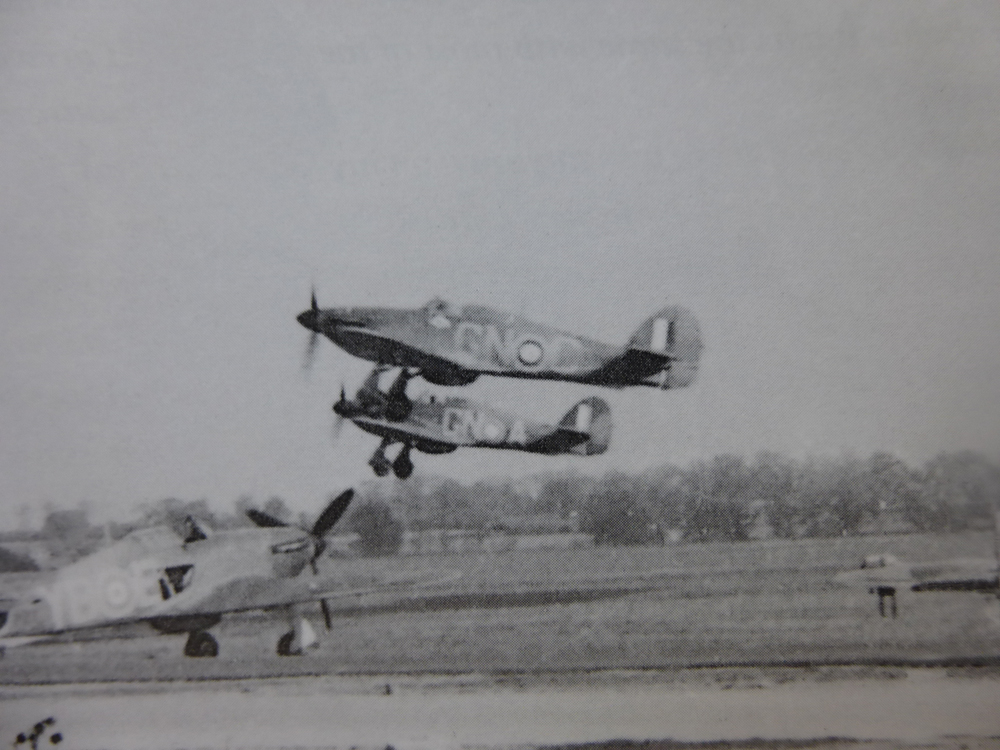 249 Squadron Hurricanes scramble. In the background is a GN-A, most probably Nicolson aeroplane. See difference in national insignia shades between both aircraft. Photo Tony O'Toole collection

The memorable combat
16th August was a warm Day. At around midday Luftwaffe made two attacks – one in the east, where main combat took place over Kent, and the other formation headed towards Sussex and Hampshire.
At 12.30 British radar stations detected a big German formation heading towards Portsmouth. RAF sent five Hurricane squadrons (Nos 1, 43, 601, 249 and 213) and one Spitfire squadron (No 152) to repel the attack. In total, the FC sent 72 fighter aircraft.
Luftwaffe sent over 100 famous Stuka bombers covered by more than 200 Messerschmitts 109 from JG 2, JG 27 and JG 53 fighter regiments and 54 Messerschmitts 110 from  ZG 2 and LG1. Their targets were RAF bases in Tangmere, Gosport, HMS Daedalus (a Fleet Air Arm base) and Ventnor radar station.
No 249 squadron was sent to partol and protect Portsmouth. F/L James Nicolson was Red Leader with P/O M. King as Red 2 and S/L E. King as Red 3.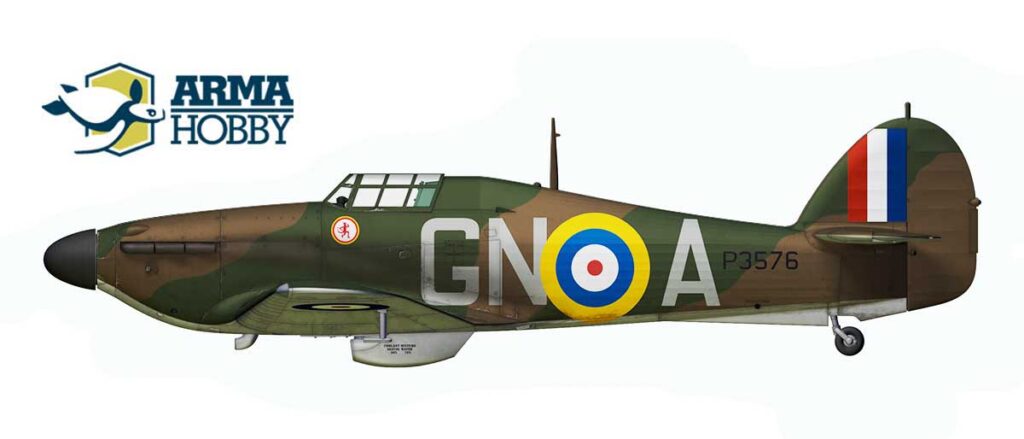 Recontruction of Nicolson Hurricane markings. Aeroplane was manufactured by Hawker in Spring of 1940. On photos it seems she had national insignia were painted with pale, pre-war shade usually used in Gloseter factory. In August RAF introduced wing undersurface roundels, which were painted in unit with darker shades. Choice of markings is at modellers discretion, kit provides both pale and  darkshades. Artwork Zbyszek Malicki.
While near Southampton Nicolson saw 3 enemy aircraft. He informed his CO of his discovery who ordered the Red Section to handle the enemy. However, before they reached Germans, these were attacked by Spitfires. When Nicolson saw this, he decided to rush back to his squadron. Unfortunately, before they reached the unit, out of the sudden, they were bounced by German fighters. Nicolson and P/O King were shot down and had to parachute, and S/L King's Hurricane was damaged but managed to return to base.
In his report Nicolson said that his plane received four cannon hits. The bullets damaged the canopy, hit him in his tigh and leg and set a gravity tank on fire. He  decided to leave his aircraft. However, before he did it he saw an enemy aircraft in front of his Hurricane. He immediately press the fire button and was pressing until the heat in the cockpit became unbearable.
But this wasn't the end of his problems, as when he was descending he was shot at by the Home Guard members (but some information claims that the shooters were soldiers of Royal Engineers unit who were basing nearby). Bullets hit his buttocks. When he landed he was taken to hospital in Southampton  with burnt hands, face, neck and bullet wounds.
For many years it was thought that Nicolson was fighting with Messerschmitts 110. He even mentioned it in a radio broadcast in December 1940. But in a casualty report written by S/L John Grandy, Nicolson's CO, on 19th August he mentioned engagement with Messerschmitts 109.
There's a bit of confusion about his victim. In before mentioned casualty report Nicolson mentioned shooting at Messerschmitt 109. A few day later S/L Grandy visited Nicolson in hospital once more and wrote a combat report. This time Nicolson claimed shooting at  Messerschmitt 110. It's not clear why he changed his victim, maybe because he got information that eye witness saw Bf 110 falling down after Hurricane opened fire.
James Nicolson in hospital recovering from wounds. Photo: IWM/Wikipedia (public domain), right: Victoria Cross (wikipedia)

The latest research confirmed Nicolson's original information about Messerschmitt 109 as there weren't any Messerschmitts 110 in the area where combat took place. The only enemy was II/JG 53, flying Messerschmitts 109. Nicolson's victor, probably, was Heinz Bretnutz, the Staffelkapitan of 6/JG 53, who claimed two Hurricanes in the same area.
But did Nicolson shot down any German aircraft? Probably not, as Luftwaffe didn't lose any Messerschmitt in the area. It's also interesting to notice, that in his report said "press the button" not "shoot". He was unable to say whether gun button was set "safe" or "fire". It's not surprising as the cockpit was in flames.
The citation to his award, printed on 15th November 1940, assumed that he shot down the enemy aircraft, although he didn't mention shooting down anything in his combat report. Nicolson received his Victoria Cross on 25th November 1940, but he was very modest about his award and it took some time before he decide to attach the ribbon to his uniform.
You may be interested in:
Hurricane plastic kit with F/L James Nicolson markings included available in Arma Hobby webstore link
This post is also available in:

polski