We have just finished taking pre-orders of our FM-2 Wildcat model and we started shipping models to our customers. There are several reasons why this project is so important for Arma Hobby. Below I'm describing what has happened.
Wildcat – our first project in many aspects
The first multi-frame model which broke the series of single-frame models with the only small addition of a clear plastic frame. But we don't reject the "single-frame" policy. Such models are simpler to produce and, what's more important, they're easier to assemble. Multi-frame models are considered when we have a model with several complicated versions (as Wildcat for instance) or a model of a bigger size (which we're going to make, sooner or later).
The first model of an aircraft that wasn't used by the Polish Air Force. The time has come for us to start foreign subjects. We don't abandon Polish subjects though. They will appear in our future projects. But it won't be a sole topic for Arma Hobby.
The first model made under manufacturer's official licence. F4F Wildcat™ is Northrop Grumman Systems Corporation trademark which has to be respected by everyone, even model companies. This means that making the model without the official licence is a violation of the producer's rights. If Arma Hobby wants to spread its wings and sell models in the USA, it should have such licence. A careful modeller will see such a note on boxes and In the instructions of British and Japanese model companies. Modellers often discuss the company's rights to a plane ordered and paid by the American tax payer. However, we aren't here to change the law. As Romans Said "dura lex sed lex",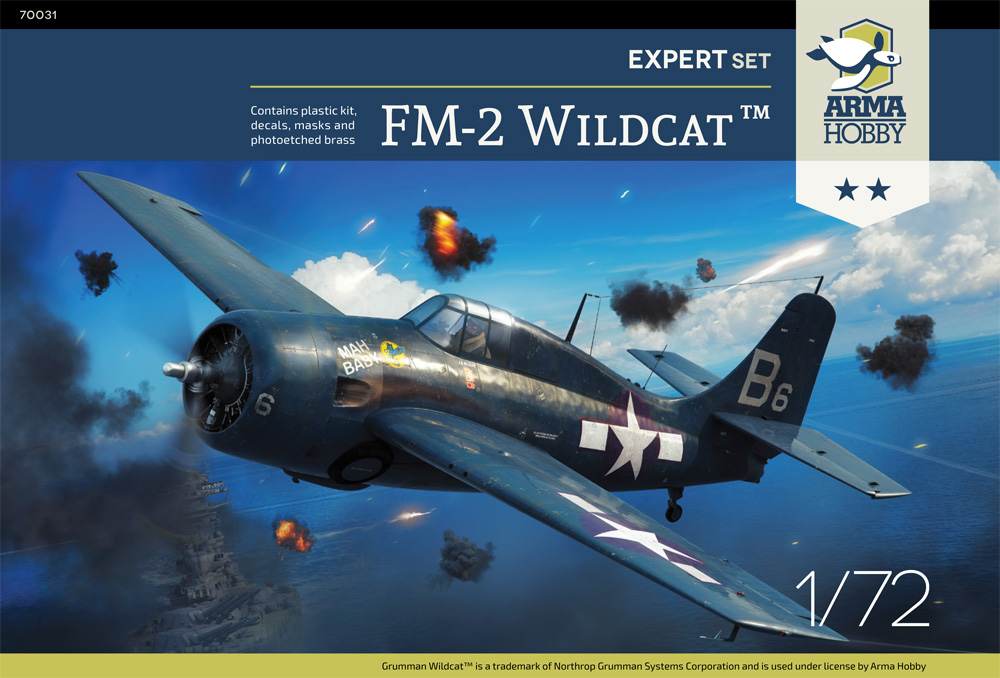 Box art picture with Wildcat over Yamato battleship by Piotr Forkasiewicz
FM-2 – Arma Hobby's biggest project so far
Quite recently I mentioned on Facebook that the Wildcat is a small aircraft. Soon someone replied that it's bigger than most of the other fighter aircraft used during Th Second World War, i.e. Bf 109, Spitfire or Yak-1. The number of parts of engine, cockpit or "early Grumman" undercarriage details reflects its size. It's one of the reasons we decided to divide the model parts between two frames. This kit is full of details.
It's a great fourty-eigth model in seventy-second scale, Maciej Złotkowski, Facebook
It was a more complicated project than Yak and Hurricane. We had to remember about parts compatibility with early-war versions of Wildcat, e.g. F4F-4 and F4F-3, which had different engines, fuselage and wings. Despite popular opinion, designing is the most difficult and the most expensive part of the whole process. Arma Hobby is not a company that wants to save money at this stage.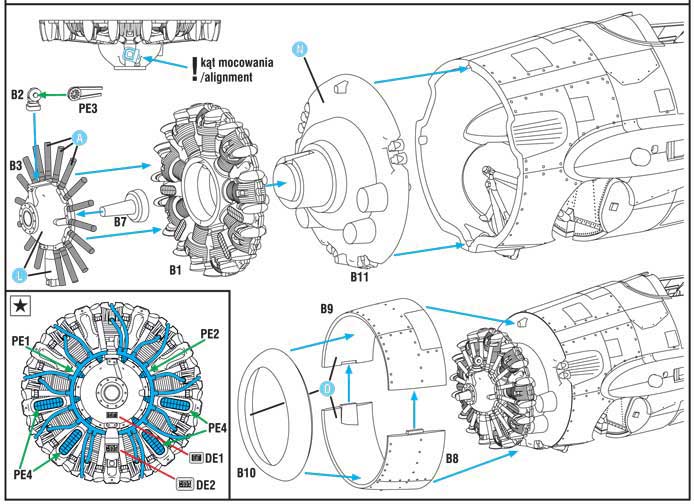 The engine was carefully designed. At first glance, it was thought that it would be simplified as many modellers were misguided by the metal plate which was between cylinders. They thought that it would only have a front part of cylinders. But the real engine looks that way and in the model we designed the whole construction. It was complemented with valve push rods and additional power generating unit.
The Project Crew
Marcin Ciepierski – 3D design and instruction
Wojciech Bułhak – marking options
Zbyszek Malicki – colour profiles
Tony O'Toole and BarettTillman – marking options consultation
Model reception
The model was well received by modellers from other countries. A few days before the premiere it received positive comments when discussed on the Czech modelling forum (modelforum.cz) and was compared to Yak-1b and Hawker Hurricane even before release! Thank you for good words and your confidence in our design skills.
Surprisingly Polish modellers reacted positively, although it is not a "Polish" subject. Some criticised its price but refused to accept how complicated the kit is and the fact that they will not need a lot of extra aftermarket parts to build it.
Arma Hobby designing style
There are a lot of very good model companies and each of them has its designing style. Our motto is "solving modellers' problems" when they build them. Building a model has to be a pleasure, not a struggle.
we avoid solutions that would require using putty or would make modellers re-scribe panel lines or correct model surface
we design models in a way that modellers don't have to buy many aftermarket parts to make the model looks very good.
Our basic set, the Model Kit, includes parts designed In such a way that they allow to build an accurate replica of a plane. Most of details should be designed In a way that using aftermarket parts is unnecessary. We don't design models to sell a lot of accessories. Our dream is to design models which won't make modellers spend extra money on them. The Expert Set has to have only the most needed pe-parts and maybe in the future this kind of model boxing won't be necessary.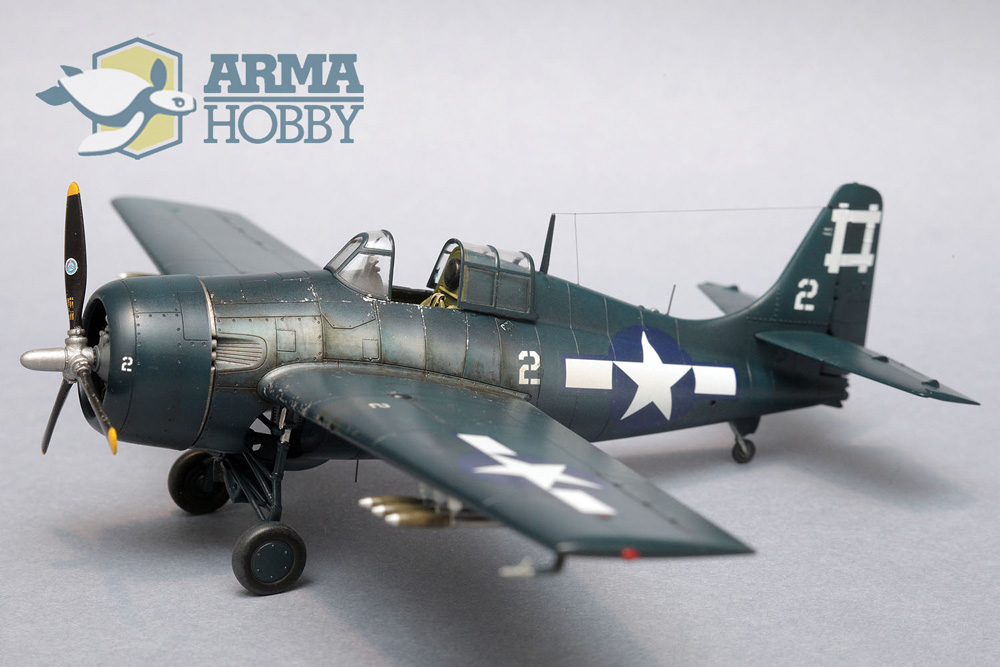 Finally, two most frequent questions
You sometimes ask if it's possible to buy photo-etched parts, resin parts or decals separately. We don't make accessories and we don't plan to do it. We understand that you want to upgrade a Model Kit when it includes an interesting painting option. Unfortunately, logistics doesn't allow us to mix sets. However, for those of you who want to upgrade your kits, we have high-quality products from such producers as Yahu, Eduard, Master Model, or Quickboost. We usually sell them in promotional sets at a discount with a kit. Myself, I will build a Hurricane Mk.IIc Model Kit and add Yahu instrument panel, Eduard's seat belts and, maybe, Master cannon barrels. I find such standard sufficient enough.
The most frequent question is about our further projects. First 1/48 – yes, but when we are financially ready for a model which requires 3-4 moulds.
What's our next project? Are we working on a specific type? I won't answer these questions. Why? I have already said it several times. We always announce our next model when it is at the implementation stage. We don't t want to have dibs on some topic or sabotage other companies' plans. We are also not afraid of making models which have already been made by other companies, i.e. Wildcat
That's all for today. If you want me to tell you more about Wildcat or Arma Hobby, please leave a comment below.
English transaltion by Dominik Sędziak
You may be interested
This post is also available in:

polski