In the Second World War, South African Air Force (SAAF) squadrons sent to the Mediterranean theatre became part of the RAF order of battle. Their role was not usually a glamorous one, they were not allocated the latest equipment and, if we focus on the SAAF fighter squadrons in the difficult 1941–1942 period, their mission profile often put them at a tactical disadvantage against enemy fighters. Eventually the SAAF units moved to Italy with the rest of the Commonwealth forces and received up-to-date equipment, but by then Axis fighter opposition had all but vanished.
After South Africa had joined the war on 6 September 1939, SAAF 1 Squadron, which can trace its history back to 1922, was initially sent to East Africa. There it had its baptism of fire against the Italians in June 1940. It was equipped with a mix of types, namely the Hurricane Mk I, the Gloster Gladiator and even the Hawker Fury biplane. In April 1941, it was first SAAF squadron to be transferred to North Africa, becoming part of 258 RAF Wing and flying the Hurricane Mk I. It was heavily involved in fighting over North Africa for the rest of 1941 and into 1942. It traded in its Hurricane Mk Is for Mk IIs in September 1941, but the latter were of the IIA and IIB variant, that is, armed with .303 machine guns.
Hurricane Mk IIc
It was only in mid-September 1942 that the cannon-equipped Mk IIc aircraft finally arrived. To their surprise and possibly dismay, the South Africans discovered their IIcs were equipped with the inner pair of cannon only, the outboard Hispanos having been removed. Indeed, all the photos I have seen suggest SAAF 1 Squadron only ever had IIcs thus equipped, but of course it cannot be ruled out that they had some machines with all four cannon installed. The cannon-armed Hurricane did not stay long with the squadron. After less than two months' service it was gone, having beed replaced by the Spitfire Mk V.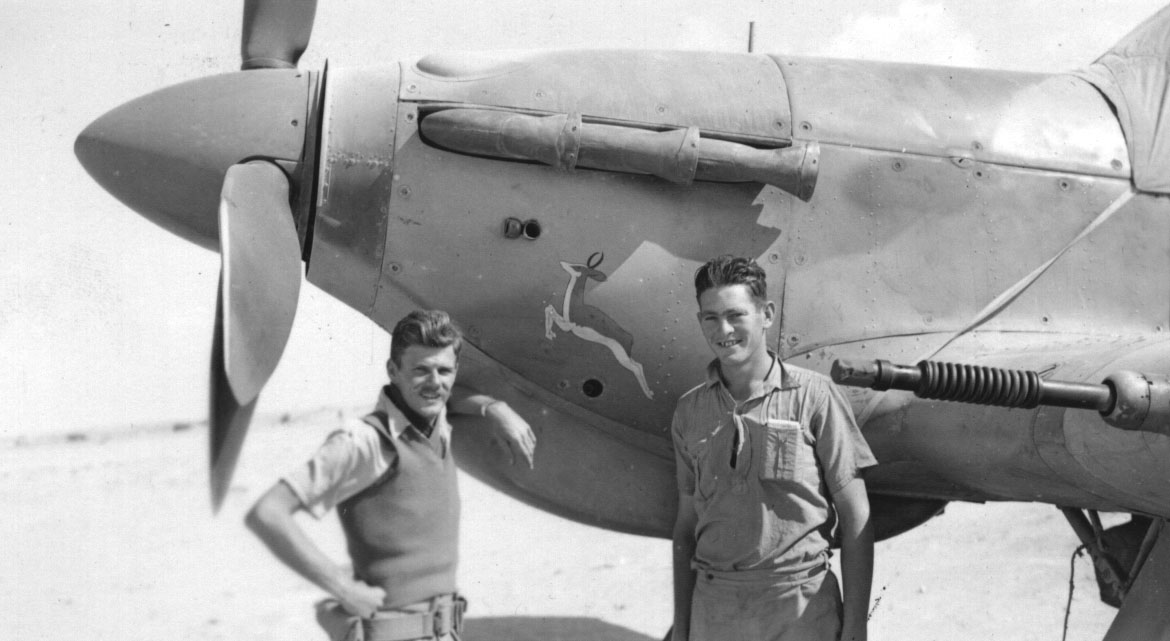 Lt Stewart 'Bomb' Finney and his armourer posing in front of Hurricane IIc HL885 AX-Z 'Oops!'. Clearly, only the inner Hispano cannon is present. Photo: Steven McLean collection.

"Bomb" Finney
Stewart 'Bomb' Finney had joined SAAF 1 Squadron in November 1941, and stayed with it until December the following year. During the 13 months or so, he flew 143 missions in Hurricane IIb and IIc aircraft, as well as in Spitfire Mk Vs just before being rested. After a spell as a flying instructor, Finney flew another tour on Spitfires in 1943–1944, and ended the war with the rank of major. He earned his nickname 'Bomb' as a legacy of his pre-war work at a dynamite factory in Moddersfontein.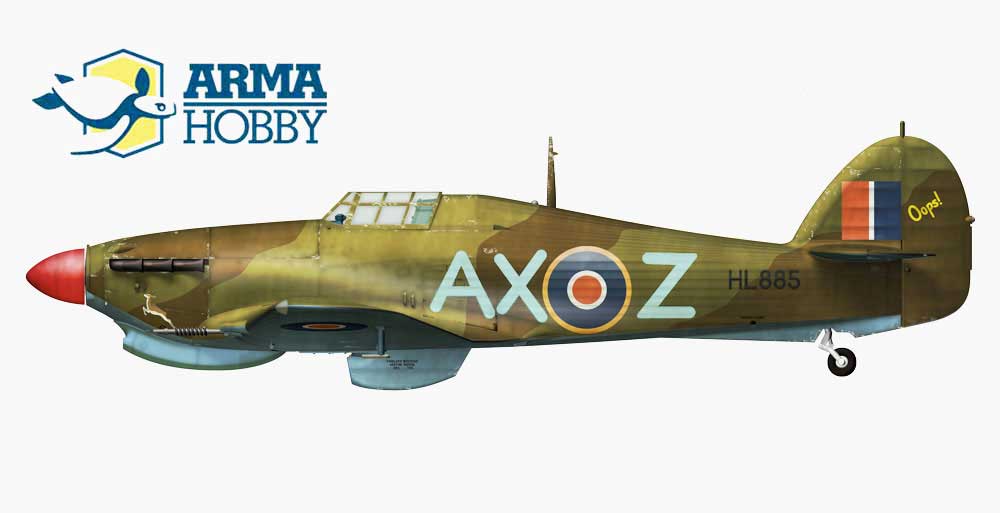 Hurricane Mk IIc trop, HL885/AX-Z, 1 Squadron SAAF, Lt. Stewart "Bomb" Finney, LG142, Egypt, September 1942.. Artwork by: Zbyszek Malicki.

Lt 'Bomb' Finney's personal Hurricane IIc was HL885 AX-Z, named 'Oops!' on the rudder and sporting Springbok artwork on the lower port cowling. He flew this particular aircraft 24 times between 26 September and 4 November. On 19 October 1942, Finney's logbook records "a mild dice with 109s". Perhaps more significantly, he writes that "ack-ack was accurate and at times intense". We have photos showing damage to AX-Z, possibly as a result of the 19 October operation. Circumstantial evidence is offered by the next two entries. On the 23rd Finney first flew another Hurricane, HL627 AX-X, on ops, and then an air test in HL885, noting "'Oops!' now serviceable again".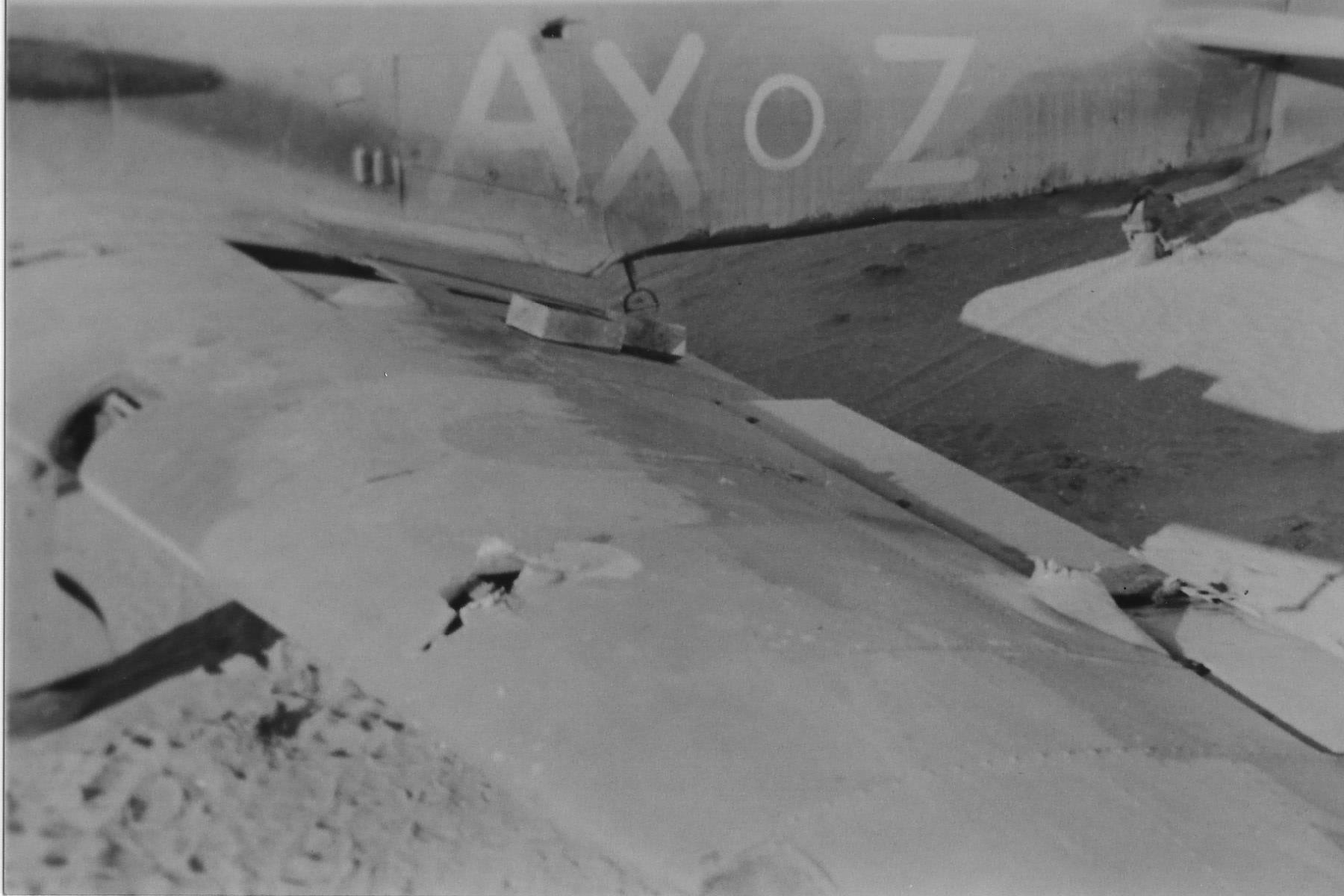 This damage to AX-Z probably occurred on 19 October 1942, as mentioned in the article. Photo: Steven McLean collection.

Markings of the HL885
When SAAF 1 Squadron was equipped with the Hurricane IIc, the official unit markings consisted of the code letters AX, usually applied in an unusual rounded type. According to aviation historian Steven McLean, author of the magnificent Squadrons of the South African Air Force, the usual colour for the code letters was not white but pale blue. This was pointed out to him by none other than 'Bomb' Finney, who remarked that that the man with the brush, responsible for painting the codes on their aircraft, was known as the 'Duck-Egg Blue Merchant'. Whether the code letters were always pale blue cannot be established from photos, of course.
In addtion to the code letters AX, the squadron had begun to apply red wing tips as an additional identification marking. Michael Schoeman, in Volume 3 of his five-volume tour de force Springbok Fighter Victory, writes that it was in about August 1942 that the unit got permission to do so. This means their Hurricane IICs may have worn this extra identification feature. Whether the red was applied to all squadron aircraft, or whether it was applied to both the upper and lower surface of the wing tip, is impossible to judge from published photos. They are few in number and often framed in such a way as not to show either wing tip.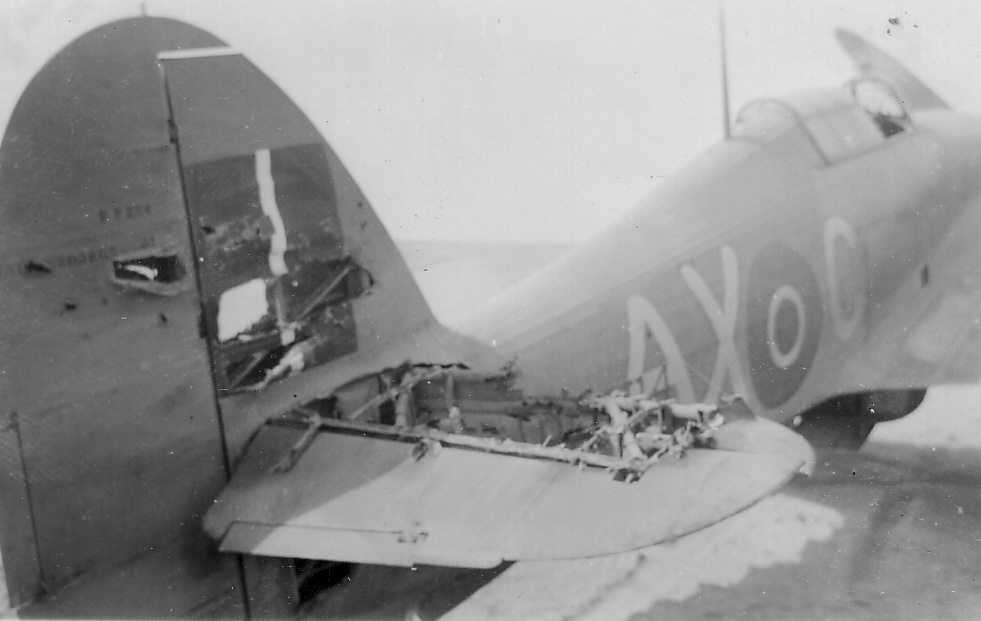 Not a cannon-armed Hurricane IIC but instead IIB BP284 AX-C, called 'C for Jimmy' [sic]. The damage seen here was caused by 88mm flak on 27 August, when AX-C was flown by Lt Salmon. Finney flew this plane frequently. On 1 September he remarks in his diary: "Test flew 'C for Jimmy'. She has a new rudder and tailplane." Photo: Steven McLean collection.

Arma Hobby is to be congratulated for choosing to offer 'Bomb' Finney's Hurricane IIC HL885 as a decal option. I would model Finney's mount, or any other SAAF 1 Squadron Hurricane IIC for that matter, with only the inboard 20mm cannon installed, with red wing tips on the topside only and a bluish tinge on the code letters, but this is just my view. I encourage modellers to study photographs, weigh the information available and make up their own mind.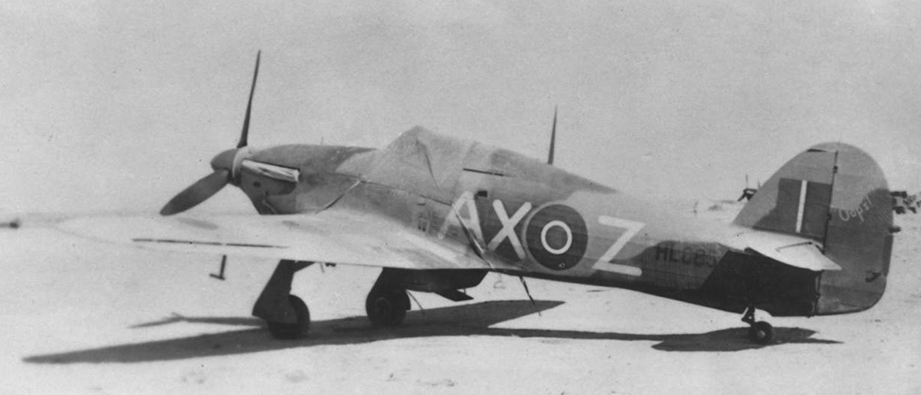 Hurricane Mk IIc, AX-Z/HL885 in Egypt, 1942. Photo: Tony O'Toole collection.
For anyone interersted in finding about more on 'Bomb' Finney, who passed away in 2014, as well as SAAF Hurricane operations over the Western Desert, I can do no better than to recommend this website: http://www.bombfinney.yolasite.com/. There, in addition to photos and his log-book entries, you will find a number of highly interesting video clips of the 90-year-old Finney's interview. People who knew 'Bomb' say he was an exceptional person, his mind perfectly sharp until the end. The videos attest to this and are a valuable record.
Aknowlegements:
I wish to offer my thanks to Steven McLean for the accompanying photos and his invaluable help in preparing this article.
Sources
Correspondence with Steven McLean.
McLean, Steven. Squadrons of the South African Air Force and their Aircraft, 1920–2005. South Africa, 2005.
Schoeman, Michael. Springbok Fighter Victory, SAAF Fighter Operations 1939 – 1945, Volumes 2 and 3. African Aviation Series. South Africa, 2009 & 2010.
Van Schalkwyk, Piet, and William Marshall. South African Colours and Markings Number 6. South Africa, 2007.
You may be interested in: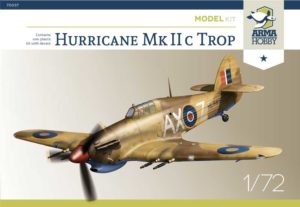 Hurricane Mk I trop and Mk IIc trop models and accessories in Hobby webstore
Go to the shop – link
This post is also available in:

polski