On the 8th November 1942 Allied forces commenced the first big amphibian operation during the Second World War – Operation "Torch" – landing in French North Africa. The air support was provided by aircraft from US Navy and Royal Navy aircraft carriers and from Gibraltar. One of units was RAF No 43 Fighter Squadron "Fighting Cocks".
43 Squadron took part in Battle of Britain and then in day/night operations over continent. It was one of Hurricane Squadons involved in Operation Jubilee, Dieppe Raid in August 1942. When dispatched to Africa the squadron was a quite experienced unit.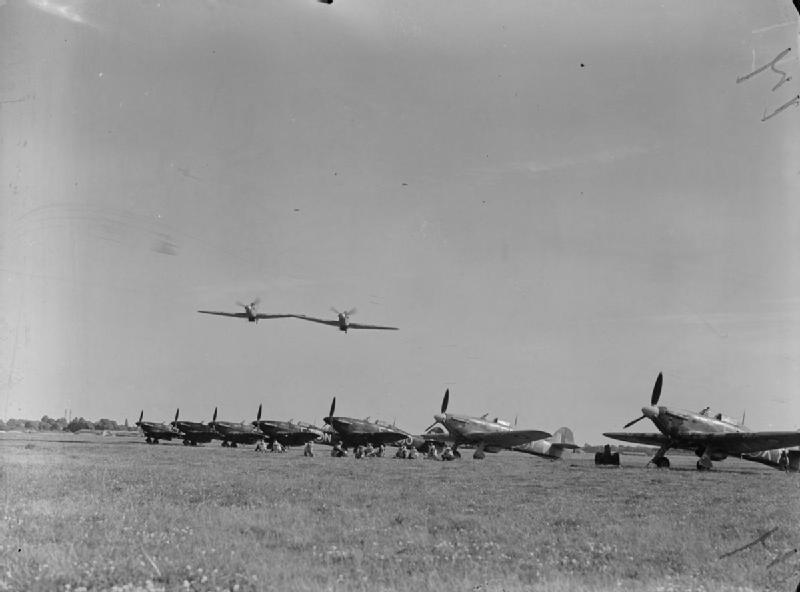 Hurricanes Mk II from 43 squadronRAF, Tangmere, Summer 1942, photo: wikimedia commons.
The Invasion
On the 5th November pilots of the squadron came ashore in Giblartar. There they received new aircraft – Hawker Hurricane Mk.IIc. According to pilots those "new" mounts were worse than Hurricanes they had left in England. But that was not the worst news they received. They also learnt that they would land at Maison Blanche air base, even if it would be still in French hands. It was a very risky operation as Maison Base fighter force consisted of very good French fighter planes – Dewoitine D.520. These fighters were almost as good as Hurricanes, especially when the latter had external fuel tanks which lowered their performance, especially speed.
On the 8th November, at 08.00 in the morning, S/L Michael Rook led his squadron towards Africa. S/L Rook led Flight A (9 Hurricanes) and Wg Cdr Michael Pedley Flight B (9 Hurricanes). Three hours later the squadron reached their target. Fortunately Allies had already captured the base. Interestingly shortly before squadron's take off Gibraltar received information that Maison Blanche had been occupied by Allies, yet no-one forwarded that message to the pilots.
When the squadron reached the base, Rook landed with Flight A, refuelled planes and took off to cover Flight B when they were refuelling.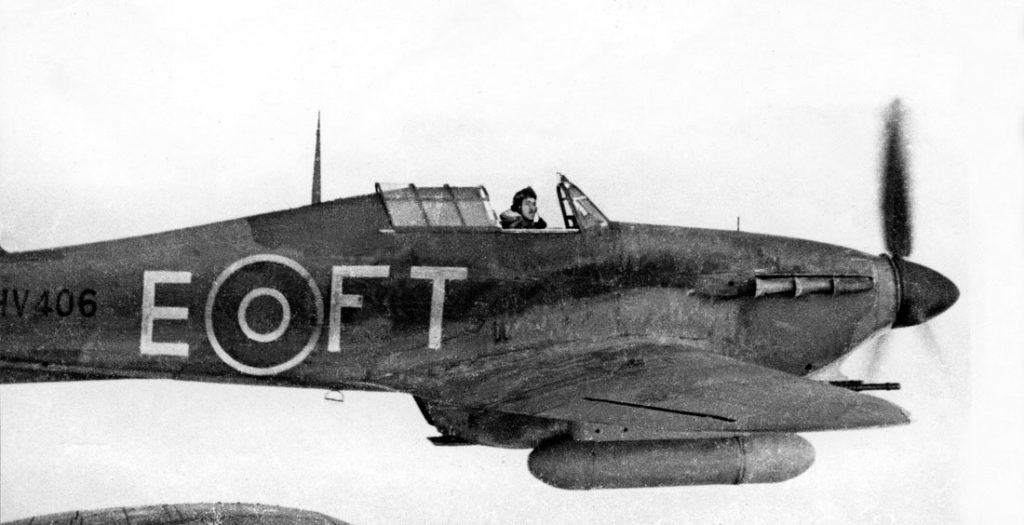 S/Ldr Michael Rook flying the Hurricane Mk IIc HV406/FT-E, Maison Blanche, Algieria, November1942. Photo: 43 Squadron Association.
Into Action
Next day in the morning S/L Rook and F/O D.C. Deuntzer took off to intercept German Junkers 88 which was attacking shipping near Algier. German pilot managed to escape, although F/O Deuntzer claimed it damaged.
At around 16.30 a Boeing B-17 carrying Gen Mark Clark was approaching Maison Blanche when the airbase and the Algier harbour were attacked by 30 German bombers Ju 88 and He 111. Nos 43 ad 81 squadrons were scrambled to repel the attack. The Fighting Cocks attacked German raiders and claimed 1 Ju 88 and 1 He 111 destroyed (the Junkers was claimed by three pilots F/O Barker, Flt Sgt Ball and Sgt Leeming), 3 Ju 88 damaged and 1 Ju 88 probably destroyed.
On the 10th November at dusk F/O Turkington shot down in flames a Ju 88 from 1(F.)/122 which crashed on the beach nearby Algier. This victory opened his tally to become an ace.
Sots from wartime film with take off preparations of the Hurricane Mk IIc HW189/B located probably in Tunisia, 1943. Aeroplane from 43 squadron, moved to 253 then. Well visible Temperate Land Scheme camouflage, Dark Green/Dark Earth with undersurfaces in Sky-Blue.

Two days later S/L Rook led nine Hurricanes to cover 27 Dakotas which carried American parachuters to Bone. All pilots came back to their base. The same day in the evening F/O Lea and F/L Lister claimed two German bombers – the former a Do 217 and the latter a He 111. Wg Cdr Padley, RAF 323 Fighter Wing CO, also took part in this action.
Following days pilots spent flying escort missions – they escorted C-47s that were carrying supplies and paratroopers.
On the 17th November squadron lost its first pilot in Africa. While patrolling over a cruiser Sgt Leadbeatter separated from section leader, W/O Caldwell, and went missing. His body was never found.
On the 20th November Luftwaffe carried out a night atack on Maison Blanche but the squadron escaped losses. On the 3rd January Flt Sgt Smith and Sgt Hermiston claimed one Ju 88 damaged over convoy. Three days later Luftwaffe returned over Maison Blanche. On of their victims was Hawker Hurricane HV561.
Next day the Black Section intercepted a Ju 88 but it managed to hide in clouds.
A week later another air raid on Maison Blanche caused the second casualty – German bombs severly damaged Sick Quarters killing Cpl Lawzey.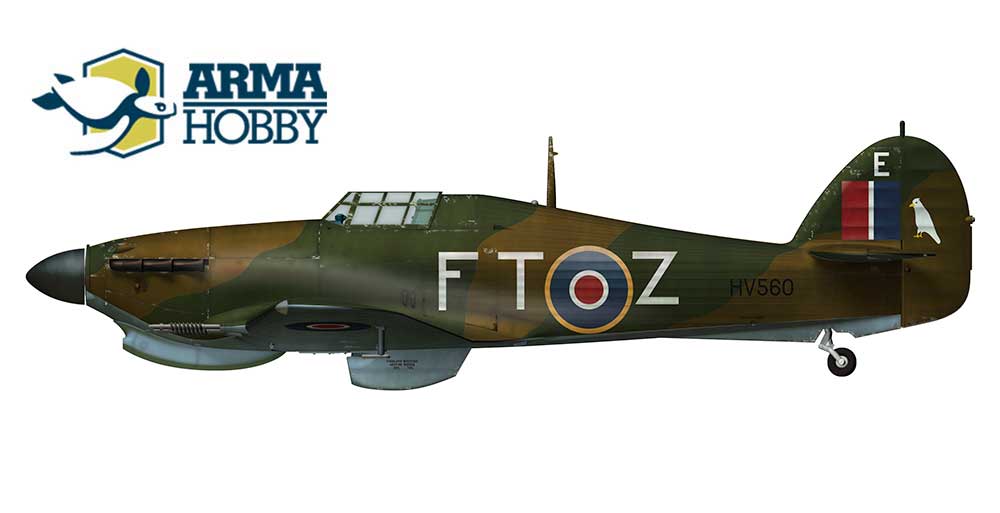 Hurricane Mk IIc, HV560/FT-Z, S/Ldr MichaelRook's personal aeroplane, Maison Blanche, Algieria, December 1942. Aeroplane painted with Temperate Land Scheme, Dark Geen/Dark Earth on the uppersurfaces, Sky Blue on the undersurfaces. Artwork by Zbyszek Malicki.
Farewell to Hurricanes
Although the ground crew did their best to keep squadron's fighters airworthy, everyone knew that unit's Hurricanes are not reliable. Another issue was the fact that latest German aircraft (new Messerschmitts 109 G and 210) outclassed Hawker's fighters. That fact was very frustraiting and when they learnt that they would receive new Spitfires pilots were more than happy. On the St. Valentine's Day first six Spitfires arrived marking the end of the Hurricane Era for Fighting Cocks. By the 17th February there were 18 Spitfires in the squadron.
In the following months No 43 squadron fought over Tunisia, Sicily and Italy finishing the war in Zeltweg, Austria.

S/Ldr Michael Rook
Michael 'Mickey" Rook, who led No 43 squadron in Africa, was born in October 1915. In 1938 he joined No 504 (County of Nottingham) Auxiliary Air Force squadron and in 1939 he was mobilised. On the 10th May 1940 his squadron was moved to France to support British army fighting with German offensive. After the Battle of France he took part in the Battle of Britain and claimed 1 Me 110 and ½ Do 17 destroyed and one 110 probably destroyed.
In March 1941 he became the CO of No 504 squadron but in July he was posted to No 134 squadron as a Flight leader. With this unit he fought in Northern Russia in defense of Murmansk . On the 6th October, while flying Hawker Hurricane Mk.IIb Trop. he shared one Me 109F. In August 1942 he took up a post of No 43 RAF fighter squadron CO which he led to combat over Africa and Sicily. In February 1943 he received Distinguished Flying Cross and in August 1943 he was posted to staff work. In 1945 he gave up his Wing Commander rank to be able to stay in the service as Flight Lieutnant. He also learnt to fly DeHavilland Mosquito which were used by No 504 sqyadron RAuxAF. On the 13th March 1948 he was killed in an accident. One engine of a Mosquito he was flying caught fire. Rook decided to turn back and land but the plane crashed and burnt. He was buried at the parish cementary in Nottingham.
During the war Michael Rook was the tallest fighter pilot – he was almost 2 metre tall and wore boots size 14.5 (ca. 31cm). Although Hawker Hurricane cockpit was big enough, the problem was with Supermarine Spitfire. Michael Rook managed to fly it but his flyingboots were too large to fit into the cockpit on his feet. Some say that they were attached to rudder pedals and it was a common sight to see Rook walking on the aerodrome wearing socks.
You may be interested:
Hurricane Mk IIc – myśliwiec na każdą porę, w nocy i w dzień
This post is also available in:

polski