When taking off they knew they were signing their own death sentences. When they landed they were sure they followed Gen. De Gaulle's path. Yet they did not know where their decision would lead them. From Vichy France to Red Army Air Force. How did it happen then?
Not everyone gave up
Strange as it may looks, the capitulation of France in 1940 was a very logical decision. Marshal Patain was ready to risk his honour and the fame of a hero of the Great War only to safe France from the fate of Poland. However, his alumnus, Col. De Gaulle , did not agree with this decision and after arrival to London he appealed to the French to continue fighting, although he did not have enough forces to do it. The British understood Petain's logical step and, being pragmatic nation, they attacked French naval forces to prevent them from being used by Germans. Although humiliated, Free France was going to continue the struggle. But French military personnel had a very hard decision to make: which France was their homeland?
Three experienced pilots, Marcel Albert, Albert Durand and Marcel Lefèvre decided to join De Gaulle. On the 14th October 1941 they took off from Oran in French Algeria and vectored west. After 426 km flight over the Mediterranean they landed in Gibraltar, British base guarding entrance to the Med.
Three "deserters": Marcel Albert, Albert Durand and Marcel Lefèvre. Photos: wikipedia, www.ordredelaliberation.fr
Three histories
Each of them had different history. When they landed in Gibraltar their paths of life joined into one history which led two of them to death
Marcel Albert was born in 1917 and he was the only one to survive the war. His father was a car mechanic but his son was charmed by the aviation. He sign a three-year contract with the Army in the spring of 1938. At the outbreak of the war he was a flight instructor. During the French campaign he flew French best fighter, Dewoitine D.520, in GC I/3. He flew 37 combat missions, shot down one German plane and damaged the other. At the end of the campaign, together with the unit, he flew to North Africa. Just before his desertion, he was promoted Sergeant.
Albert Durand was born in 1918. First he worked as a civilian pilot but in 1938 he joined Armee de l'Air. His first post was in Tunisia but by the end of 1938 his unit, GC III/1, was transferred to France. His first kill was German bomber He 111. Before France signed armistice , he had shot down four Luftwaffe aircraft. In July 1941, on his own request, he was transferred to GC I/3 in Oran.
Marcel Lefèvre was born in 1918. He belonged to the working class. When he was 15 his father had a very serious accident and soon Marcel had to start working in a bank, although he had very good results at school. In 1937 he received a pilot licence in the flying club and in 1938 he became a military pilot. He served in GC I/3 Daufin but in January 1941 he left the ranks because he did not want to fight against the British in Syria. However, he did not bear German occupation for long and in April he joined Armee de l'Air again, this time joining GC II/3 Corse in Oran. There he met Durand and Albert.

Jak-1b in Winter camouflage, March 1943, Polotniany-Zawod airfield. Aeroplane flown by Marcel Albert has a GC I insignia. It was the unit he fought in 1940. Artwork Zbyszek Malicki.
Eastward from England…
In November 1940 RAF created a No 340 "Free French" squadron, (Forces Aériennes Françaises Libres, in short FAFL). After conversion to Spitfires, Albert and Durand joined it at the beginning of 1942. At the same time Lefèvre was flying in No 81squadron, first in defence of London and then he took part in combat missions over France.
At the end of 1942 their paths joined again. According to Franco-Soviet agreement, French air force was going to organize a squadron in the Eastern Front. Gen De Gaulle wanted the world to see Free French war effort. On the 12th November 1942 a group of 14 airmen left the air base in Rayak, Lebanon. Eight of them, including three friends, came from the UK (from French No 340 squadron and other RAF units) and six from Libya where they had fought with the Allies since 1941. Through Iraq and Iran, at that time co-occupied by the British and the Soviets, they came to the Soviet Union. Before they reached their destination in Ivanov, 250 km north-east from Moscow, they passed Stalingrad where Wehrmacht and Red Army were struggling for victory.
…to Russia
It is possible that winter of 1942/1943 was the first since Napoleon invaded Russia in 1812 when French soldiers felt -30 degree frost. To help newcomers, Russians gave them winter clothes, warm hats and warm coats. Illia Erenburg, a famous Russian writer and propagandist, was looking after the French guests. He had lived in France for many years and he knew the language and culture. His role was to make French stay in the Soviet Union very important in propaganda.
Series of photos, movie snapshots with Yak-1b of the Marcel Albert in Winter scenery of March 1943. Photo: Anthology Yak.
Beginnings were quite hard. Russian winter and difficult accommodation in the Soviet Union were not favourable to train flying completely new airplanes. After basing training at U-2 and UT-2 planes pilots started flying Yak-7W. Their operational planes were going to be the latest Yak-1b.
"Combat experience and moral values show that the unit is combat ready". This was the final verdict of comitee that included Gen Ernest Petit of the French Military Mission, Col Shumov, the CO of the Ivanovo Airbase and Col Levandovich from VVS Command announced on the 20th March 1943.
On the 22nd March 1943 the squadron became operational unit and started active service from Polotniany-Zavod airfield.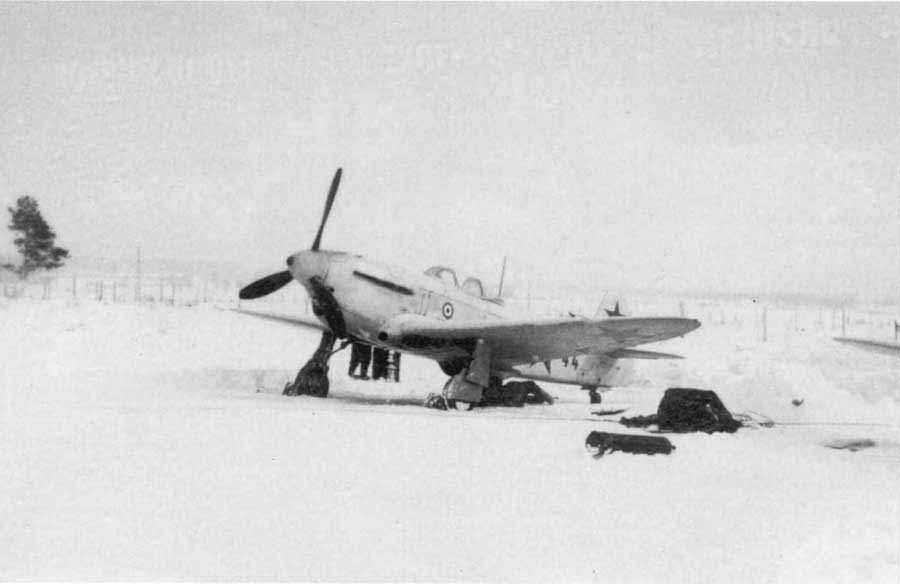 Jak-1b, Marcel Albert aeroplane on the snow. Photo: Anthology Yak.

The First Combat
The main role of Yak-1b fighters was escorting bombers over the frontline, at altitude of 3000 metres. That version of Yak was not designed to support ground forces – it did not carry bombs nor rockets. This was Il-2 assault planes and Pe-2 dive bombers role. Additionally Yaks made free hunt and reconnaissance missions. The French squadron was assigned to the 204th Bomber Division (the 1st Air Force, the Western Front). The first combat took place on the 5th April 1943. While escorting Pe-2 bombers Durand and Preciozi, shot down a FW-190 each. A week later, on the 13th April, it lost first planes. During the combat between nine Yaks and eight Focke Wulfs 190 each side lost three planes. All three French pilots lost their lives. To boost their morale the unit was moved to the 303rd Fighter Aviation Division where they flew side by side with the 18th GIAP.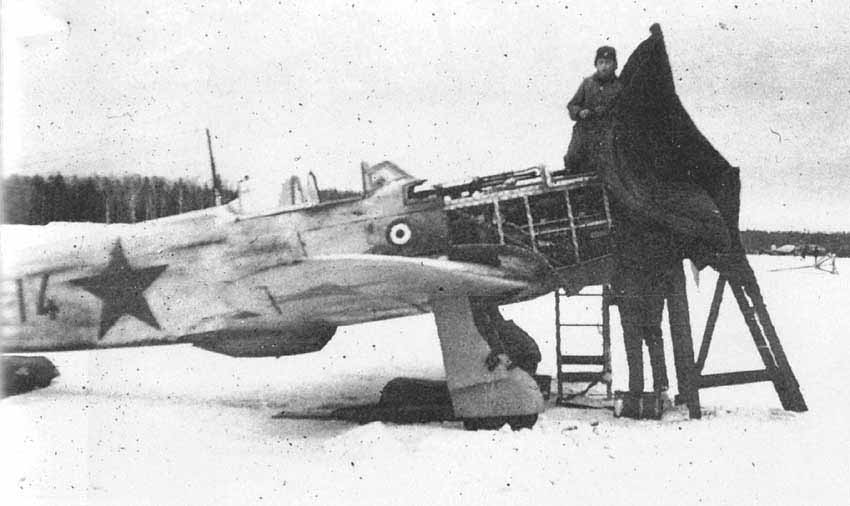 Jak-1b No 14, piloted by Marcel Lefèvre. Modellers can easily adapt Marcel Albert markings to build this aeroplane. Photo: Yak Anthology.

The Frontline Service
The unit was very busy. Pilots flew a few missions every day. The Normandie Squadron was getting more successes but pilots and Erks were more and more exhausted. Casualties were growing too. On the 2nd May, Marcel gain his first victory in Russia – he shot down a Hs 126 over Safonov. In May 1943 Feldmarschall Keitel order to execute every French pilot caught. His decision was the result of "popularity" unit gained in the Soviet propaganda. When the unit moved to a new airfield in Kozielsk, the squadron had already had 8 confirmed victories, but also lost four pilots – ¼ of its original establishment. Then they moved to Khationiki where nine new pilots, led by Pierre Pouyard, joined the unit on the 9th June. On the 16th June Marcel Albert got his first victory in the Soviet Union when he shot down a FW 189 "Rama" ("Frame" – a nickname gave to this plane by Soviet soldiers). These combats were the interlude to the Kursk Battle in July 1943.

Jak-1b No 6, personal aeroplane of Albert Durand, Khationki, June 1943. Spectacular machine with shark-mouth decoration and fish-scales like mottling on engine covers. Artwork by Zbyszek Malicki.
During that huge tank battle, which was Wehrmacht's last attempt to regain strategic initiative on the Eastern Front, the squadron was fighting in the Orel area. During the battle French pilots shot down 17 German planes but paid very high price for that success – they lost six pilots, including the commander, Maj. Jean Toulasne who was replaced by Capt Pouyard. When there were only nine pilots left, Soviets decided to limit their operations and in August 1943 they made decision to reorganize the unit. French Erks were replaced by Soviet ones and sent to Africa. They moved to a new airfield near Smolensk where pilots underwent further training. By that time, Normandie's score was quite impressive – 42 German planes.
Albert Durand (to the left) at his shark-mouth Yak-1b No 6. Photos: Yak Anthology.

Normandie Fights On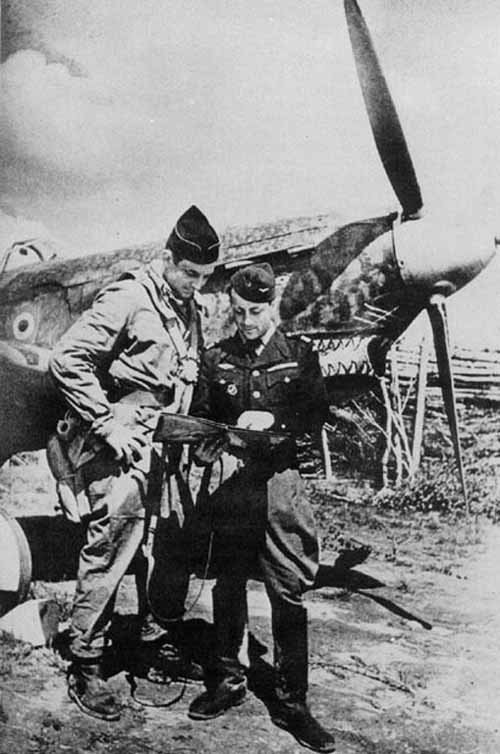 The first of the three friends passed away on the 1st September 1943. Ltn Albert Durant was killed in combat over Yelna. During 180 combat missions he shot down 11 German aircraft. He flew Yak-1b "6" with shark teeth painted on the lower part of engine cowling.
On the 5th September Marcel Albert became the commander of the 1st Flight and soon after he was promoted Lieutenant . On the 6th November 1943, after the first campaign of GC "Normandie" had finished, the unit started reforming. Now it became a regiment with four squadrons with volunteers who came from North Africa. Marcel Albert and Marcel Lefevre taught new pilots flying Yaks. Lefevre involved himself in training so much that he even gave up on his rest. He was much into Russia, he was learning Russian language and culture. On the 25th December he was promoted Lieutenant and became the commander of the 3rd squadron of the "Normandie" Regiment.
Yak-1b photo: Yak anthology.
In the spring 1944 Nrmandie returned to the front, that time as a part of the 303rd Fighter Aviation Division, the 1st Air Force that belonged to the 1st Belarussian Front. From its winter airbase in Tula the regiment moved to Vitebsk. On the 28th May Lefevre led 11 Yaks for reconnaissance mission. He had to break the mission because his Yak had problems with fuel installation. His return to base was very difficult and the fuel leak led to the catastrophe. During landing Levevre's Yak took fire. The pilot jumped out of the cockpit burning like a torch. Although his injuries were severe his morale was high. Despite the help of the best doctors form hospital in Moscow he eventually died on the 5th June 1943. Until his death he flew 128 combat missions and his final tally was 8 planes destroyed individually and 3 shared.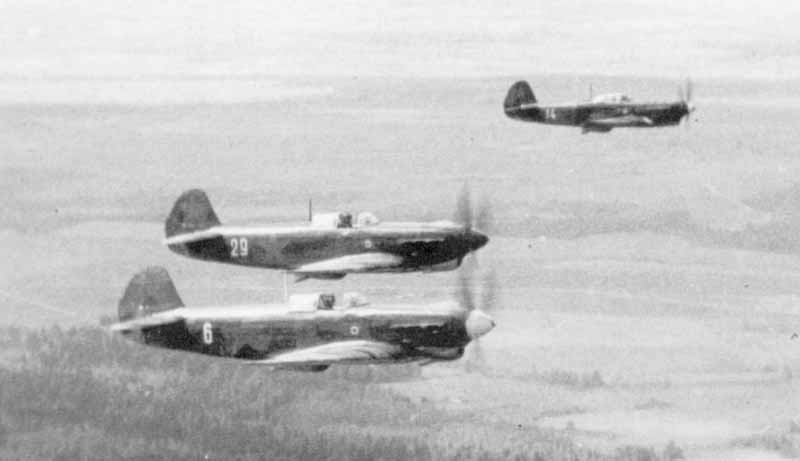 Formation of Yak-1b from Normandie squadron, on the foreground is No 6 piloted by Durand. Photo: Yak anthology.

Normandie Niemen
The second campaign of "Normandie" Aviation Regiment in 1944 was very successful. New fighters, Yaks-9, and experience gained by its pilots let the unit spread its wings. During that campaign, for involvement in fighting over the Niemen river, Stalin gave it second name – Niemen. When in 1944 the Red Army was fighting its way into East Prussia, the Normandie-Niemen regiment shot down 41 German planes with no losses. They were first French pilots fighting on German soil. When Gen De Gaulle arrived in Moscow at the end of the year, the regiment was withdrawn and the pilots were decorated by the commander-in-chief. ¼ of pilots were allowed to return to France and the number of squadrons were reduced to 3. The last campaign, from January to May 1945, led to victory. The Red Army conquered East Prussia. In June 1945 Normandie-Niemen Regiment returned to France with its planes – new Yaks-3 which were Stalin's gift for the French Air Force.
Between 1942 and 1945 the 'Normandie Niemen" Regiment
made 5240 flights and spent 4354 hours in the air
fought Germans 869 times
shot 273 enemy planes
Unit's loses
38 pilots killed or missing
3 pilots lost their lives in accidents
3 pilots became prisoners of war
Marcel Albert was the sole "defector" who survived the war. He flew 199 combat missions,. His final aerial victories numbered 23 German aircraft destroyed and 10 probably destroyed. He was the most effective French pilot on the Eastern Front. He received the Hero of the Soviet Union Medal. In 1948 he left Armee the l'Air and moved to the United States where he spent the rest of his life. He died in 2010.
---
English translation by Dominik Sędziak
You may be interested
YAK anthology (Russian.: Антология Як) website with extensive selection of Yak-1/3/7/9 colour profiles, photos and research information (Russian language), includes Normandie Niemen aeroplanes link
Yak-1b models and accessories in Arma Hobby webstore, kit No 70027 contains markings of Albert Durand, kit No 70028 Marcel Albert link
This post is also available in:

polski