Without any doubt you can say that Polish People's Army Air Force is not as attractive for modellers as Polish Air Force in the west. Its combat history is relatively short – only nine months of fighting with Germans and the number of aircraft types used was limited to only few. On the eastern front aircraft did not have any interesting pin-ups, paintings, inscriptions or other types of decorations. That is why the choice of painting scheme for a Yak-1b model is quite obvious – it is a Yak -1b "13" (s/n 13163) used by the 1st Fighter Regiment "Warszawa", which had a foundation inscription written in Polish and Russian. This aircraft is wider known as "Wolf Messing's Yak".
A pilot who flew this Yak most often was W/O II Hugo O'Brien de Lacy (promoted Warrant Officer at the end of the war). He was also quite interesting character. This article describes this duo.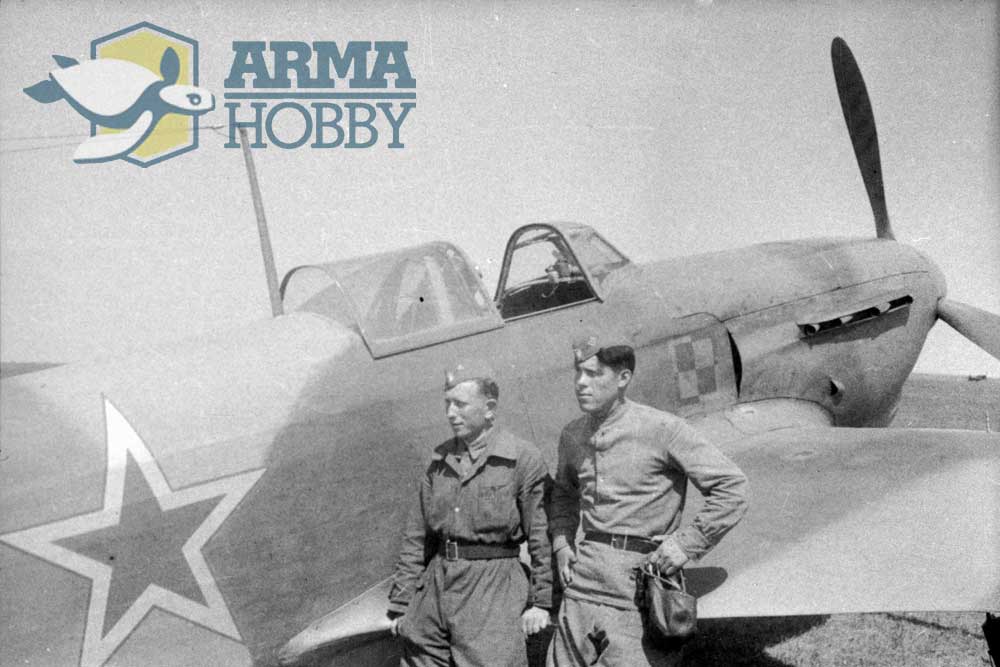 Pooto of the "first Yak" bought by Wolf Messing for Polish fighter from 1st Fighter Aviation Regiment. Dark shade paint paint before the fuselage's Red Star is a probable mark of overpainted founding slogan. Photo from authors archive.
The First "Messing's Yak"
Between December 1943 and February 1944 the 1st Fighter Regiment received a Yak-1b "48" (s/n 48184). It was founded by Wolf Messing, a Polish Jew who found himself in the Soviet Union after the war had broken.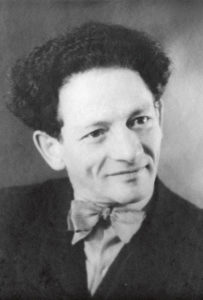 Wolf Messing was born in 1899 in Góra Kalwaria as Srul Wolek Messing. Between the wars he managed to became famous as a person with a such supernatural abilities as telepathy, mind reading, or hypnotising. In the Soviet Union he continued his career and Soviet authorities showed a favour to him because he was very useful for them. He also earned a lot of money during shows for workers. To gain more fame and money he was diffusing different rumours about his life. Acorrding to them his father was a tsadik, that he knew such famous people as Einstein, Ghandi or Freud. He also told to be called a professor, although he did not pass A-level exams.
Photo: Wolf Messing in 1930s, wikipedia
Since 1941 he lived in Novosibirsk where authorities used him for propaganda. Very often he took parts in meetings with civilians and soldiers where he predicted Germany's defeat. Novosibirsk was a home of the Factory No 153 where Yakovlev's fighters were built. Messing joined the action of collecting founds for defense and in 1943 he founded his first aircraft – Yak-7b. Later Wanda Wasilewska, a prominent Polish communist and the leader of, so called, Union of Polish Patriots, convinced him to found another Yak, this time for Polish fighter regiment.
According to her idea, the fighter with tactical number "48" was going to be given to "the oldest Polish fighter pilot" of the 1st Fighter Regiment. Originally it was a personal mount of Maj. Tadeusz Wicherkiewicz, the CO of the 3rd Flight, but very soon, no sooner than in February 1944, it was assigned to Cpt. Medar Konieczny, a CO deputy. That decision was made by the CO, Ltn Col Ivan Taldikin. Although Wicherkiewicz was older, Konieczny was more experienced pilot (the former got his wings in 1943 in the 1st Fighter Regiment, the latter before the war).
Konieczny's aircraft can be seen in several photos taken in the summer of 1944. It had typical camouflage and soviet markings. Unfortunately none of the photos shows the tactical number nor foundation inscription. According to Konieczny, the inscription had been overpainted before his unit went to battle. Indeed in one of the photos, on starboard between a star and a canopy, you can see a big patch of paint which differs from the rest. Is it evidence of overpainting the inscription?
In the frontline "48" flew from the 25th August 1944 to the 16th February 1945 taking part in 16 missions – 14 were flown by Cpt Konieczny and 2 2nd Ltn Nikoli Khautovich. Cpr. (later Sgt) Józef Trzeciak was the mechanic.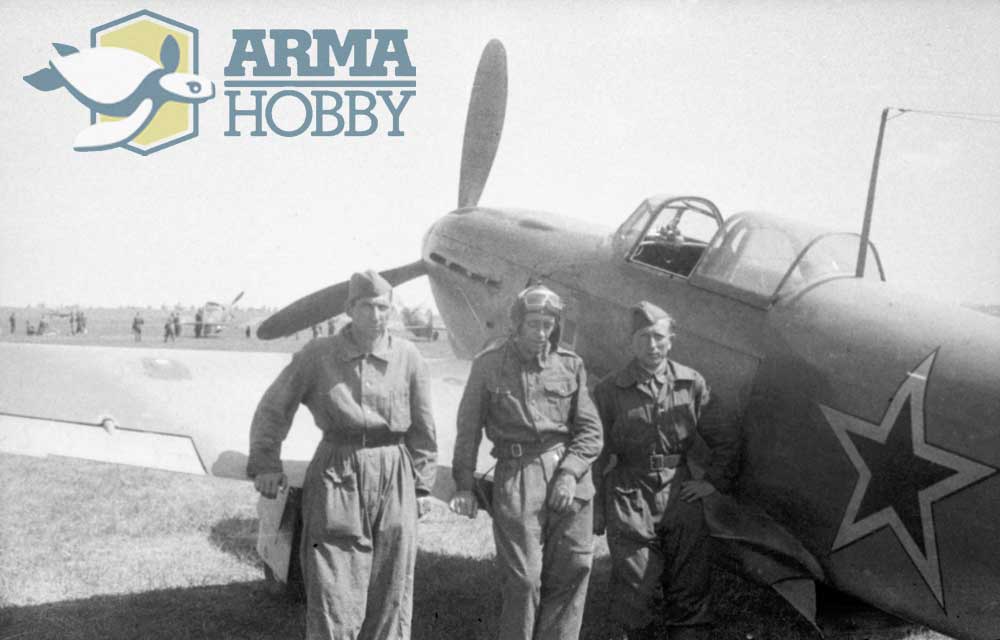 Another phot of Yak-1b with repainted area before Red Star insignia, probable overpainted founding slogan of Wolf Messing. Photo author's collection..
Konieczny described his plane in his memoirs, titled "Yaks Take Off at Dawn"
The first batch of Yaks-1M consisted of 10 aircraft. But at that time there were 11 of them, actually. The story goes. I a distant city of Vladivostock there was a professor Wolf Messing. He didn't have any Polish connections but he liked us very much. In December 1943 he bought a Yak-1M and gave it as a gift to the 1st Fighter Regiment "Warszawa". According to his will the plane was to be used by the oldest pilot of the unit. At that time Wicherkiewicz was considered as one. But when Col. Taldikin arrived he decided that I was the oldest and gave me professor Messing's Yak.

Its tactical number was "48" with presentation inscription on the starboard fuselage: "Professor Messing's Gift for Polish Airmen in the USSR". When we were about to leave for the front the inscription had to be overpainted because no-one wanted it to be distinguished from other Yaks. As I had promised earlier, I assigned this plane to Cpl Trzeciak because this Yak was produced in other factory and had some different technical solutions. (…)
W/O Edward Chromy also remembered this aircraft and described it in his book "Checkerboards over Berlin":
In March we were receiving airplanes coming in small batches. We received 40 in total. They were new, fresh Yaks sent directly from a factory. They were armed and combat ready. The paint was shining and fresh so we could smell it. One of them was unique. On its fuselage there was a presentation inscription "Professor Messing's Gift for Polish Airmen in the USSR".

I don't know why professor Messing gave us this aircraft. But it was the evidence that we were popular in the USSR and people did like us.
Konieczny's memoirs include some inadequacies: the plane was Yak-1b not Yak-1M, Messing lived in Novosibirsk not in Vladivostok and he was a Pole (he had Polish citizenship).

Reconstruction of "second Wolf Messing's Yak-1b", 1944-1945. Red Star outlines as well as tactical number are factory painted with silver paint. Founding slogan: "От польского патриота проф. Вольф-Мессинга польскому летчику" – in silver paint with Polish translation "Professor Messing's Gift for Polish Airmen in the USSR" in white painted below. Spinner tip is white – insignia of 2nd squadron of ! Fighter Aviation Regiment. Artwork by Malował Zbyszek Malicki.
"Wanda Wasilewska's Yak" aka the second "Messing's Yak"
On the 28th May 1944 in Grigoyevskoye the officer promotion of the second training group of the 1st Fighter Regiment took place. Among guests there were the deputy of the 1st Polish Army Commander and members of the Union of Polish Patriots. Top of the class was, informally, W/O Jerzy Czownicki. Originally it was planned that he would be given Konieczny's Yak-1b No 48. At the same time the Union suggested to present him with other aircraft:
There weren't official top students at that time. Unofficially Czownicki was chosen to be the top student of the second group and they assigned to him a Yak-1 No. 13. That plane was presented by the UPP to the best pilot in the regiment.
Actually it was Wanda Wasilewska who founded the plane. In 1943 she got 100.000 Rubles as a prizewinner of Stalin's Prize 1st Degree. She got it for the novel titled "Rainbow" which tells the story of German occupation of western territories of the Soviet Union.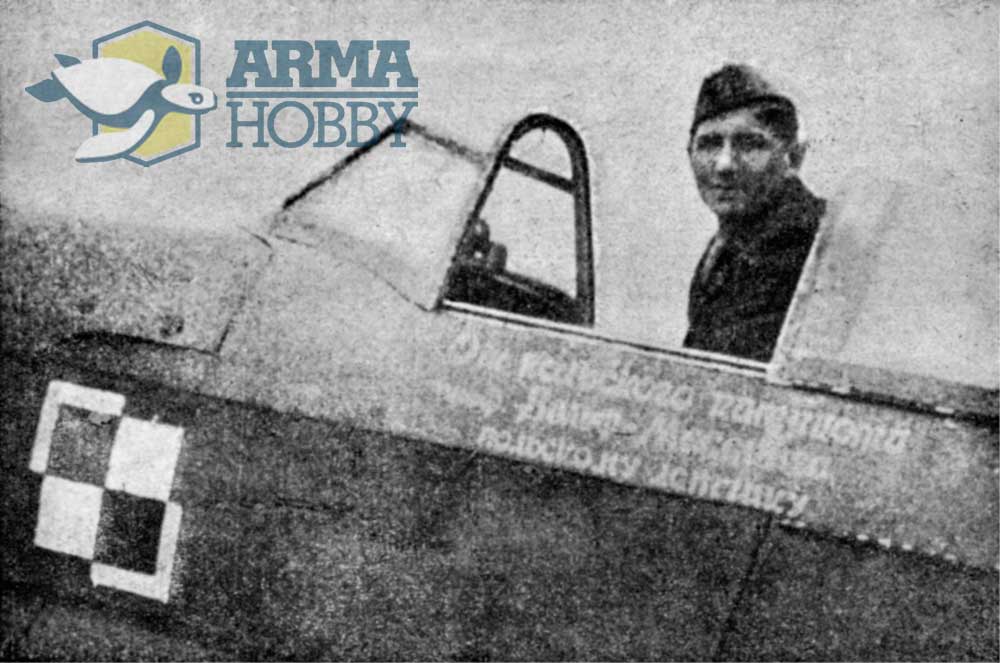 Founding slogan "От польского патриота проф. Вольф-Мессинга польскому летчику", factory painted with silver. Compare shade with white of Polish National checkerboard. Photo from author's collection.

There wasn't anything special about the aircraft No. 13, so, at the regiment, they decided to decorate it, again, with presentation inscription that suggested that that plane was presented by…Wolf Messing. At the same time the original inscription on Yak No. 48 was overpainted. As we have mentioned, Konieczny claimed that overpainting took place when the regiment was going to set out for the front, but it is more probable that this took place during officers' promotion on the 28th May 1944.
Unusual idea of overpainting presentation text had another source. Every second Yak-1 had a radio consisting both of transmitter and receiver. The rest had only receivers and they were given to young pilots who, flying as wingmen, were going to listen to orders not giving them. It was easy to distinguish those with full radio set from those only with receivers – the former had even tactical numbers the latter odd numbers. The reason was that aircraft received their tactical numbers in the factory and they based on two first digits of serial numbers.
Yak-1b No. 13 is known from numerous photos taken during summer 1944, including those taken on the 28th May 1944 during the promotion. Presentation inscription in Rusisian "От польского патриота / проф. Вольф-Мессинга / польскому летчику" and "Od polskiego patrioty / prof. Wolf Messinga / polskiemu lotnikowi"("From Polish Patriot/Prof Wolf Messing/Polish Airmen") is clearly visible. One photo shows only inscription in Russian which suggest that Polish text was added some time later. It seems that original (upper) Russian inscription was written with silver paint and Polish (lower) with white.
So Czownicki became the pilot of a plane founded by Wanda Wasilewska which enterd the history as "Wolf Messing's Yak"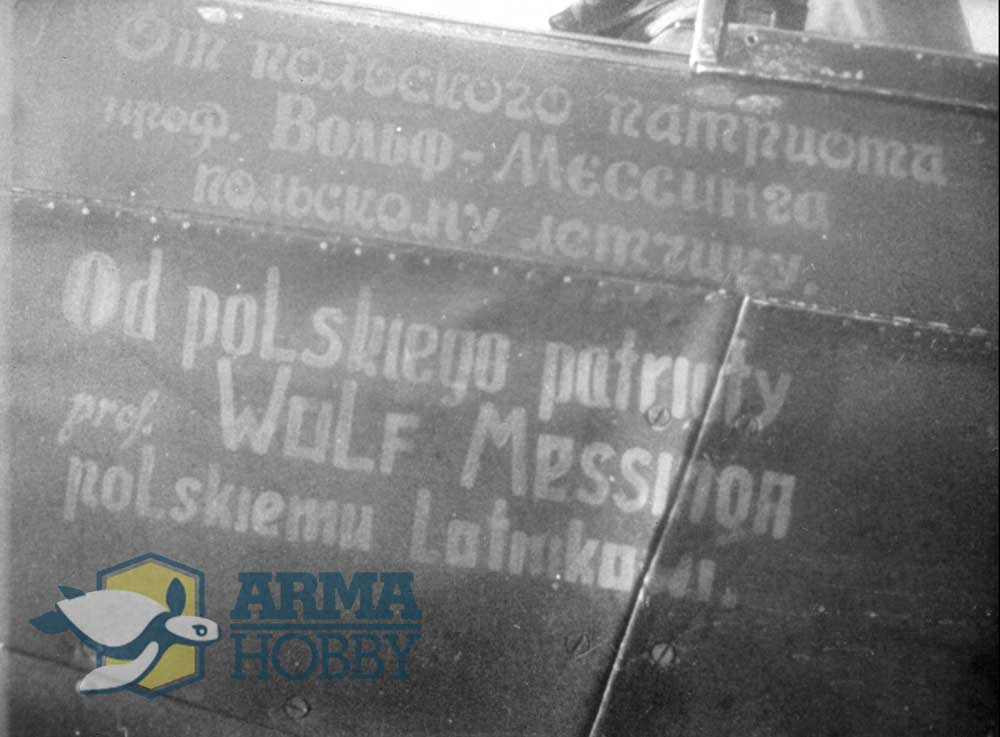 White Polish transaltion of founding slogan "Professor Messing's Gift for Polish Airmen in the USSR" painted in unit below Russian one. Photo from author's collection

The "Thirteen" goes to war.
When the 1st Fighter Aviation Regiment went to war, Yak with silver Thirteen on the fuselage also went to Zadybie Stare aerodrome. Jerzy Czownicki mentioned after the war that this plane was considered damaged-prone. Until January 1945 he flew Yaks with tactical numbers 47 and 31. Since February 1945, as one of outstanding pilots, he only flew Yak-9s, and only sometimes sat in cockpits of Yaks-1 "2", "24" and "30".
The "pleasure" of flying the "Thirteen" had other Czownicki's colleagues from his flight, who flew it 23 times – the first time on 3rd November 1944 and the last on the 3rd May 1945 – W/O II Hugo O'Brian de Lacy 7 times, W/O Ryszard Ber – 6 times, W/O Stefan Łazar – four, W/O Kazimierz Rutenberg – four. Ltn Witold Gabis and Sgt Maj Sergey Donovsky made single flight respectively.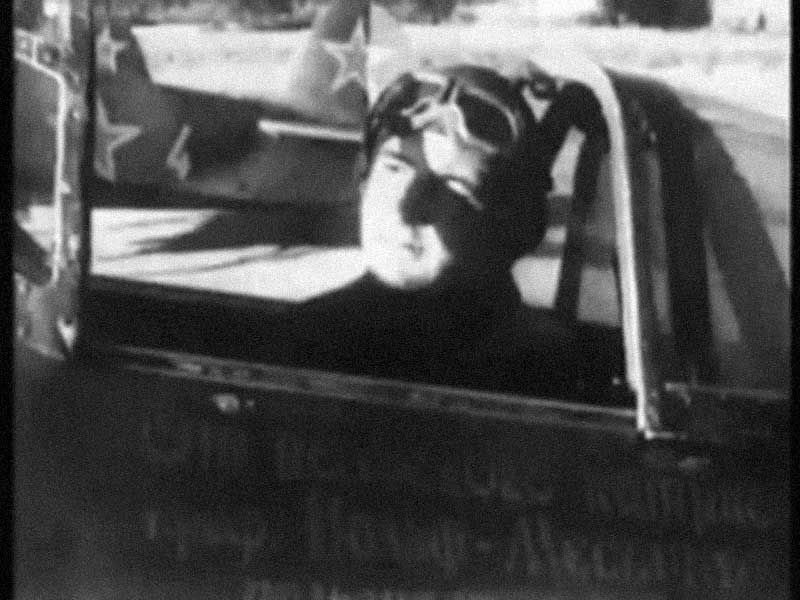 Wolf Messing Yak before take off. In background is "four" from 2nd squadron. Photo from author's collection.

It was O'Brian de Lacy who claimed the "Thirteen" his own mount. After the war he wrote in his memoirs:
In the morning of the 9th May we are taking off to Bydgoszcz. I'm flying in the second flight in the cockpit of my aircraft number "13". Old, worn out suddenly start making problems. Revs are slowing down, one magneto isn't working properly. It's hard to stay in a formation. Water temperature is rising. We are flying in a combat formation over territories where we can see evidence of recent fights. Why? It's peace. Suddenly some joker shouts over the radio: "Attention, Focke Wulfs on the left, high! Focke Wulfs on the left, high!". Similar to 10 twitched puppets we turn left and up. It's automatic. A second later, furious, we are restoring the formation. The war is over! On the radio we can hear Gabis saying angrily "What an idiot makes fun of us!".
Stopover in Berneuchen. Continue the flight or not? The engine is on the blink, aerodrome is short. I don't want to make a crash-landing in the forrest as Wierzchnicki did. After all, the war is over! It would be stupid to die now. Fortunately the forest has been felled. I'll take the risk. I really don't want to come back to Poland as a passenger of a transport plane. Luckily I manage to take off my aircraft slowly at the end of the airstrip. And finally I reach Bydgoszcz.
The "Thirteen" was lucky for Hugo O'Brien de Lacy mainly because he managed to fly it seven, out of sixteen, of his combat missions (including seven out of eight in the cockpits of Yaks-1b) and receive Cross of Valour. However, he did not claim any enemy planes or gain other successes. After the war he described it humourlously:
When my friends ask me if I managed to destroy any enemy machine during the war, I humbly admit that I destroy one. The unsaid is that it was the typing machine. But it was German for sure – Singer's.
…which he knocked by accident from the desk when he was leaving regiment commander's, Capt. Vasili Gashin, office.
Hugo
Among friends, family and brothers in arms he was known simply as "Hugon". His first name was as unusual as his surname which he inherited after his ancestors, Irish immigrants and the family tradition of giving children first names. His father's name was Patrick, his sister – Margaret. Although of Irish ancestry, the surname pronunciation was French. And none of them spoke English, their mother tongue was Polish.
Hugo O'Brien de Lacy was born on the 29th October 1925 in Warsaw. At the outbreak of the war he was only 13 and he was a student of the Cadet Corps in Lvov. During German occupation he lived in Warsaw. In 1941 he joined Polish Underground. He was arrested by the Gestapo, but the "organization" managed to pay a ransom and free him. As he was afraid of further problems with occupants he went to Krosno and in May 1941 he tried to get to Polish army in the Middle East through Hungary.
Unfortunately his attempt was not successful and he was arrested by Soviets. He spent 2 years and 2 months in Soviet prisons. In July 1942, after Sikorski – Maiski treaty, he was released but Polish Army, led by Gen Anders was getting ready to leave the USSR for Persia. He stayed in the Soviet Union and worked in a factory, kolkhoz and as a peat digger. In August 1943 he joined Polish People's Army and almost immediately went to the 1st Fighter Regiment. He helped himself with this assignement because he told that he was a glider pilot. But soon he convinced that he lied.
The first day in the regiment. I went to acting CO, Cpt Wicherkiewcz, who replaced Cpt Kozłowski who died. Wicherkiewicz was a pre-war pilot and we talked honestly. I confessed to my lies. He was only laughing.

There were better than you.The men who claimed that they shot 3 enemy planes…And then it turned out that they hadn't seen any airplane in their lives. But they wanted to fly and they do it now. You will also be a pilot. In a year, on the front.

I was shocked. A year?! Indeed, figter pilots aren't "made" in three mnths. This is not infantry.
O'Brien de Lacy belonged to the last, fourth, training group of the 1st Fighter Regiment and he was one of only four pilots who saw combat – just in time to take part in the Battle of Berlin. He flew in the 2nd Flight as W/O II. On the 2nd May 1945 he was promoted W/O. For his service he received the Cross of Merit and Polish and Soviet commemorative medals. After the war he based with the regiment in Bydgoszcz and Modlin.
In January 1946 he was attacked by Russians in the Rembertów Forest and was shot in his leg. Stay in hospital and rehabilitation took away several months of his life. Since then he had to walk with awalking stick. In 1946 he helped 2nd Ltn Władysław Żurakowski, a pilot of the 1st Fighter Regiment, to escape to the West. The Military Information (in reality political police in the army) learnt about his involvement and he was sentenced 2 years in prison. Thanks to executive cleemency he left it after 13 months.
Later he passed his A-Level exam and started working in newspapers in Warsaw, He wrote articles about aviation and mountaineering. He was planning to write two books about the 1st Figter Regiment "Warszawa" but he never made it.
On the 29th November 1958, W/O Res. Hugo O'Brien de Lacy commited suicide in Warsaw, exactly one month after his 33rd birthday. This courageous fighter pilot did not manage to cope with everyday problems in peacetime. His grave is at the Old Powązki Cementary.
English translation by Dominik Sędziak
You may be also interested in:
This post is also available in:

polski