The FM-1 & FM-2 Wildcat Deluxe Set includes two sections of an escort carrier deck made from laser engrafed plywood. They are prepared to make an easy and attractive diorama for Wildcat model.  Let's see details of that model diorama bases!
Casablanca class flight deck model bases
The two sections of deck presented in the kit are modelled after Casablanca-class vessels (the most numerous of the various escort carriers classes, hull numbers CVE-55 – CVE-104). The first section shows the middle portion of the deck, complete with mock-ups of arrester wire tensioners. The second is a replica of the prow, with a fragment of the hangar elevator and the rear segment of the catapult channel. FM-1/FM-2 Wildcats and TBF/TBM Avengers can be placed on the decks. Sporadically, in the course of warfare, escort carriers would receive other types of aircraft used by the U.S. Navy and U.S. Marines. They were also tasked with transporting aircraft from rear echelon areas to the front line. Among others, they conveyed entire fighter wings of P-47 Thunderbolts and P-51 Mustangs, and also other aircraft types, including multi-engined bombers.
How to paint escort carrier deck dioram base?
The colouring of their decks changed during the war. At the time when Casablanca-class carriers were introduced, decks were normally covered with dark blue-grey wood stain (Flight Deck Stain 21), which once faded resembled the Ocean Grey 5O ship camouflage paint (approx. FS 36176, HTK-A158, Lifecolor UA621). From mid-1944, the Flight Deck Stain 21 received a new colour – navy blue – which was similar to the matte Sea Blue (FS35042, HTK-A001, Lifecolor LC-UA044) applied to the upper sides of carrier-based aircraft. The intense usage of vessels caused the paint to fade and wear away. For reasons of safety, the wooden deck boards were replaced immediately after sustaining damage, and thus it was common for decks to have boards that were of different hues, or even unpainted. The metal fittings and strips with catches for anchoring aeroplanes were painted in the colour of the deck or in the camouflage colour of the ship. They could also be left in their original metal colour. The landing strips markings of the flight deck were painted in black, yellow or white on a grey background, or in grey, yellow or white against a dark blue background.
Mid section of the Casablanca class escort carrier, with arrsting cable drum and support folded. Similar fittings were used on other types of escort carriers.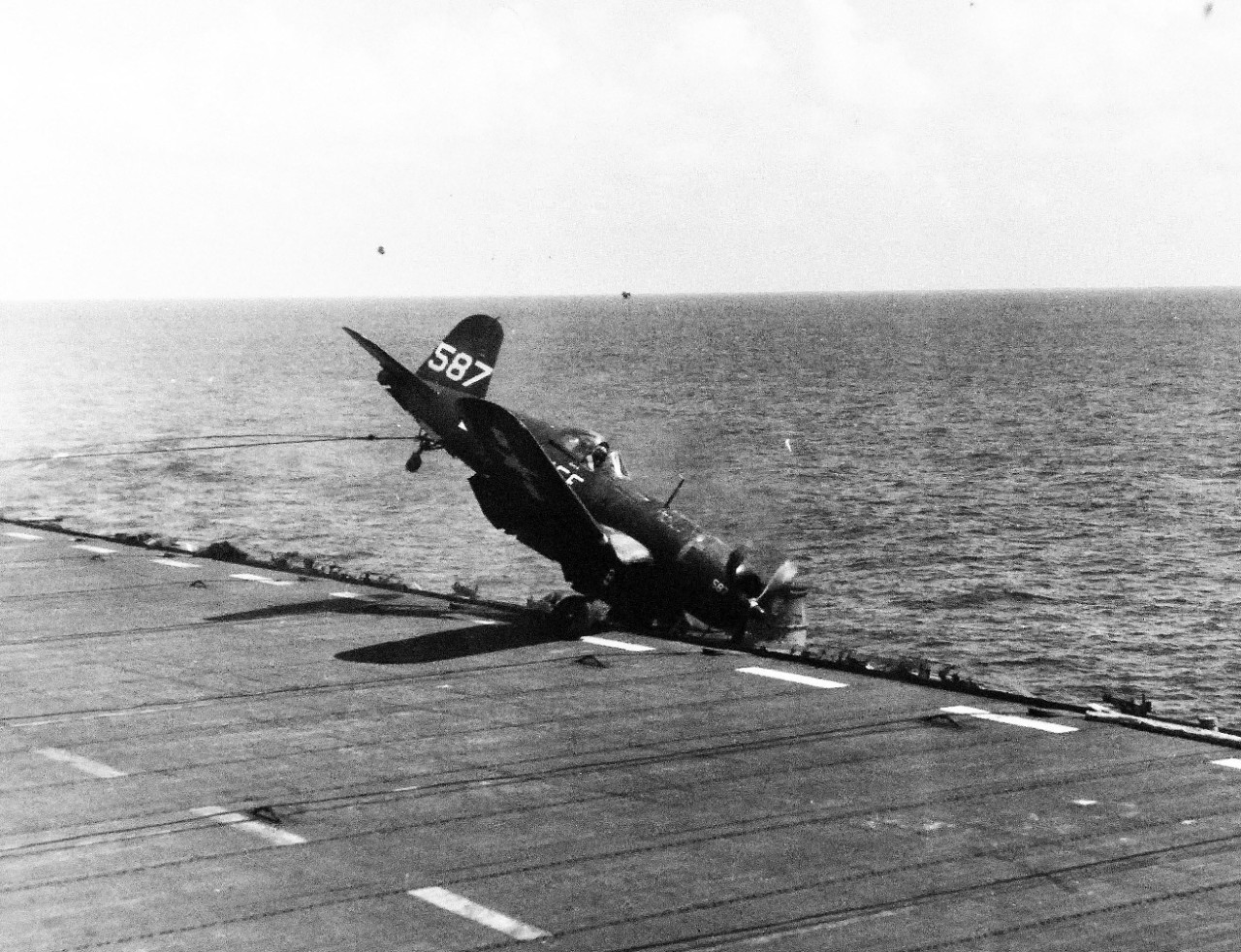 Mid section of the CVE-60 USS Guadalcanal with arresting cables, drums and supports deployed. Modeller can aeasily make them from scratch with wires (cable and supports) and plastic card (drum).

Photo: US Navy/NARA, F4U-1 crach landing, April 9, 1945.
Modelling tips
Before you start painting, we recommend sealing the soft wood with a clear gloss varnish or ModPodge. When it dries, remove any wood chips using steel wool. Cover metal elements with a layer of surfacer, smooth it out, and then paint in a metal colour. The boards should receive a wood stain colour, and be appropriately weathered.
Section with elecator and catapult canal from Casablanca type carrier.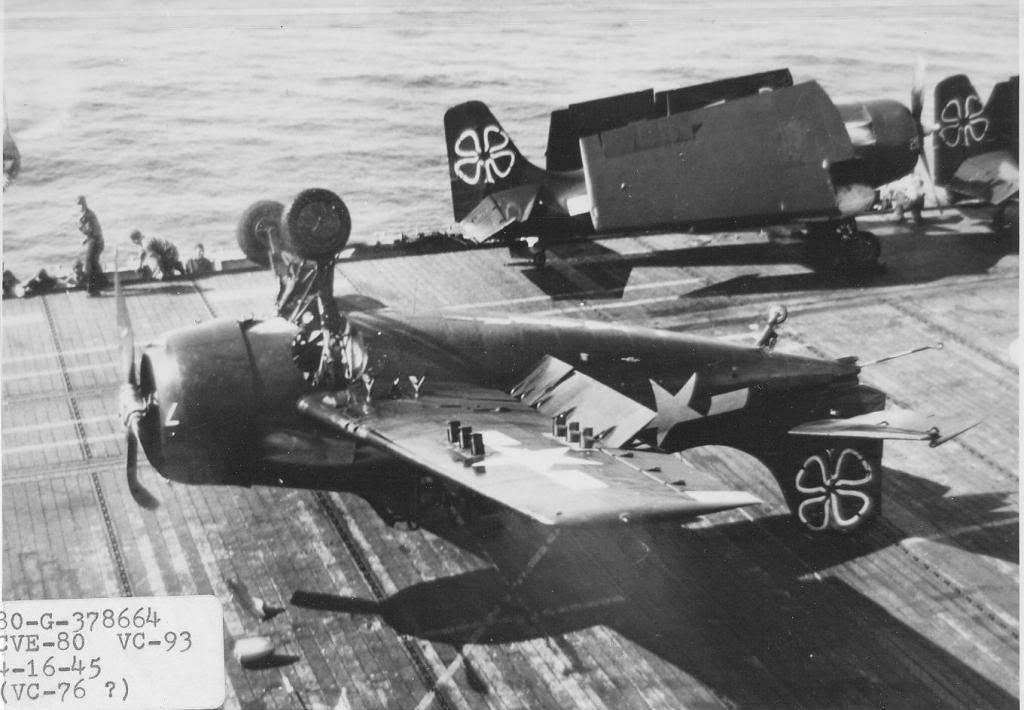 FM-2 Wildcat, BuNo 74224/7, aeroplane crash landed by Lt. (jg) Ivan E. Scherer when her tailhook missed cables on the deck of the CVE-80 USS Petrof Bay, 16th April 1945,  1547 PM. Photo US Navy.

English translation by Maciek Zakrzewski
See also:
This post is also available in:

polski