FM-2 was a final wartime version of Wildcat, the aeroplane of pre-war design. Last production version incorporated some new features, but most of the design was the same as in the other members of the family (variants F4F-3, F4F-4 and FM-1).
At first sight, FM-2 is easy to recognise because of the enlarged vertical stabiliser, that was introduced to counter-torque of the more powerful engine. A second feature, difficult to find at first sight is the engine section. Change of engine was followed with a redesign of its covers and next fuselage section. Other FM-2 specific features are less visible, but you can find them out looking carefully.
FM-2 specific airframe features
The general shape of wings is identical as in F4F. The difference is the lack of external MGs (like in FM-1). The centre-wing underside misses the oval oil coolers. Metal sheet oval outline covers fill in coolers place. A most distinctive feature are HVAR rockets, introduced in the last production series. They enable an aeroplane to conduct full ground support mission and Hunter-Killer ASP missions.
Looking around the engine, you can find changed not only the cover panels and exhausts but also new propeller with two different hubs. In the behind-engine section, also a small revolution happened. From fuselage surface, it is removed a tiny teardrop-shaped fairing before the leading edge of the wing, but inside a whole box of supercharger-cooler is missing. I recommend seeing a video on F4F-4 engine: https://www.youtube.com/watch?v=MukNZKJ8qC8
A very often visible feature of rear fuselage is a tailwheel with missing aerodynamic fairing. The model has two versions of tailwheel, with and without a fairing. Another feature of the fuselage is a horizontal stabiliser. I decided to design it separate from the elevator because of the technology of tooling. Usually, it was hard for a modeller to make elevator moved in Wildcat kits. It was because of big and raised hinges.
On the fuselage bottom is a new, specific FM-2 feature – three identification lights. Also, fuselage windows are missing there compared to earlier versions. Cutouts for lower exhaust are less pronounced than in original, so exhaust pipes are not well visible. It was designed to make fuselage assembly simple to avoid additional parts. They would affect the kit building and keeping all parts well aligned. Intermediate skilled modellers may easily cut out deeper to show whole exhaust pipes visible.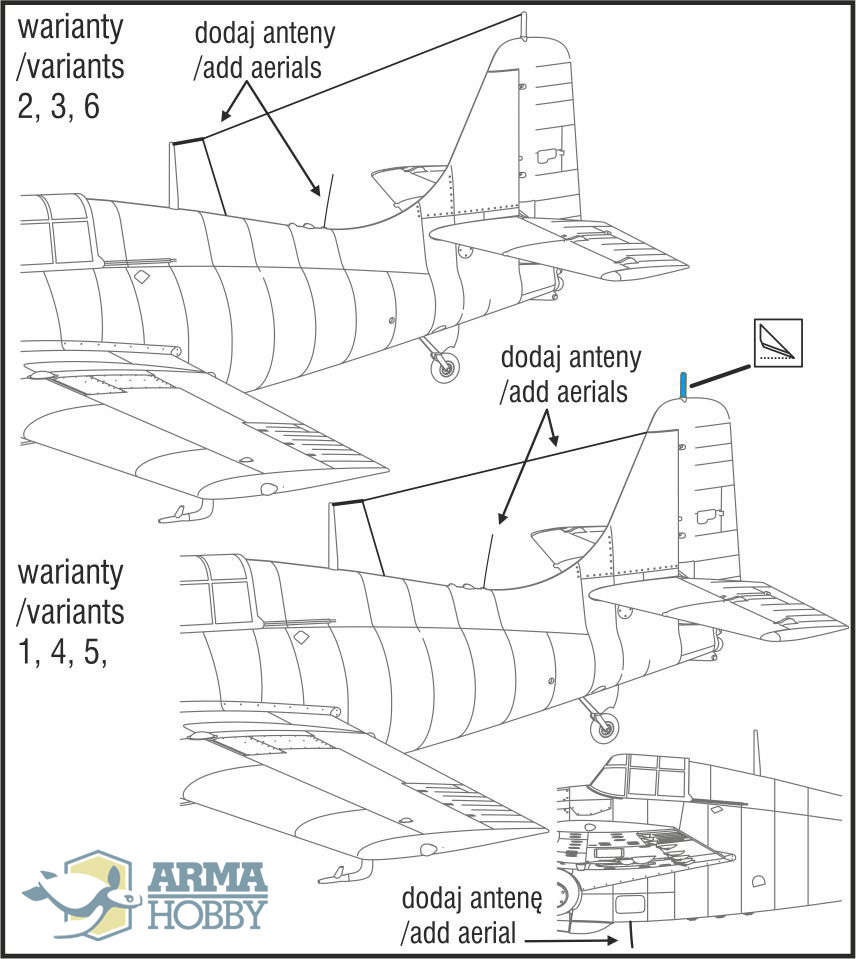 Last but not least detail of kit is antennae arrangement. In the last Wildcat version, there were two different arrangement of them: with or without a mast on rudder top. The instruction indicates which variant is correct for markings included in the kit. When building different markings scheme, I recommend to check it out with reference photos.
You may be interested also in:
Models and accessories for FM-2 Wildcat in Arma Hobby webstore.
This post is also available in:

polski