Between the wars Naval Aviation in the UK had been the responsibility of the Royal Air Force (RAF) and as a result it had been sadly neglected compared to other countries like the USA & Japan. The Royal Navy (RN) was able to belatedly regain control of its Fleet Air Arm in 1938 but the lack of investment and interest during this long period could not be put right overnight and so the RN entered the Second World War without a modern air defence fighter aircraft with which to protect its fleet. Instead it had to rely on the Blackburn Skua which was a two seat dual fighter/dive bomber and the biplane Sea Gladiator, adapted from the RAF Gladiator Mk.I & II. Neither were comparable to front line fighters of the Luftwaffe and Regia Aeronautica which they would face over Western Europe and the Mediterranean, but they were at least effective against longer ranged types which they might find further out to sea. As well as flying naval operations, many Fleet Air Arm pilots were also loaned to the RAF to fly Hurricane`s and Spitfire`s during the Battle of Britain, many of them becoming aces in the process and they began to lobby for navalised versions of these modern fighters for naval use.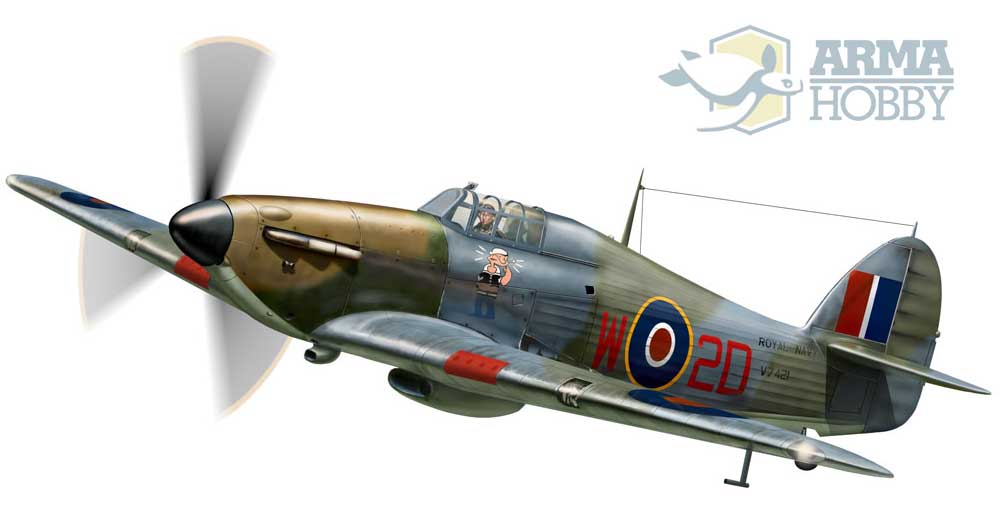 Hurricane Mk I from 760 Squadron FAA. See more details in text below. Artwork by Marcin Górecki.
Protect the sealanes
The main role of the RN is/was to protect the sealanes of the world, especially for the use of the British Empire/Commonwelath and other friendly countries like the USA but just like it did in WW1, Britain found it easier to group its merchant vessels together into convoys to be afforded better protection by naval escort ships. After the fall of France however in 1940, German long range FW200 Condor aircraft were becoming a menace to many  convoys and there were not enough aircraft carriers available to provide air cover for them all as the Fleet Carriers could not be spared from fleet operations, so an interim solution was quickly sought. This would have to be simple and it was found by mounting a catapult onto a ship and then firing a single fighter aircraft from it. The first aircraft to be used were naval Fairey Fulmar`s operated by 804 Naval Air Squadron from five naval vessels known as Fighter Catapult Ships (FCS) which began to be converted in late 1940.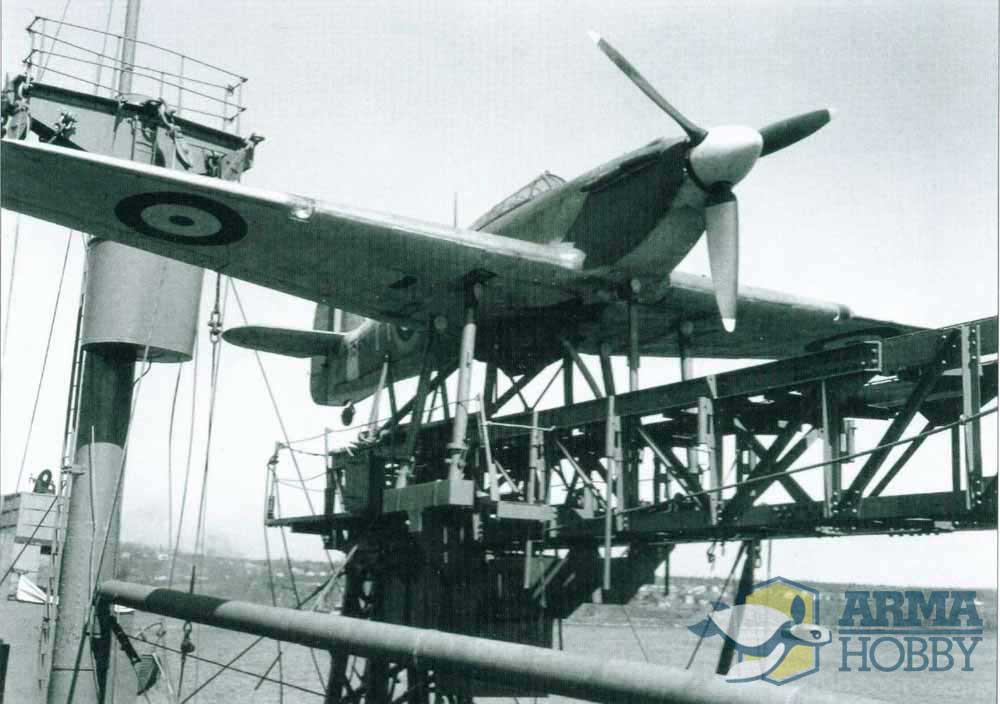 Sea Hurricane Mk Ia, V7504, on CAM ship's catapult ready to be launched, if or when the necessity arose, in 1941. V7504 had previously served with Nos 303 and 253 Squadrons prior to being allocated to MSFU, following which it went to No.56 OTU and later still to No. 1 Tactical Exercise Unit (TEU), but was damaged beyound repair in March 1944. Tony O'Toole collection.
More ships were urgently needed though and ideally they would also be able to carry a normal cargo too, so rather than using the more complicated naval catapult used by the FCS`s, a simple rocket fired catapult was to be fitted to an existing merchant ship which became known as a Catapult Armed Merchantman or CAM Ship. To fly from these newly converted vessels which retained their civilian crews and captain, a large new Royal Air Force (RAF) unit known as the Merchant Ship Fighter Unit (MSFU) manned by volunteer pilots was established at its shore base at RAF Speke near Liverpool on the 5th May 1941 and equipped with converted Hawker Hurricane fighter`s  designated Sea Hurricane MkIa, and nicknamed `Hurricat`s'. They were  additionally equipped for their new role with catapult spools, pilots head rest and naval radio. In total, 36 CAM Ships were converted (each having its own attached RAF `flight' consisting of a radar operator, fighter controller and groundcrew per ship) and the naval pilots of 804 NAS also went on to replace their much slow Fulmar fighters aboard the FCS`s with Sea Hurricane Mk.Ia`s too. The FCS/CAM Ships became prime targets due to their role and many were sunk.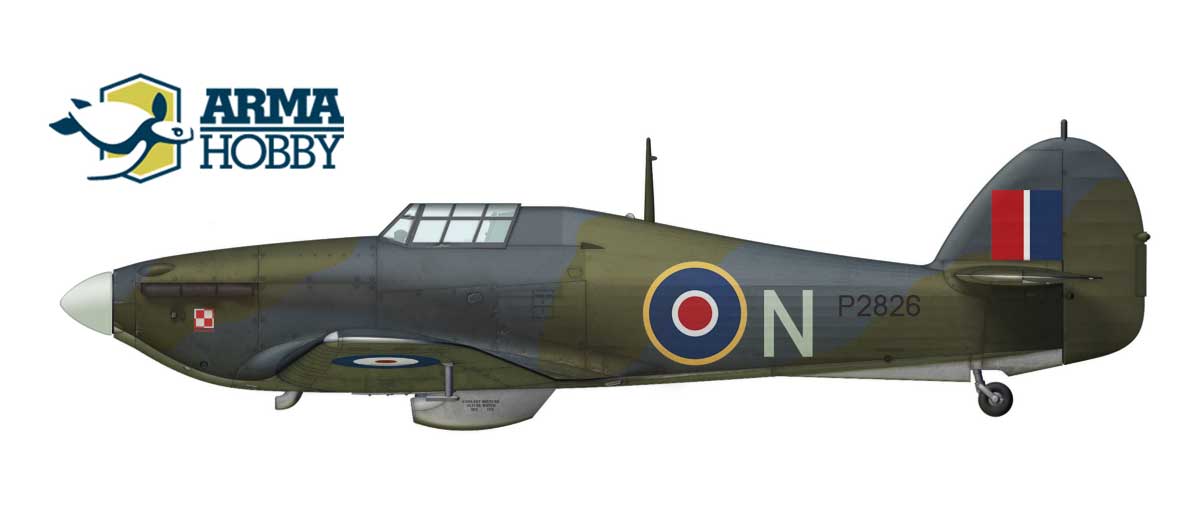 Hawker Sea Hurricane Mk Ia, , P2826/N 318 Polish Squadron, Detling 1943. After service with the MSFU on CAM Ship`s, the aeroplane was transferred to this new Polish Squadron for training purposes. Note Temperate Sea Scheme camouflage. Artwork by Zbyszek Malicki.

Sea Hurricane Mk I a/b operations from ships
After being catapulted into the air,… there was nowhere for the pilot to land, so they would either patrol over the convoy until their fuel ran out, then bale out (the Hurricane was considered unsafe to ditch in the sea due to the scoop of the radiator under the belly which would tip it on its back) or if he had enough fuel remaining, the pilot would fly off to reach the nearest land. The FCS/CAM Ship concept was only ever a temporary arrangement until enough small Escort Carriers could be developed and built in order to better escort convoys and the last CAM Ship sailed in this role during August 1942, before reverting back to its purely merchant role, while the last naval FCS was withdrawn earlier in May 1942.  Probably most famous for their Trans Atlantic role, FCS/CAM Ships also accompanied convoys to Gibraltar, Africa, Malta and further still. Although there were only ever nine combat launches of the Sea Hurricane Mk.Ia from FCS & CAM Ships, the presence of these `Hurricats' also acted as a massive deterrent. The first kill fell to the Fleet Air Arm`s 804 NAS on the 3rd August 1941 when Lt. Bob Everett shot down a FW200 while flying a Sea Hurricane MkIa `Hurricat' from the FCS, HMS Maplin, but the RAF` MSFU also shot down eight German aircraft (3 x Condors, 4 x He111`s & 1 x Ju88). All this for the loss of a single British pilot and eight Sea Hurricane`s, with the remaining aircraft reaching land after its combat.
Having proved that the Hurricane was sturdy enough for shipboard operations a carrier capable variant fitted with an arrester hook and designated the Sea Hurricane Mk.Ib was developed in 1941 and it soon became the main fleet fighter in Royal Navy service until the naval variant of the Spitfire, known as the Seafire began to replace it from 1942 onwards. Probably the finest hour of the Sea Hurricane Mk.Ib was during the famous Malta convoy `Op Pedestal in August 1942.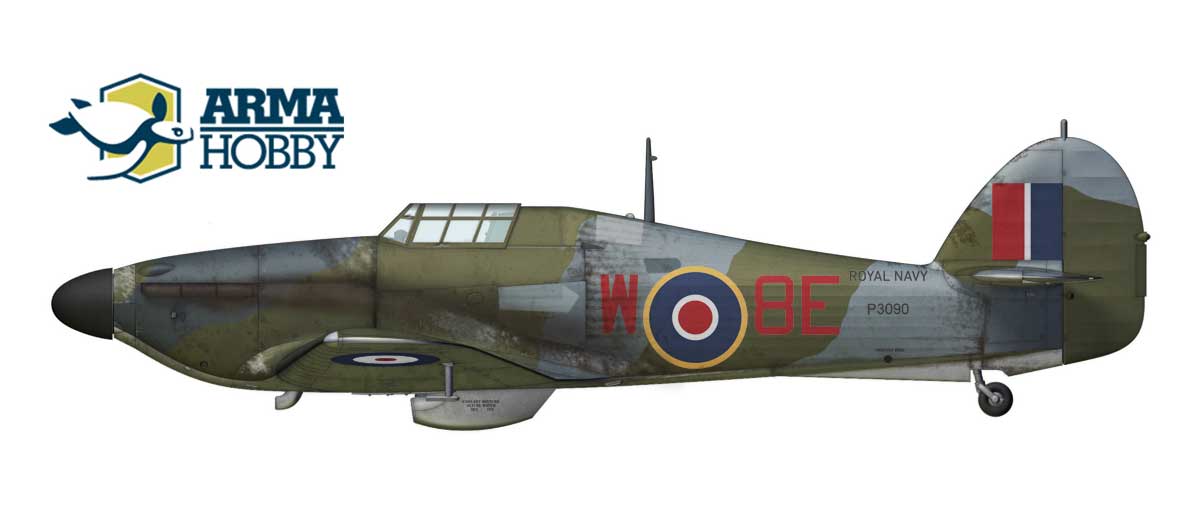 Hawker Hurricane Mk I, P3090/W-8E, 760 Squadron FAA, part of the Naval Air Fighter School based at RNAS Yeovilton, Summer 1942. Aeroplane was heavily weathered, see photos below. Artwork by Zbyszek Malicki.

Hawker Hurricane Mk I, P3090/W-8E, photos with a clear look on weathering with repainting patchwork, chips and stains. Photos Tony O'Toole collection.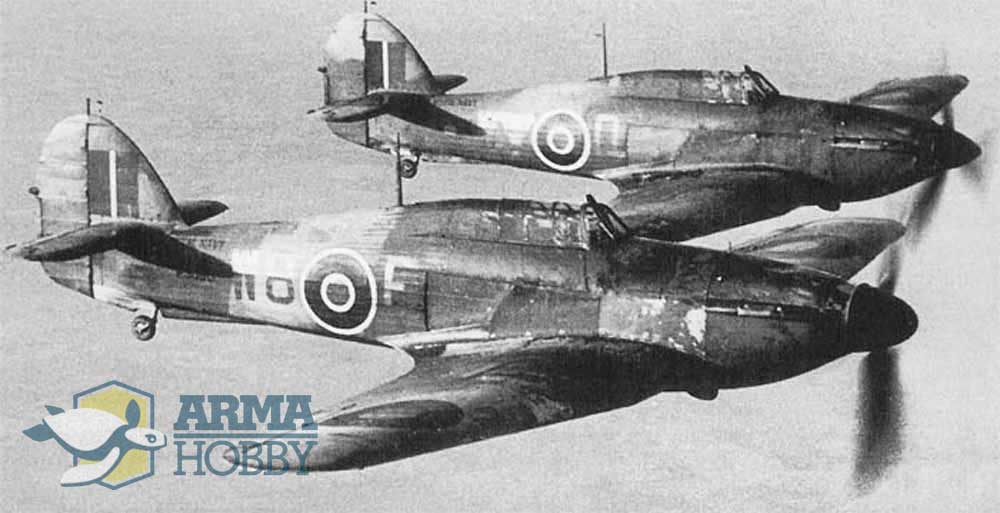 A pair of 760 Squadron Hurricanes. In foreground is P3090. Tony O'Toole collection.
Training Hurricanes in FAA
The RAF also released a number of old Hurricane Mk.I`s to the Fleet Air Arm to use as trainers and these were semi modified with naval radios and naval camouflage, mostly based at RNAS Yeovilton with the Fleet Fighter School, but also with armament training schools and with the addition of hooks too, they were also used by deck landing training units too. These old Hurricane`s served well on into the war and provided embryo naval pilots with their first taste of a high performance type before moving onto more powerful and modern aircraft.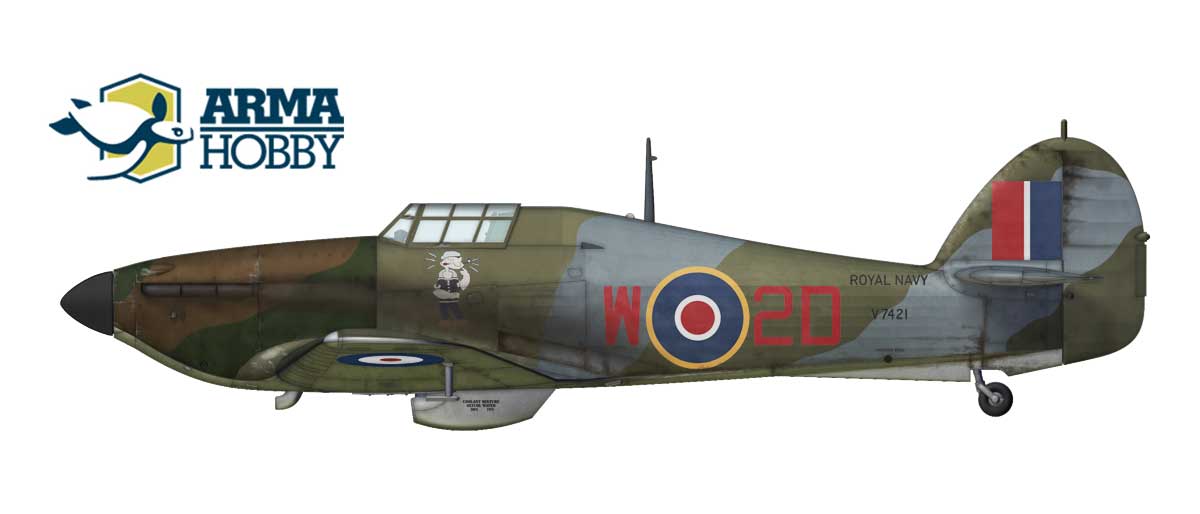 Hawker Hurricane Mk I, V7421/W-2D, 760 Squadron FAA, part of the Naval Air Fighter School based at RNAS Yeovilton, Summer 1942. Aeroplane heavily weathered, the engine cowlings still appear to be painted in the original Temperate Land Scheme. Artwork by Zbyszek Malicki.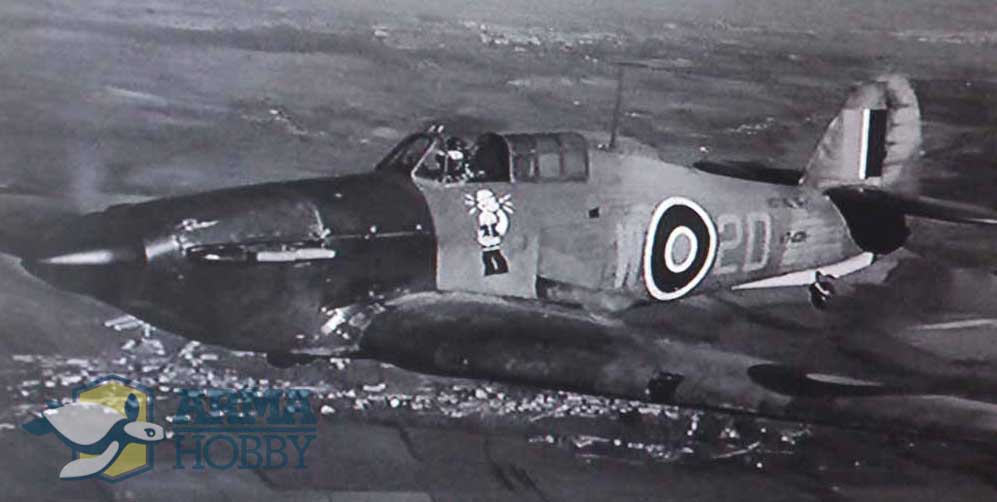 Snapshots from the wartime movie  on FAA pilot training. Very well visible details of Hurricane Hurricane Mk I, V7421/W-2D with "Popeye" cartoon. Tony O'Toole collection.
Naval Hurricane Mk I variants
Sea Hurricane Mk Ia – also know as "Hurricat", was usually converted from ex RAF Hurricane MkI`s with several naval modifications added, including catapult spools and a naval radio. These fighters  were flown from Fighter Catapult Ships by 804 Naval Air Squadron of the Fleet Air Arm and by the RAF`s Merchant Ship Fighter Unit aboard CAM Ships. Basically thee catapult equipped ships would launch their single modified Hurricane aircraft during an air attack on the convoy and after completing the task, the pilot bailed out by parachute over the convoy to hopefully be rescued or he flew off toward the nearest land if there was enough fuel remaining. Contrary to popular belief, ditching in the sea was not recommended as the Hurricane was liable to turn over and sink quickly as the radiator under the belly would scoop up the water
Sea Hurricane Mk Ib – Hurricane with catapult spools, pilots head rest, naval radio and arrestor hook for landing on an aircraft carrier
Hurricane Mk I – The basic Hurricane was also used for shore based training from FAA land bases, equipped with a naval radio. Like Sea Hurricane`s, these aircraft were usually painted in the Temperate Sea Scheme camouflage.
---
You may be interested in: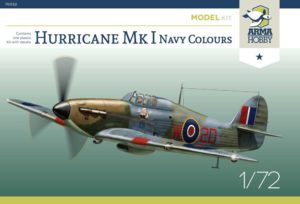 Hurricane Mk I Naval Colours Model Kit in Arma Hobby shop. Kit inludes markings from colour profiles posted above.
.
---
This post is also available in:

polski