A new model of Fokker E.V will soon be available for sale in the Limited Edition. For the commemoration of the 100th anniversary of Independence of Poland and the end of World War I, we release a model with two markings from the 7th fighter squadron in defence of Lwów and two German markings from the end of the war.
The set will include the perfect Lozenge German printed fabric from Cartograf decal and national markings, numbers and insignia from Techmod decal (new, stronger formula). The markings show the following aeroplanes:
Fokker E.V 193/18 "002". 7. Aviation Squadron. Lwów-Lewandówka Airbase, May 1919. Lt. Ludwik Idzikowski, Cpt. Stefan Bastyr
Fokker E.V 158/18 "003". 7. Aviation Squadron. Lwów-Lewandówka Airbase, April-June 1919. Main fighter flown by Cpt. Stefan Bastyr in that period
Fokker E.V, serial number conjectural, Jagdstaffel 8. Airplane captured by French
Fokker E.V 156/18. Jagdstaffel 6, August 1918.
The release of the model is planned for early November 2018. See more information in Arma Hobby shop link.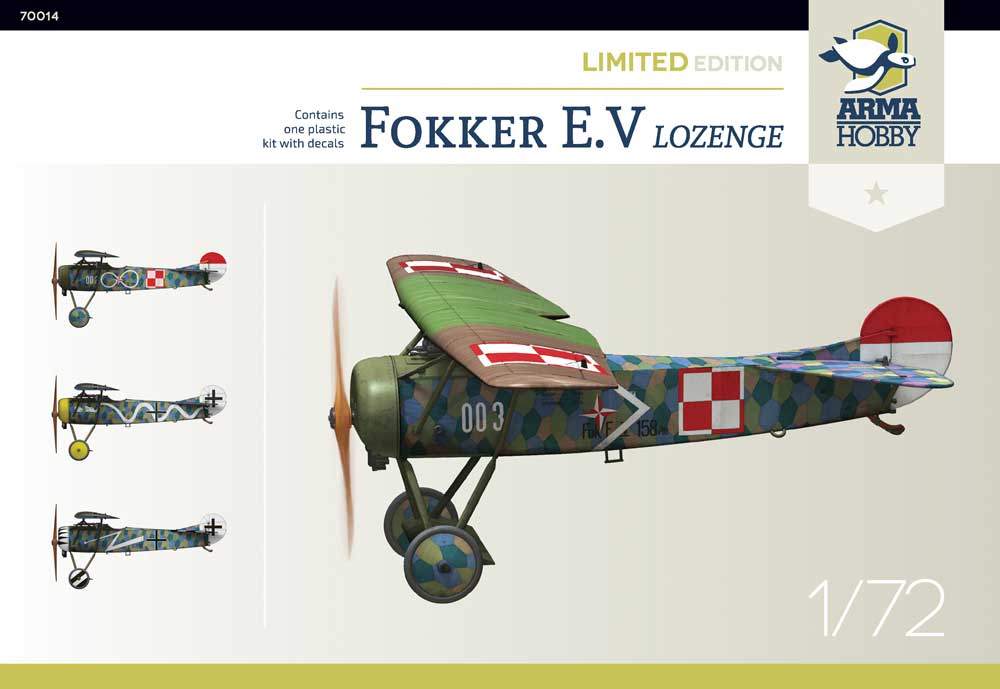 This post is also available in:

polski