Coming soon are two plastic model kits of the TS-11 Iskra 1/72 scale. One is from expert series including accessories (for experienced modelers) and second one from junior series for beginners. Today boxarts and box content are presented to public
Box arts are painted by Marcin Górecki from Kroghulfactory. Camouflaged expert version has very impressive look with weathered/repainted undersurfaces. Alluminum shining junior version also catches eyes.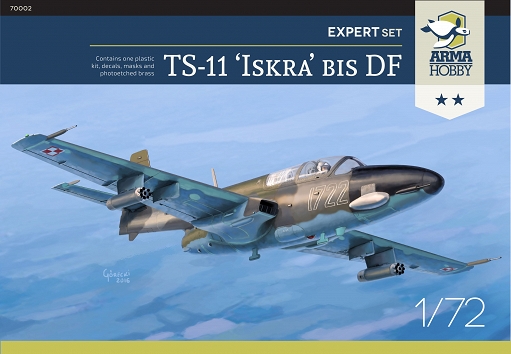 70002 TS-11 Iskra bis DF (expert)
Box of TS-11 expert series contains plastic kit with weapons and dropped flaps included. Also canopy masks and photoetched fret with interior details and engine intake mesh covers are included.
Decals options includes four camouflaged aircraft:
: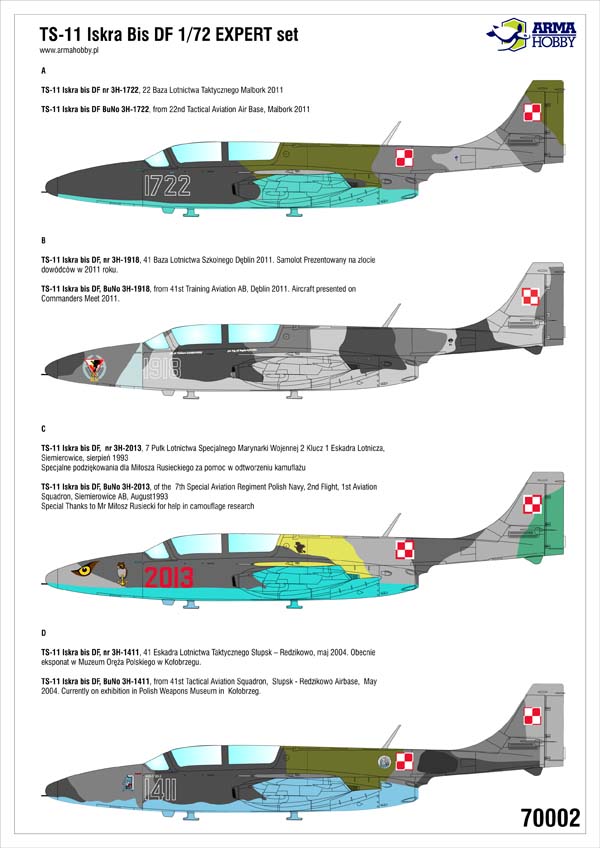 TS-11 Iskra bis DF, BuNo 3H-2013, of the 7th Special Aviation Regiment Polish Navy, 2nd Flight 1 Aviation Squadron, Siemierowice AB, August1993. Special Thanks to Mr Miłosz Rusiecki for help in camouflage research
TS-11 Iskra bis DF BuNo 3H-1722, from 22nd Tactical Aviation Air Base, Malbork 2011
TS-11 Iskra bis DF, BuNo 3H-1411, from 41st Tactical Aviation Squadron, Słupsk – Redzikowo Airbase, May 2004. Currently exhibited in Polish Weapons Museum in Kołobrzeg.
TS-11 Iskra bis DF, BuNo 3H-1918, from 41st Training Aviation AB, Dęblin 2011. Aircraft presented on Commanders Meet 2011.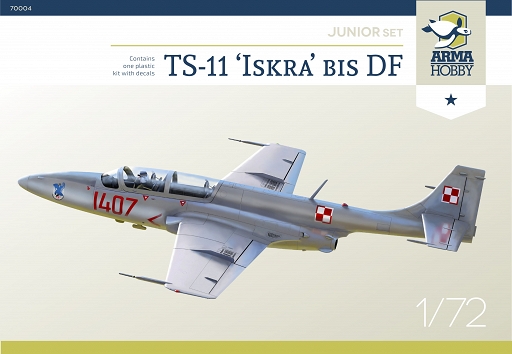 70004 TS-11 Iskra bis DF (junior)
Junior set of TS-11 is an economy pack without weapons and droped flaps. Set contains decals with one alluminum painted color version.
TS-11 Iskra bis DF, BuNo 3H-1407, 10th Tactical Squadron, Lask Air Base 2006.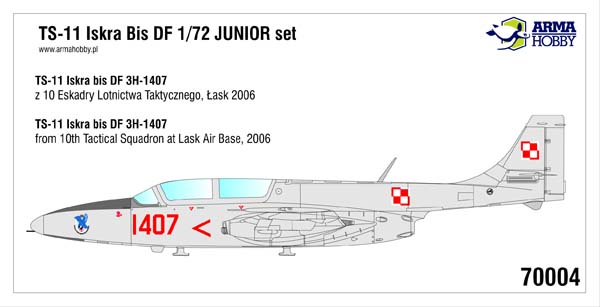 Models will be available for preorders in following days. Deliveries are planned before end of March. Go to the shop.
This post is also available in:

polski